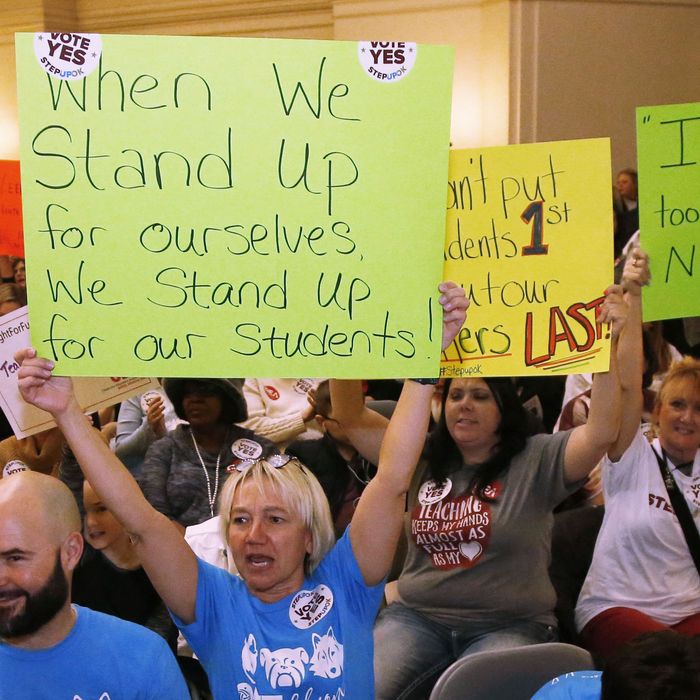 Oklahoma teachers haven't had a pay raise in a decade.
Photo: Sue Ogrocki/AP/REX/Shutterstock
With the tentative approval of a pay raise deal by the West Virginia legislature that will likely end that state's nine-day teachers' strike, the next front on the labor battle shifts to Oklahoma, where teachers are similarly aggrieved and seriously considering a walkout at some point in the next few weeks.
Oklahoma's teachers actually rank lower than West Virginia's in average pay; according to the Bureau of Labor Statistics, the Sooner State is dead last. As in West Virginia, teachers are leaving the state — or in some cases commuting from Oklahoma across state lines — in alarming numbers, producing widespread vacancies.
Dozens of Oklahoma schools, particularly near the Texas and Arkansas borders, have also cut back to four days of school a week to cut costs but also to better compete for teachers who might be interested in having three-day weekends.




Larry Cagle, 54, who teaches an Advanced Placement course at Edison Preparatory School in Tulsa, said he makes $34,500 a year to work at one of the best schools in the state — less than he could make at a nearby QuikTrip gas station.
As New York's Eric Levitz explained recently in a piece on Democratic special election wins in Oklahoma, Republican governor Mary Fallin embarked on a supply-side tax-cutting experiment in Oklahoma similar to that undertaken in neighboring Kansas by Governor Sam Brownback, with similar results: a chronic fiscal crisis that led to particularly poor funding for public education. Fallin is term-limited this year, but she is currently the second-most-unpopular governor in America, with an approval ratio of 28/61 (according to Morning Consult). So pressure for reversing her fiscal policies is pretty intense, particularly among those who care about school quality as an important asset in economic development.
But securing revenues to fund higher pay for teachers has been a problem in the GOP-controlled legislature, where a supermajority is required to raise taxes. In 2016, voters had the chance to fund a $5,000 pay boost for every teacher via a one-cent increase in the state sales tax, but rejected the ballot initiative by nearly a three-to-two margin amid arguments about which tax source was most appropriate for funding education.
So when the Oklahoma House failed to pass a bill earlier this week that would have raised oil and tobacco taxes to fund a $5,000 pay raise, fed-up teachers began to mobilize, and the West Virginia strike and its apparent success may provide the impetus to go ahead with similar actions. Teachers in Tulsa (supported by their superintendent and school board) are talking about a work slowdown as early as next week. But a statewide walkout seems increasingly likely, according to the Tulsa World:
A variety of proposals for how to go about a teacher walkout or statewide school shutdown are still under consideration by various groups of teachers and school district leaders around the state. Two ideas circulating widely on newly formed social media groups are for teachers not to return from spring break, which is March 19-23, or not show up for work on April 2 …




The Oklahoma Education Association [the NEA affiliate in the state] announced Monday that it would be putting forth a "detailed revenue package and statewide school closure strategy" at a news conference at 1 p.m. Thursday in Oklahoma City.
There's precedent for a teachers' strike in the state; it happened in 1990, and produced a bill in the legislature that both raised pay and provided more state money for education generally. A lot of Oklahoma teachers believe it's time to confront balky lawmakers again.