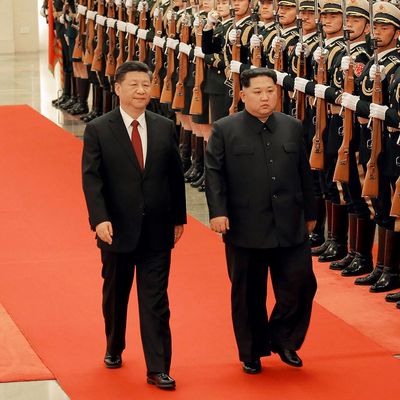 China's President Xi Jinping and North Korean leader Kim Jong-un attend a welcoming ceremony at the Great Hall of the People in Beijing.
Photo: -/AFP/Getty Images
President Trump hasn't fired anyone on his foreign-policy team this week — yet — but there were still plenty of head-spinning developments on the international stage. With the White House now "cautiously optimistic" that its planned summit with North Korea will take place some time in May, interested parties set about shoring up their diplomatic alliances. For North Korean leader Kim Jong-un, that meant sneaking off to visit Chinese president Xi Jinping in Beijing. Meanwhile, the U.S. and South Korea announced changes to the Korea-U.S. Free Trade Agreement, which Trump had been denouncing since he took office.
The most important takeaway from these diplomatic moves is that Xi has no intention of letting Kim and Trump walk off into the sunset with an agreement that disadvantages China — and Kim seems unlikely to cut a deal that meets the Trump administration's conditions.
Kim Jong-un's arrival in Beijing on Monday night started out as a secret, but it's hard to hide a train that's dark green with tinted windows, and so heavy with armor that it doesn't travel faster than 37 miles per hour. A Russian who rode on a similar transport with Kim's father in 2001 reported that it was well-stocked with fine French wines and the best of Korean, French, Japanese, Chinese, and Russian cuisines — in addition to "lady conductors" who sing in Korean and Russian when the leader gets bored. In the old days, the train's movements were fairly easy to conceal. When Kim Jong-il used it to visit Russia in 2009, entire Siberian villages were ordered to stay inside as the North Korean leader rolled through.
But even autocracy isn't what it used to be, and Xi had a very public point to make. North Korea's relationship with its neighbor and closest ally has been strained in recent years. Beijing would prefer that Pyongyang maintain the status quo, rather than goading South Korea and Japan into considering acquiring nuclear weapons of their own. The North also shopped around to try to avoid the effects of China's modest sanctions pressure, and responded in ways that Xi and his colleagues were said to find disrespectful. Plus, Xi's support for Kim is wildly unpopular among the Chinese. While censors couldn't conceal the train's presence in Beijing, they did block several phrases on China's version of Twitter, including "North Korea," "Kim Jong-un," and "Fatty Fatty," his nickname in the region (some internet users circumvented this with the new nickname "fatty on the train").
Beijing broadcast its official version of events through carefully curated photos and statements showing the leaders smiling and recalling their countries' decades-long relationship. But Kim's reported statements echoed long-held North Korean positions that have signaled the ultimate failure of previous negotiations with the United States. He talked about "phased, synchronized measures" — a term that to analysts means long delays during which the North could continue to make progress on its bombs and missiles. While China's news agency said Kim had pledged his commitment to denuclearization, the North's own statement about the meeting failed to mention the topic.
Something else wasn't discussed publicly by either side: the upcoming U.S.–North Korea summit. In a conspicuous parallel to Trump's decision not to notify China of North Korea's summit offer until after he'd accepted it, China informed the White House that Kim had paid a visit only after his train had begun its slow journey home.
These developments topped what otherwise would have been the day's top Korea news story: Washington and Seoul reaching agreement to modify their free-trade agreement. Trade experts suggested the effects would be modest at best; it provides for more favorable treatment for U.S. automobiles, which are not currently selling well in South Korea, and lets our ally avoid some of Trump's new tariffs. The prime impact seems likely to come in two other areas: removing an obstacle from the U.S.–South Korea alliance, and giving Trump an achievement to show off to his base (though it's unclear if the revisions will result in a single new American job).
So it appears the day ended with strength restored to two longtime alliances that have recently been under strain. Seoul hopes it can look north confident in Washington's steady backing, with no more trade hiccups. Beijing has reminded both Pyongyang and Washington of the extent of its influence over the choices available to the North.
And where does this leave Washington? Its South Korean ally expects a new peace process. Kim Jong-un has shown that he can stage surprises, upset diplomatic calculations, and be every bit as much of a disrupter as Trump. Washington is going to need new ideas, patience, and a steady hand. The U.S. is also going to have to get ready for the idea that the best it can get is not full, unconditional denuclearization, but something much more like the safeguards and inspections in the nuclear deal inked with Iran in 2015. Getting even that much from a country that has already gone nuclear — and where the U.S. doesn't have a coalition of negotiating partners — would require extraordinary skill from the U.S. team.
Back home, though, allies of incoming National Security Adviser John Bolton were talking about "cleaning house" at the National Security Counsel starting with Obama administration holdovers — a designation that would capture a number of knowledgeable Asia hands. And some Republican hawks are openly musing about the possibility of Secretary of State–designate Mike Pompeo withdrawing the nomination of Susan Thornton as the assistant secretary for East Asian and Pacific affairs, though she's the only senior Asia expert even close to being confirmed. Better hope that train moves as slowly as Kim Jong-un's.