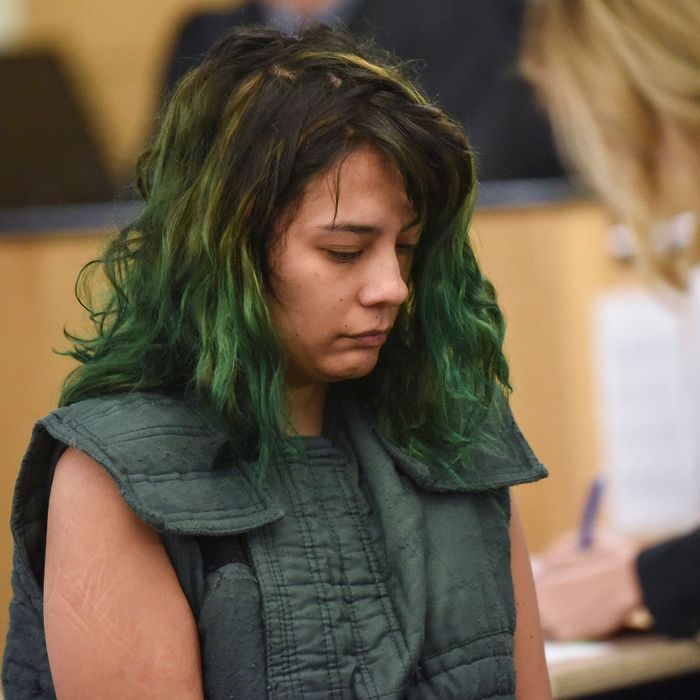 Emily Javier.
Photo: Ariane Kunze/AP
Emily Javier, a 30-year-old woman from Camas, Washington, has been charged with attempted murder after allegedly stabbing her boyfriend with a samurai sword because she believed he had cheated on her. Javier reportedly called the police after she thought she had killed him, "I was trying to kill him for cheating. That was my purpose," The Columbian reports. Her boyfriend, Alex Lovell, was not actually dead and was later transported to a hospital where his condition was reported as critical on Monday. Javier said in her affidavit that she believed he was cheating because she found Tinder on his phone.
The incident happened last Friday night. Javier allegedly waited until Lovell was asleep before stabbing him. "Police said they found Lovell in the bedroom bleeding, with blood on the walls," Fox 12 Oregon reports. Javier bought the sword last week and taped it to the side of her bed, along with several other knives. The couple had been living together for two years. Javier also said in her affidavit that Lovell "just sits at home all day playing video games and does not do anything to help." She also claimed to have found red hair in the drain of their shower — Javier's hair is brown with dyed green tips — and scratches on Lovell's back.