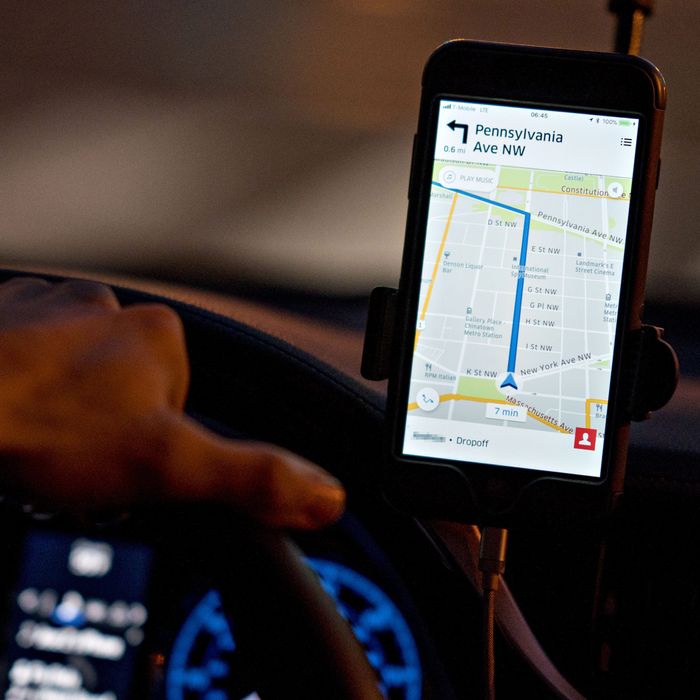 Photo: Andrew Harrer/Bloomberg via Getty Images
Nine women from the United States have banded together in a class-action suit against Uber. The women all allege that they were assaulted by their drivers. Uber would prefer this suit be dealt with behind closed doors. According to a report from The Guardian, Uber has argued that this suit should be settled via closed-door arbitration. Meaning what is said and discussed in the suit would likely never become public record. "Our clients deserve a trial," Jeanne M. Christensen, one of the attorneys working with the class action, said. "The goal is to force Uber to acknowledge that this is happening and to do something about it."
From The Guardian:
Uber, however, has filed a motion arguing that the riders agreed to privately arbitrate all disputes when they signed up for the ride-share service and thus have no right to file a lawsuit.
A representative for Uber told The Guardian that "the allegations brought forth in this case are important to us and we take them very seriously. Arbitration is the appropriate venue for this case because it allows the plaintiffs to publicly speak out as much as they want and have control over their individual privacy at the same time." One of the women in the suit claims that her driver groped her after shoving his way into her apartment. Another says she was drunk when her driver drove her home, carried her inside, and raped her.
Forcing these women to tell their stories behind closed doors feels very much like the Uber of yore. The Uber that it's — under new CEO Dara Khosrowshahi and operating under a new set of guidelines based on an internal culture probe conducted by former U.S. Attorney General Eric Holder — trying very hard not to be. This is the Uber Susan Fowler, the former company engineer whose scorched-earth blog post about the harassment she experienced prompted the company to finally deal with some of its infamous ish, exposed over a year ago. The Uber that a recruiter once tried to justify to Kamilah Taylor, a female engineer who literally wrote the book on women in technology, by saying that "sexism is systemic in tech and other industries."
By comparison, at the end of 2017, Microsoft announced it would be ending such closed-door practices. The company no longer uses forced-arbitration agreements with employees who allege sexual harassment. It was a move very much inspired by the #MeToo era, but a good one, for both Microsoft's PR appearances and, more importantly, for its employees. Uber might do well to follow suit.