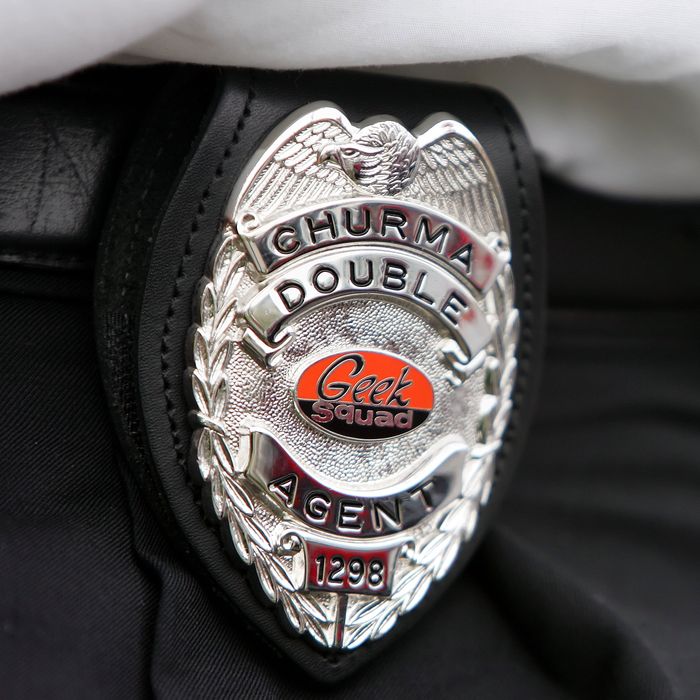 This is a real thing that Geek Squad gives to employees, lol.
Photo: Marcio Jose Sanchez/AP/REX/Shutterstock
One of the riskiest things you can do in the digital age is hand your computer to someone else. It's a lot easier now because computers literally fit in one hand — but it's just as risky. You keep a lot of personal information on your computer. It's possible that you even keep evidence of wrongdoing tucked away on your hard drive.
The thing is, unless you're a computer technician, you're probably not capable of fixing the device yourself. So maybe you head over to Best Buy, where the Geek Squad will take your computer and fix it. And maybe they'll report anything illegal they find to the FBI.
According to new documents obtained by the EFF through a FOIA request, the Federal Bureau of Investigation has a pretty chill relationship with the Geek Squad, including recruiting confidential informants that work in computer-repair facilities. The FOIA request was precipitated by the case of Mark Rettenmaier, who was charged with possessing child pornography after his computer was sent to a Kentucky repair shop.
Furthermore, from the EFF's review:
For example, documents reflect that Geek Squad employees only alert the FBI when they happen to find illegal materials during a manual search of images on a device and that the FBI does not direct those employees to actively find illegal content.




But some evidence in the case appears to show Geek Squad employees did make an affirmative effort to identify illegal material. For example, the image found on Rettenmaier's hard drive was in an unallocated space, which typically requires forensic software to find. Other evidence showed that Geek Squad employees were financially rewarded for finding child pornography. Such a bounty would likely encourage Geek Squad employees to actively sweep for suspicious content.
In other words, there are significant incentives for repair technicians working for Geek Squad to be proactive in looking for illegal content on personal devices and reporting it to authorities. The FBI declined to tell the EFF if it had arrangements with other repair services.