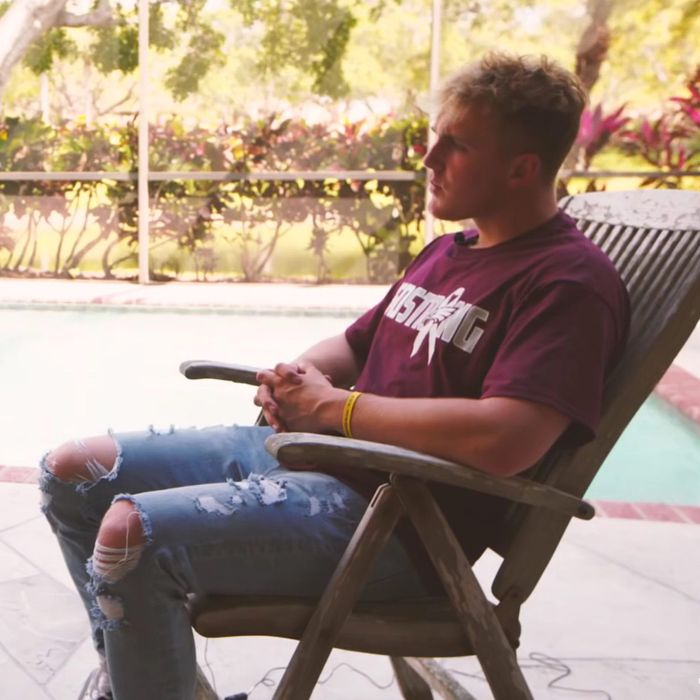 Photo: Jake Paul via YouTube
Yesterday evening, The Hollywood Reporter, uh, reported that YouTuber Jake Paul was developing a talk show for the site's subscription service. The show was purported to have a "late-night variety show feel." Sure. A couple of production companies reportedly signed on to produce, and a pilot could be finished as early as next month.
The only problem is that YouTube isn't involved in any of this. A spokesperson for YouTube told Variety in a follow-up, "There is no series order currently in place." The show might not get any further than the development stages, and is part of YouTube's standard process for soliciting new ideas.
On the one hand, it's clear that millions of people will watch Jake Paul talk about anything, so it's not difficult to see how this came about. And he's got a roster of "talent" in his Team 10 crew. Heeeeeere's Jakey!
On the other hand, Jake Paul is not a particularly talented interviewer. You might recall his Skype session with Marco Rubio in the wake of the Parkland shooting, which contained probing questions like, "People think passing laws is super easy. Can you explain some of the struggles around passing laws?" Paul then advocated placing bulletproof shields in kids' backpacks.