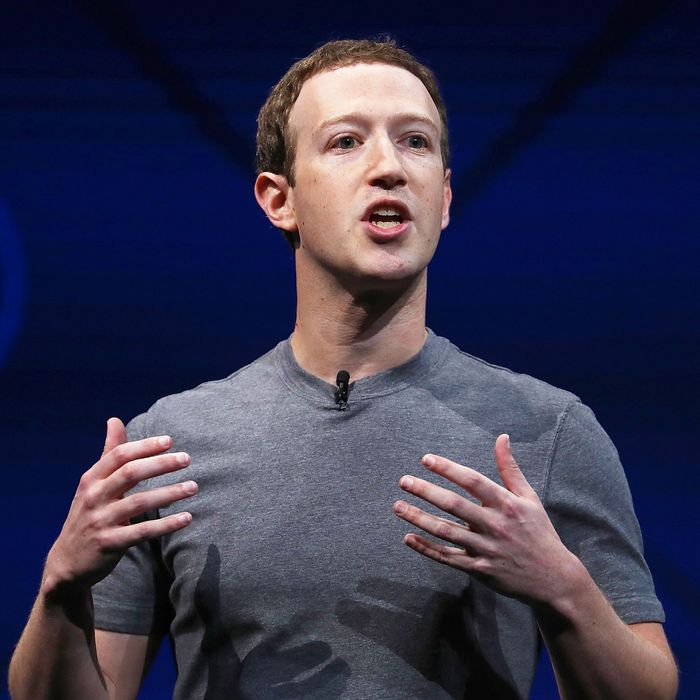 Mark Zuckerberg.
Photo: Justin Sullivan/Getty Images
If you've read or heard really any kind of news in the last week, you've been thinking about how Facebook, which maybe knows you better than most of your friends, was apparently handing out all kinds of data about you, to more or less anyone who wanted it, back in 2014. You know who else is thinking about the mishandling of data by Facebook? The British government.
Not that it's going to get them anywhere. Damian Collins, the MP who called for Zuckerberg to appear before his committee last week, has already been rebuffed by Facebook. According to Business Insider, Facebook's head of public policy in the U.K., Rebecca Stimson, wrote to the committee asking if maybe someone with more knowledge than the CEO of the company might be able to appear instead.
She wrote:
Facebook fully recognises the level of public and Parliamentary interest in these issues and support your belief that these issues must be addressed at the most senior levels of the company by those in an authoritative position to answer your questions. As such, Mr. Zuckerberg has personally asked one of his deputies to make themselves available to give evidence in person to the Committee.
The flunkies Zuckerberg would like to send to lie down in front of an oncoming bus are chief technology officer Mike Schroepfer and chief product officer Chris Cox. Both are "among the longest serving senior representatives in Facebook's 15 year history," Stimson pitched.
In response, Collins noted that he hoped Cox would finally be able to answer the committee's questions, but reiterated the importance of Mark Zuckerberg appearing. He observed that Zuckerberg has "stated in interviews that if he is the right person to appear he will appear. We think he is the right person and look forward to hearing from him."
Me too! At this point, what does Mark Zuckerberg have to lose? Did Facebook do more bad stuff we don't know about? Is Zuckerberg afraid that if the inquiry looks at him too closely, the MPs will discover that he is a wooden puppet brought to life by a carpenter's wish? The only way to put this puppet rumor to bed is to have Mark Zuckerberg appear before the committee.