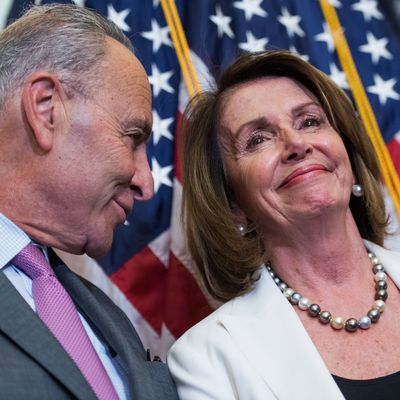 The future looks bright.
Photo: Tom Williams/CQ-Roll Call,Inc.
About three hours after news broke on Wednesday morning that House Speaker Paul Ryan plans to retire in January, a small group of the Democratic Party's top donors received an email.
"Today, with the news of Speaker Ryan's impending retirement and increasing GOP fears about losing the House of Representatives, Republicans are making their last stand by training their sights on the Senate and pouring millions of dollars into retaining their slim majority," read the private fundraising note, sent from the Senate Majority super-PAC, Democrats' largest Senate-focused big-money group.
"They are rightfully nervous," continued the email, which was obtained by New York.
Over the course of the note's nearly 900 words, it listed reasons for Democratic optimism, from Republicans' ugly primary contests and the GOP tax reform's lack of resonance, to the party's improved standing even in long-shot states like Mississippi and Texas. And it directed the big-money donors to a recent Washington Post story outlining Senate Republicans' increasing desperation to get their party to pay attention and save their 51-49 majority.
For over a year, even most private conversations about the midterms in political circles have focused almost exclusively on the House: musings about control of the far unlikelier-to-flip Senate have nearly always been met with a bipartisan eye-roll. As of Wednesday, however, that era is now over — Ryan's retirement having laid bare the scale of the GOP's House challenge even to those Republicans who were holding out hope.
The fight for the Senate is coming fully into focus for Democrats, but also for Republican power brokers desperate to hold onto at least one of the houses of Congress.
A predictable flood of "everything is fine" messages from House-focused strategists and panicked officials hit GOP inboxes shortly after Ryan's announcement. But a number of top party donors and operatives say those warnings were too little, too late, and that the Speaker's exit was the final piece of evidence they needed to flip their attention toward the upper chamber.
"I've gotten a couple emails," Dan Eberhart, an energy executive and an increasingly higher-profile GOP fundraiser, told me on Wednesday morning. He paused. "I mean, I think the House is gone. The focus is going to, more and more, be on the Senate."
"If you're a donor, and you're looking at Paul Ryan saying, 'I'm going to go ahead and retire,' it's a pretty clear signal. If he thinks the House is lost, who would be more in the know than Paul Ryan? So a focus on the Senate is an absolutely correct reaction," added Scott Jennings, a longtime senior Republican operative who is close with Senate Majority Leader Mitch McConnell.
"McConnell, in the last few days, has said, 'The House is lost, we have to hold the Senate,'" he continued. "It would surprise me if that blunt pitch is not happening all over the place in donor meetings."
It's a dramatic behind-the-scenes flip, though the "nothing to see here" message persists in public.
Few of the GOP's elected leaders on the House side are willing to concede publicly that Nancy Pelosi's Democrats could soon be back in power. ("Make no mistake: our mission to hold the House continues unabated," said Ohio representative Steve Stivers, chair of the House Republican campaign wing, in a statement.) Ryan appears set to continue traveling the country raising money for his House colleagues.
And even skeptics of the party's chances of keeping the House acknowledge that Ryan seemed to genuinely want out of Washington after two decades on Capitol Hill, and after three years in a job he tried to avoid taking. He's not just running for the hills to get out of the way of an impending electoral wave. Eberhart, for one, recalled spending time with Wisconsin governor Scott Walker while Ryan was considering taking the Speaker job in 2015, as the two 40-something Wisconsinites texted about Ryan's real hesitance to jump in.
"Everybody's going to write the timing is just because Republicans are going to lose. And that's true," he said of Ryan's departure. "But he really just wanted to go home."
Yet GOP operatives and donors spent their Wednesdays looking anew at the 2018 map, glued to their phones as they tried to make sense of the new landscape. Many heard new appeals to help Republican leaders keep the Senate, for the sake of Trump and McConnell's missions to reshape the judiciary.
Republicans' path to keeping the body — where they hold 51 seats — isn't any more difficult Wednesday evening than it was before Ryan's announcement. They're still on offense in ten states where Trump beat Hillary Clinton, including five where he won by double digits. Nevada's Dean Heller is still the only incumbent Republican senator facing a stiff challenge, and party leaders are also trying to lock down the Arizona seat being vacated by Jeff Flake.
But Republicans are also monitoring their seat in Tennessee — where Bob Corker is retiring and Representative Marsha Blackburn is trying to replace him, fighting to fend off the state's last Democratic governor, Phil Bredesen — and they're not thrilled that Mississippi firebrand Chris McDaniel is running for a vacant seat, either. Democratic representative Beto O'Rourke's unmatched fundraising in his long-shot attempt to unseat Ted Cruz in Texas right now rates as another minor annoyance.
Earlier this week, McConnell's affiliated super-PAC, the Senate Leadership Fund, began circulating its own memo to donors that warned them of an electoral climate reminiscent of 2006, when Democrats won both the House and Senate. That document, which was originally made public by the Washington Examiner, again made the rounds on Wednesday, as the new Senate focus crystallized.
In that missive, Steven Law, the top McConnell ally running the PAC, insisted things are looking up for the party in most of the looming competitive Senate races, and he described his feelings about Tennessee, Nevada, and Arizona as "cautiously optimistic."
But he warned about McDaniel, whom he called the "Mississippi Roy Moore," and urged the donors to realize that GOP Senate candidates need more money, and soon.
"Late last year we wrote: 'Republicans can expect to face the toughest political conditions next year since 2006, when the party lost control of both the House and the Senate,'" Law wrote. "Despite a small uptick in President Trump's approval rating and a tightening of the congressional generic ballot in the GOP's favor, we see no reason to adjust that forecast."
Three hours after Ryan bowed out, I asked one top GOP donor if he'd gotten Law's memo.
He responded one minute later.
"3 times this AM."