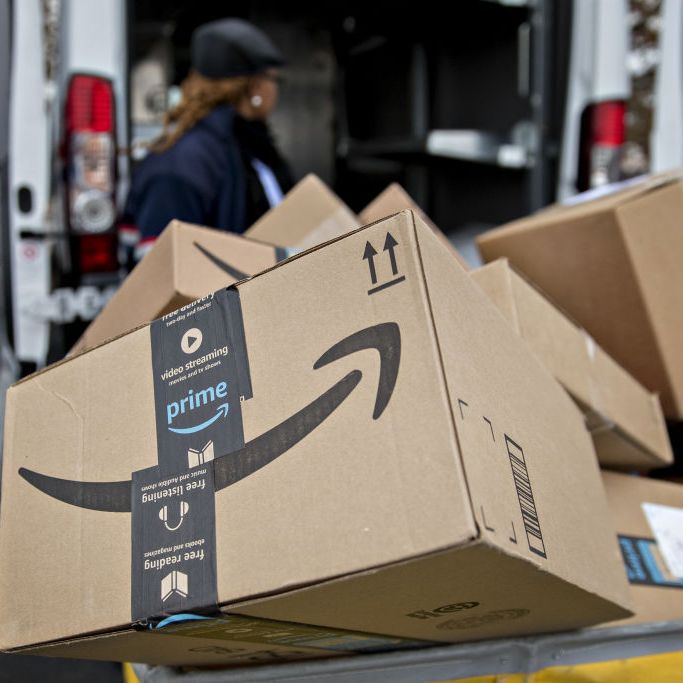 Photo: Andrew Harrer/Bloomberg via Getty Images
If you've never had an Amazon delivery swiped from your stoop or front porch, you're luckier than many. In the company's latest move to deter package theft, the online retail giant is partnering with GM and Volvo to allow delivery drivers to leave packages in the trunks of customers' cars.
The program is available for free to Amazon Prime customers and currently available in 37 U.S. cities. By using GM's On Star and Volvo's On Call service, delivery drivers can pop open your trunk and drop off the package there — without the need for a passcode or giving permission for a delivery driver to unlock your entire car.
Amazon will not be able to track your car to make the delivery; instead you supply the address where your car is usually parked and the driver makes delivery there. Customers get a notification on their phone before, during, and after delivery, much the same as you currently do for regular deliveries if you have text notifications turned on. Packages that are larger than 26 by 21 by 16 inches need a signature for delivery, and those that are valued at more than $1,300 are not eligible for the service. Amazon says it plans to roll out the service to more cities and more models of automobile soon.
The program is the latest move by Amazon to try to secure delivery packages before customers can get them. Amazon debuted a program last year, Amazon Key, which used a $220 smart door lock and connected camera to allow delivery drivers entry into customers homes to safely drop off packages, but has remained mum on how many Amazon customers took them up on the deal. In 2011, it started building out a network of delivery lockers in urban areas to try to combat theft (and, presumably, make delivery routes a bit simpler).