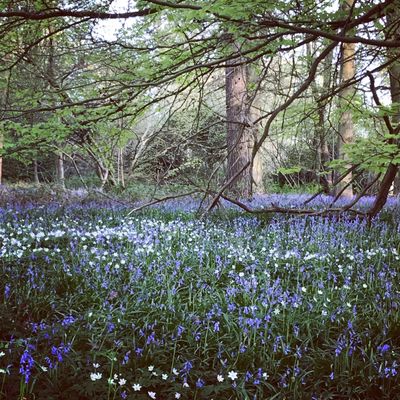 England's spring bluebells.
Photo: Andrew Sullivan
Home is where one starts from. And like many English families, mine is still there, my brother and father still living in the very town I grew up in, my sister and mother a short drive away. So much remains exactly the same, and at this time of year this is especially true. On the cusp of spring, when the new leaves begin to unfold as specks of newborn green in the woodlands, a small miracle occurs.
The bluebells arrive, like an iridescent blue carpet below, spreading along hedgerows, suddenly swamping forests and copses, emerging out of the rotten, sodden leaves of last autumn. If you really want to disappear into an eternal miasma of Englishness, you can even take a ride on the Bluebell Railway. It's an old-school steam train, running from my hometown just four stops on a rail line long since abandoned for actual travel. When April comes, its puffs of steam hang briefly in the moist, nippy air, surrounded by as much blue as a ship on a sea. By the time I leave at the end of next week, the bluebells will have wilted and disappeared, but for now, they are like a million little madeleines of my other life in another country.
And yet England, as I have found it, suddenly feels deeply familiar to my American self. In London, it is as if I never left Washington. It's not just that after Thatcher and Blair, markets are everywhere, trade unions are puny compared to their mighty past, taxes are astonishingly low, and all the old public services — save the National Health Service and the BBC — are in private hands. It's the atmosphere that feels so similar. The minute you start chatting with anyone about the state of the country, you can almost feel the toxicity and tension, and the tenacious tribalism rending the country apart. Westminster feels like Washington, the way it did when Reagan and Thatcher were ascendant in the 1980s, or when Clinton and Blair entrenched the legacy of their conservative predecessors in the 1990s. This time, they are defined not by a new common direction but by a shared unraveling.
And if you hang around, you can begin to realize why. If my hometown feels remarkably similar, London is close to unrecognizable from the city I knew as a teen. Its skyline has a touch of Dubai to it, the wealth is tangible, even obscene, the prices absurd, the energy young and incredibly diverse. "It's not our capital any more, is it?" my brother asks, as if seeking confirmation from me. I can see what he means, by virtue of not being there continuously as change accumulated and transformed. In a little less than a week in London, I have yet to buy anything from someone English. Everywhere I hear foreign accents or one of the more than 300 languages London now incorporates. Thirty-seven percent of the capital's population is foreign-born — the same as New York City — and that share is predicted to be 50 percent by 2031. But New York has always been a thriving immigrant city; newcomers have always defined the place, and it's just one of several vast metropoles in America. But London is the overwhelmingly dominant city in the U.K., and has never previously been a city of immigrants in the English psyche. London, in fact, is synonymous with the essence of England, and has been a national center since the Roman era. The counties surrounding it are called the Home Counties, because London has always been home.
I love the new London, but then I would, wouldn't I? I'm an American now, and became one in part because I fell in love with its racial and cultural diversity. But most people, not gifted with a great education and lucky breaks, are not able to hop and skip between capital cities, finding each metropolis increasingly and pleasantly like the other. They're in suburbs and small towns, or in the rust-belt north, whence Orwell's patriotic (emphatically not nationalist) socialism sprang. And they're anxious — in a way that the young are not anxious. For the under-40s, economic insecurity, college debt, and inability to own a home drive the angst. For the over-40s, it's a sense that the England they identified with, that gave their lives meaning and pride — the England that was nearly destroyed in the "finest hour" of 1940 — this "sceptered isle," is disappearing.
That's the reason for Brexit. Period. In my view, it is an insane decision and it's becoming ever-clearer what the nature of that madness is. The current debate is whether the U.K. will remain in a single market, a customs union, or a customs partnership. If you ask anyone the difference between the three, the brows furrow as the eyes glaze over. The Tories argue for Brexit, bizarrely, as a tool for freer trade, in true English fashion. But it is withdrawal from the biggest free-trade area in the world! Many of the regulations and standards imposed Europe-wide will have to be retained, but under British law, not European — because the economies are so intertwined. The more you investigate what Brexit actually, practically means, it turns out to be an attempt to keep everything the same but somehow change it completely. It's a policy that makes no sense, is being negotiated by a prime minister who voted to remain in the E.U., is being debated by a Parliament overwhelmingly pro-staying, in deference to a referendum that was a blizzard of disinformation and ignorance. I truly don't believe if you asked the average Brit what the E.U. is, they'd be able to give you a coherent answer.
But they voted against it because they are scared. Last week's PRRI/Atlantic study of the key voters who brought us Trump brings this out with stunning and, for me, decisive clarity:
Sixty-eight percent of white working-class voters said the American way of life needs to be protected from foreign influence. And nearly half agreed with the statement, 'things have changed so much that I often feel like a stranger in my own country.' … Only a small portion—just 27 percent—of white working-class voters said they favor a policy of identifying and deporting immigrants who are in the country illegally. [But] among the people who did share this belief, Trump was wildly popular: 87 percent of them supported the president in the 2016 election … Nearly two-thirds of the white working class say American culture has gotten worse since the 1950s. Sixty-eight percent say the U.S. is in danger of losing its identity, and 62 percent say America's growing number of immigrants threaten the country's culture.
Ta-Nehisi Coates has called these people witting enablers of white supremacy because they voted for Trump, conjuring up images of men in white hoods lynching and murdering African-Americans. But many of them voted for Obama twice. Clinton called half of Trump voters a "basket of deplorables." But a majority of white women voted for Trump. The left intelligentsia regards them as bigots, racists, xenophobes, and even "privileged" — attitudes and statements that are re-broadcast every hour of every day to the white and culturally anxious viewers of Fox News. What few on the left seem to see is that cultural anxiety, given the ethnic and cultural transformation of the last few decades, is an entirely predictable and entirely understandable response. If people felt that someone in charge actually saw their point of view, sympathized with it, and attempted even minor changes to accommodate it, we would have a different politics. But all they had was Trump. And all they still have is Trump.
If that is true in immigrant-created, multiracial, multicultural America, a vast and churning continent, always restless, always changing, it is triply true in the little, overcrowded, once remarkably homogeneous island that is Britain. This country's core identity is thousands of years old. Yes, it has long accepted immigrants, but until the 1950s, net immigration was a rounding error. Since then, it has exploded. In the last 20 years, it has reached American levels. For those whose self-understanding is wrapped up in bluebells and tea, in English accents divided solely by class and region, in a nearly all-white and all-English country for centuries, these times are culturally terrifying.
It wasn't their economic insecurity that gave us Brexit. It was that no one in charge even sensed their unease. Elites — and I count myself among the guilty — gave them nothing by way of reassurance or even a sense that they were understood instead of reviled. So all they had was Brexit. It wasn't a rational decision; it was their only way to have their voices heard. Their pride and self-identity are bound up in it now, just as a critical slice of America's is bound up in Trump. Which is why, despite the mounting evidence that the Brexit gambit is a disaster, they will never let it go.
Home is indeed where one starts from. Change it too rapidly and it will disintegrate. We have been fools on mass immigration, we have been fools for preventing an honest debate about the benefits and drawbacks of diversity, and we have been contemptible in our contempt for so many of our fellow citizens. Both countries are now paying a terrible, terrible price.
Why Lie?
The whole Joy Reid weirdness has a strangely English resonance. The leader of the opposition and likely next prime minister, Jeremy Corbyn, was another victim of the eternal internet, revealed as having once been a member of five Facebook groups seething with crude anti-Semitism, and had once written a Facebook post defending a grotesquely anti-Semitic mural. Corbyn basically had no effective response. The mural's anti-Semitism was so blatant his excuse that he didn't see it or recognize it for what it is was absurd. I don't buy the idea that Corbyn is an anti-Semite. But I do buy the idea that he will side with a comrade instinctively, before he begins to investigate whether that comrade is, you know, nuts or evil.
But at least he didn't argue that someone else did it! The question I keep asking myself is: Why wouldn't Joy Reid just fess up, explain the context of the time, and her evolution since? She's already apologized for milder expressions of distaste for gay men — and been given absolution. So why not one more time? Yes, it's humiliating. But sometimes humiliation is a good thing for a pundit.
And it's perfectly fine to write something once that you genuinely regret later. God knows I get that. We all have a right to evolve and mature and deepen our understanding of the world. The key is honesty in self-reflection, not absurd attempts to deny any responsibility, let alone accuse someone else.
And Reid's homophobia was not that out of the mainstream over a decade ago. In 2006, 40 percent of Americans believed that gay sex should be illegal and nearly three-quarters of African-Americans believed that homosexual relations are always wrong. The cultural and moral transformation has been so huge and so swift most people expressed views back then that most would find deeply troubling today. And that's okay. In the '90s and aughts, we sought converts and not heretics in the marriage struggle, which is why, in part, we succeeded. And there's a lack of generosity of spirit when someone does concede an error, and is greeted with another round of other accusations in return.
There is still a teeny-weeny chance Reid's bizarre story is true, I suppose. But please. I'd forgive her in a millisecond. Most gay people would as well. I wouldn't even rescind an award, as PFLAG did. I loathe the way in which you no longer respond to and out-argue someone you disagree with, but mount a Twitter campaign to have them fired and ostracized instead. It's deeply illiberal. Yes, the First Amendment allows it, but the spirit of free discourse should keep it out of bounds. And it seems highly likely to me that it was precisely this fear of social-media power that prompted Reid to go off the deep end.
The brutal intimidation machine of Twitter — right and left — has no mercy. It doesn't want to win an argument; it wants to destroy human beings, ruin lives, and end careers. The absolutism of social media "justice" has become a blight on the discourse, a critical engine in the unwinding of liberal democratic norms. It appears Joy Reid was so determined not to have her life and career ruined because of her past homophobia that she almost certainly told a whopper, which actually does legitimately call into question her journalistic integrity. There's a lesson in there, if only the Savonarolas of our time were interested in learning it.
Parental Rights
Whatever else you say about Britain these days, it no longer feels like a free country. I don't just mean the hideous suffocation of free speech — although that's shocking enough. That someone was actually fined over $1,000 for making a stupid joke video of their pug doing a Nazi salute would be hilarious if it weren't also so preposterous. And if you want to see what the world would look like if the social-justice movement could truly get their way, and if the First Amendment did not exist, come to England.
Here, a politically incorrect statement could have you hauled into court. A young woman was recently sentenced to an eight-week community service order and legal costs of nearly $7,000 for putting a quote from Snap Dogg on her Instagram account, the Spectator's Brendan O'Neill reported. (The quote included the N-word and offended a cop from the local police hate crime unit.) A Christian preacher was put in jail for 19 hours because he told some gay teens that gay sex is a sin. Sick jokes — the kind that I heard every day as a teen — are now criminal offenses. The Times of London reported that more than 3,000 people were detained and questioned last year for trolling on the internet in ways that offended the designated victim groups. And this is under a Conservative government. No one but a few straggling right-wingers seem concerned.
And then there's the Alfie Evans case. The idea that the parents of a severely handicapped 2-year-old are not the ultimate deciders of what happens to their own child is, for me, a deeply chilling one. In the case of Alfie, afflicted with a degenerative neurological disorder, the doctors essentially decided it was time to pull the plug. It's a horrible decision to have to make, and I'm not going to diagnose what was medically possible, although medical bias does exist. I understand that, at some point, extraordinary measures to sustain a human life are no longer valid. When resources are limited, and a person really has no chance of survival, the use of simple ordinary measures to protect life — food, water, shelter, care — is what is morally required.
But what if the parents of the child disagree? What if they still hold out hope that some treatment might still be possible — and another hospital is able and willing to try? That's what happened in the case of Alfie. The doctors at Alder Hey Children's Hospital had every right to tell Alfie's parents that it was "unkind, unfair and inhumane" to continue treatment. But to deny the parents the option of another hospital in Italy, prepared to take over the case, and to legally prevent Alfie from being transported there, is hard to comprehend. If parents do not have the right to take their child to another hospital, what rights do they have at all?
The BBC has a useful account of the law in question:
The concept of parental responsibility is set out in law - in the Children Act 1989 - conferring on parents this right broadly to decide what happens to their child, including the right to consent to medical treatment. But this right is not absolute … If a public body considers that a parent's choices risk significant harm to their child, it can challenge these choices — but it must go to court in order to override the legal state of parental responsibility.
And that's what happened. The parents and the hospital are regarded as equals by the justice system and the court decided in favor of the hospital. It's not the first time this has happened, as the tortuous case of little Charlie Gard in 2017 proves. In that instance, Charlie was prevented from traveling for experimental treatment in the U.S.
These are horrible cases, and their complexity and agony need to be understood. But the ultimate right of a parent to do all they can for their child is not child abuse — if there is a legitimate alternative offered by other doctors. I'm not supportive of the barrage of abuse the hospital has been subjected to, or the threatening crowd outside, or the use of this case for political purposes. But I do believe that no one should overrule parents in a case like this. Alfie was born as an apparently healthy child, until seizures and infections took hold of him. His condition remains undiagnosed. He apparently breathed freely for hours without assistance after the hospital removed his life support last Monday night, and, as I write this Thursday night, he is still struggling to live. The father, meanwhile, has asked his supporters to stand down, and said he wants to restore his relationship with the hospital in order for the parents and the doctors to "build a bridge and walk across it." It is too late for Alfie now.
See you next Friday.