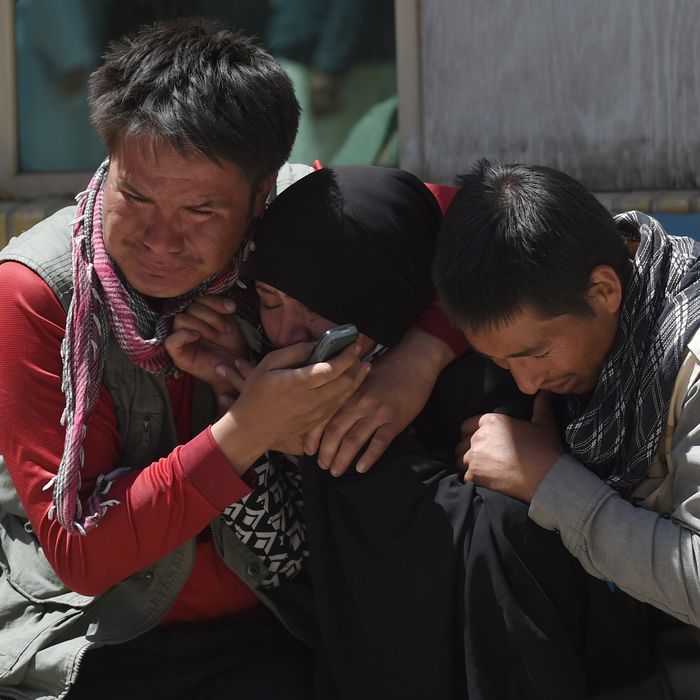 Afghan residents weep for their relatives outside the Isteqlal Hospital in Kabul following the attack.
Photo: Wakil Kohs/AFP/Getty Images
A suicide bomber killed at least 57 people in an attack on a voter registration line in Kabul on Sunday morning. Men, women, and children were among the dead, and at least 119 people were also injured in the attack, according to Afghan health officials. ISIS has claimed responsibility for the bombing, which targeted a neighborhood of ethnic Hazaras, members of the country's Shiite minority, in the western part of the city.
The bombing was one of two attacks on Sunday which targeted Afghans registering to vote. Another, in the northern province of Baghlan, killed five people. The New York Times notes that there have been other attempts to disrupt the Afghan government's efforts to register voters over the last week, including smaller attacks on registration officers and election officials.
Parliamentary elections are scheduled for October, but have already been delayed for three years in the political turmoil that followed Afghanistan's fraud-marred presidential election in 2014. Indeed, concerns about the fraud during that and the previous presidential election prompted the Afghan government to void the population's millions of existing voter identification cards, meaning that Afghans would need to obtain new ones in order to vote. Those cards were what people were lining up to get when the suicide bomber struck on Sunday.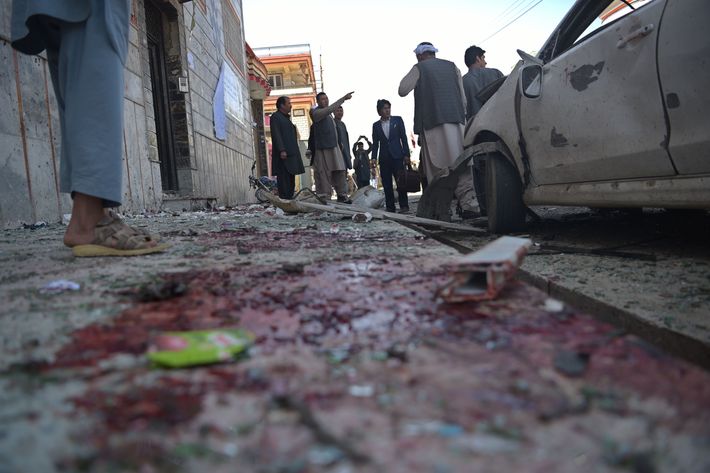 ISIS's involvement in the attack in Kabul has not been confirmed. The besieged group has nowhere near the same power or hold of territory in Afghanistan that the Taliban has, but it has still been able to conduct attacks in urban areas of the country.
In January, more than 100 people were killed when an ambulance car bomb was detonated outside the country's former interior ministry building in Kabul. The Taliban claimed responsibility for that attack.