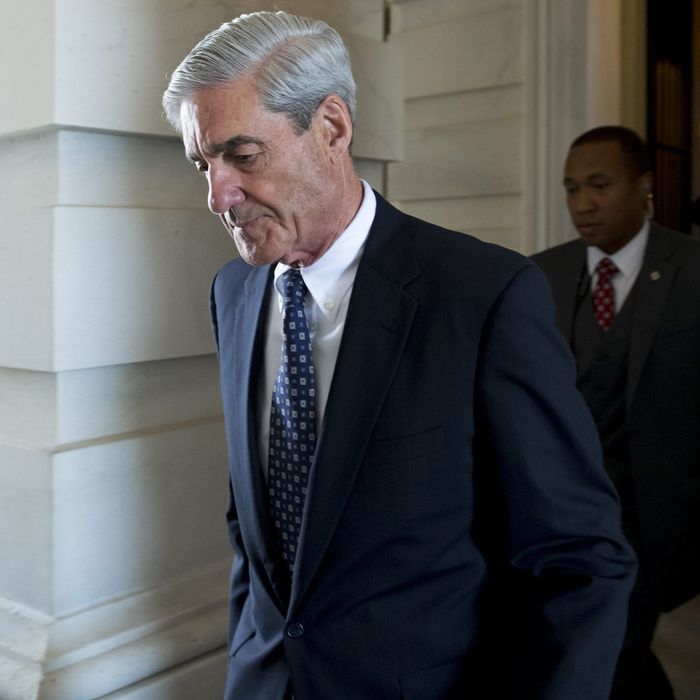 Special Counsel Robert Mueller.
Photo: Saul Loeb/AFP/Getty Images
The Senate Judiciary Committee Thursday approved a bill that would prevent President Trump from firing Special Counsel Robert Mueller, a largely symbolic move that is unlikely to go any further in Congress.
Four Republicans — Iowa's Chuck Grassley, North Carolina's Thom Tillis, South Carolina's Lindsey Graham, and Arizona's Jeff Flake — joined all ten Democrats to approve the bill by a 14–7 vote. But that is the last vote it will get if Senate Majority Leader Mitch McConnell keeps his pledge to not bring it before the full Senate.
Last week, McConnell said the bill would not be heard on the Senate floor because it is "unnecessary" since there is "no indication" Trump is angling to fire Mueller. That is, of course, not true, and Trump provided a reminder Thursday morning during a rant on Fox & Friends in which he said he won't interfere with the Russia probe, for now.
"I have decided that I won't be involved," he said. "I may change my mind at some point because what's going on is a disgrace."
In a statement after the bill was approved by the committee, Senate Minority Leader Chuck Schumer suggested that Trump's comments Thursday morning made a full Senate hearing even more necessary. "Given President Trump's statement just this morning that he may interfere with the special counsel's investigation, it's become even more of an imperative that Leader McConnell put this bill on the Senate floor for a vote immediately. Rather than waiting for a constitutional crisis, the full Senate should act now," Schumer said.
As McConnell has suggested though, even if he does bring the bill before the Senate, and even if it passes, it's unlikely to make it through the House and even less likely to be signed into law. Under the measure, a special counsel would have ten days after being fired to challenge the removal in court. The court could then overturn the firing if it is found to have not been for good cause.
Among the senators who voted against sending the bill out of committee was Utah Republican Orrin Hatch, who called it an unconstitutional infringement on executive power. Still, he warned that Trump's firing Mueller would have disastrous consequences. "Firing Mueller would cause a firestorm and bring the admin[istration's] agenda to a halt — it could even result in impeachment," he said.