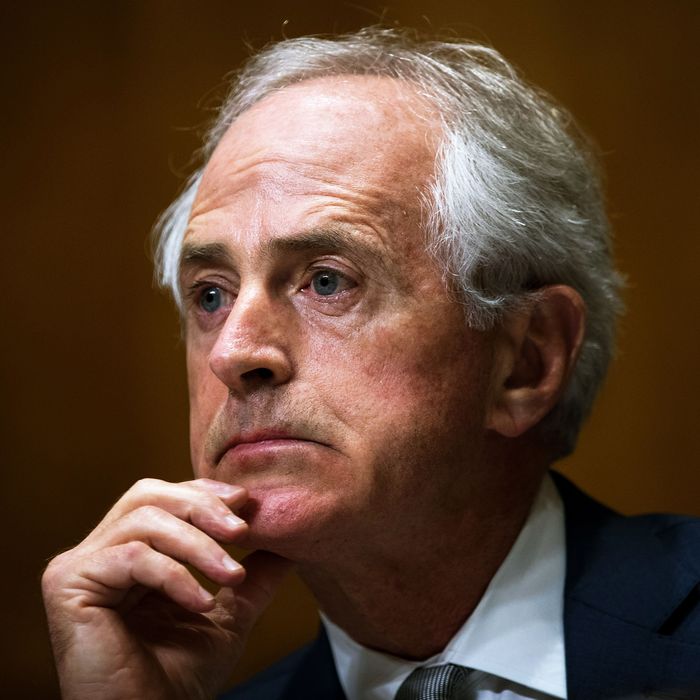 I wish you hadn't asked me that.
Photo: Drew Angerer/Getty Images
Retiring Republican Senator Bob Corker has vowed not to campaign against his friend, Democratic former governor Phil Bredesen, who is running to take over his seat in what promises to be an unusually competitive race in deep-red Tennessee this fall. Bredesen is likely to face Republican Marsha Blackburn, the kind of conservative firebrand who represents everything, temperamentally speaking at least, that Corker is not.
Corker has said he'll stand by Blackburn. But his clearly mixed feelings about the race have left him in an awkward spot, which was brought into sharp relief in a rather painful exchange on CNN's State of the Union Sunday morning.
CNN's Dana Bash asked Corker about a recent Washington Post story, which reported that Senate Majority Leader Mitch McConnell had warned Corker about consorting with the political enemy.
Corker defended himself. "I've sent the maximum contribution to the Republican nominee on our side — I've said I plan to vote for this person," he said, pointedly not mentioning Blackburn's name.
Bash asked Corker directly why Blackburn was preferable to Bredesen, at which point the senator reached for the lamest justification he could find.
"Well, I think most people in our state — it is a red state — will focus on the first vote she makes, and that's the vote to elect the majority leader, and at the end of the day I think that's gonna be a big factor in the race."
Besides the tepidness of Corker's sentiments, Mitch McConnell is not exactly a beloved figure among the kind of Republicans who will vote for Marsha Blackburn.
Bash noted that Corker's response didn't exactly constitute a "ringing endorsement."
Corker laughed uncomfortably. "I'm supporting the nominee," he said. I've worked with the nominee for some time, and I don't know what else to say," he concluded.
That much is clear.