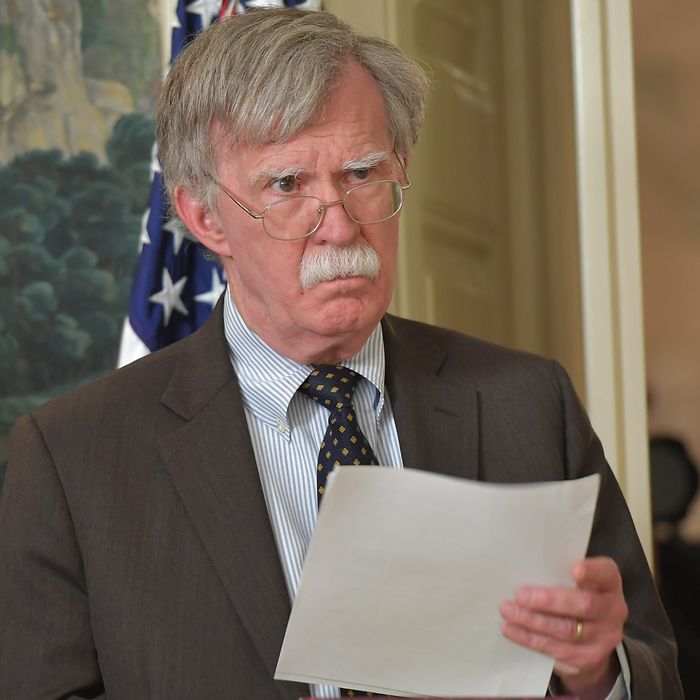 Bolton may want to brush up on U.S. foreign policy during the Obama administration.
Photo: Mandel Ngan/AFP/Getty Images
President Trump's new national security adviser, John Bolton, floated the idea of using the "Libya model" to denuclearize the Korean peninsula on Sunday, despite the fact that North Korea has previously cited Libya's disarmament and subsequent destabilization as a reason to distrust the U.S.
Bolton was referring to the process by which the U.S. and its allies relieved Libya of its weapons of mass destruction starting in 2003. Appearing on Fox News Sunday and CBS News' Face the Nation on Sunday, he explained that the White House has "very much in mind the Libya model from 2003, 2004," a process which moved quickly after the U.S. was able to confirm Libyan dictator Muammar Qaddafi's intentions and verify his regime's full disclosure about their weapons programs. Like in Libya, the U.S. will look to dismantle North Korea's nuclear, chemical, and biological weapon programs, he added.
But Bolton, one of the architects of the Iraq War, did not acknowledge what happened in Libya after it gave up its weapons of mass destruction. Several years later, in 2011, the country was destabilized by a civil war, during which the U.S. and its allies intervened militarily against Gaddafi, directly leading to the end of his 42-year rule as well as his capture, beating, and death and hands of rebel fighters. And the country has been in crisis ever since.
Gaddafi's experience subsequently became the ultimate cautionary tale for any regime considering disarmament, and that was especially true in North Korea.
"It has been shown to the corners of the earth that Libya's giving up its nuclear arms," a Kim spokesperson said in 2011, "was used as an invasion tactic to disarm the country by sugarcoating it with words like 'the guaranteeing of security' and the 'bettering of relations.'"
On Friday, Kim Jong-un reportedly agreed to abandon nuclear weapons in exchange for an official end to the Korean War and a promise from the U.S. to not invade North Korea. Such security assurances would undoubtedly be the center of any possible deal, particularly since giving up nuclear weapons would mean giving up the most effective deterrent of foreign invasions in world history.
The regime in Pyongyang is not known for sticking to its agreements, however, and it's still not clear what, precisely, denuclearization means to them to begin with. One thing is certain, however, and that is that Kim has no interest in ending up like Qaddafi, which Bolton may want to remember that the next time he casually refers to the "Libya model" on television.