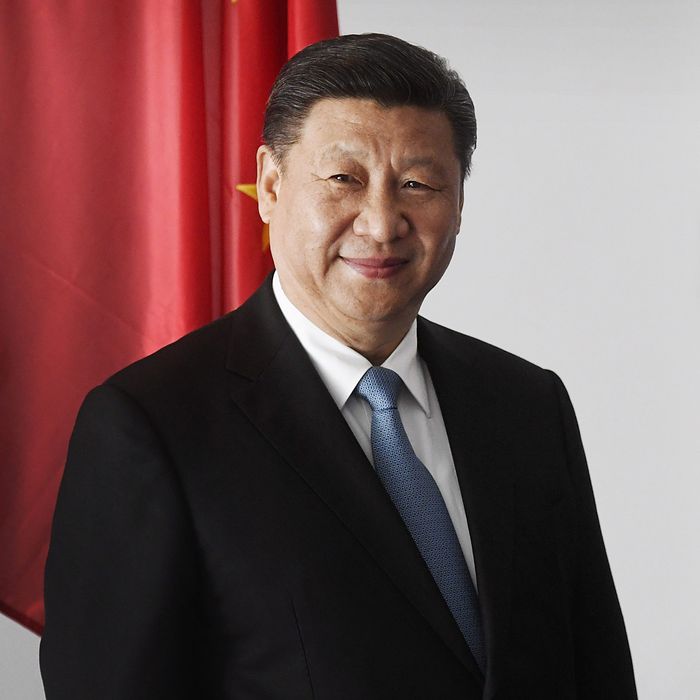 Chinese President Xi Jinping.
Photo: Vesa Moilanen/AFP/Getty Images
Weeks after President Trump announced steep tariffs on Chinese steel and aluminum imports, China is striking back. If it's not quite a trade war yet, it's a trade skirmish.
The country announced in a statement on Sunday that beginning on Monday, it would impose duties on 128 American goods "in order to safeguard China's interests and balance the losses caused by the United States additional tariffs."
China will increase already existing tariffs on U.S. pork and scrap aluminum to 25 percent, and add a 15 percent duty on many more products including cherries, pistachios, and wine.
The Trump administration had set 25 percent tariffs for Chinese steel products and 10 percent for aluminum products. The new rules went into effect on March 23.
The Chinese statement contends that the U.S. measures violated World Trade Organization rules. America cited "national security" as a reason for its tariffs, a highly unusual move that has put it at odds with the WTO — though it remains to be seen if the organization can or will do anything about it.
The Trump administration had originally maintained that its steel and aluminum tariffs would apply to every country. But over the last month, it has announced several notable exemptions, including Canada, Mexico, and all European Union countries.
The real target seemed to be China, which Trump has repeatedly accused of unfair trade practices. The steel-and-aluminum volley was only the beginning of the president's campaign against the country. Later in March, he hit the country with an additional $50 billion in tariffs for intellectual-property theft, in a move that seemed designed to provoke the kind of trade war that the president claims is "easy to win."
China, which depends heavily on imports, still seems to be treading somewhat cautiously. The approximately $3 billion in tariffs announced on Sunday were seen as fairly modest, and soybeans, an important American export to the country, were not included on the list.
Still, President Trump has — for no good reason — created an atmosphere of heightened mistrust between the two countries that could lead to unnecessary economic pain on both sides.