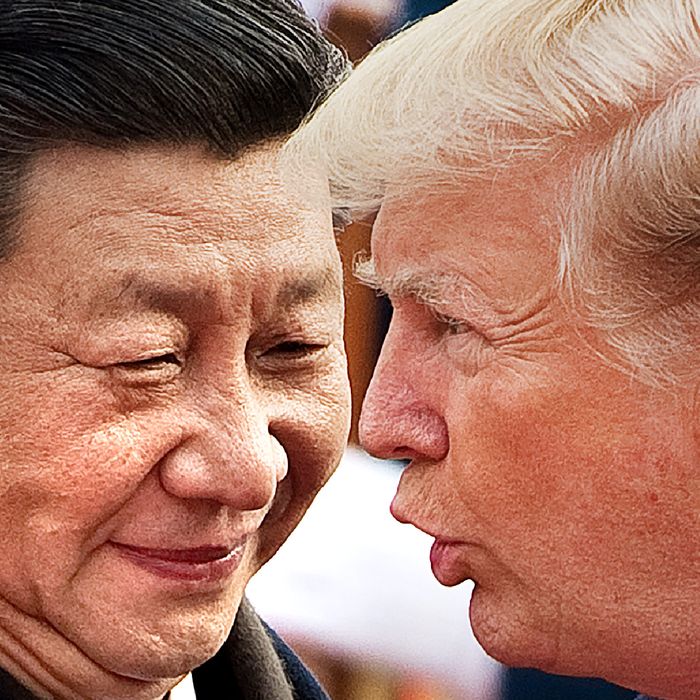 In happier times.
Photo: Nicolas Asfouri/AFP/Getty Images
China lobbed another volley in the Sino-U.S. trade battles on Tuesday. The country imposed an extremely steep tariff — 176.8 percent — on sorghum, an American-made cereal grain that is used as a cattle feed and sweetener for baijiu, the popular Chinese liquor.
After conducting an investigation, China concluded that the U.S. was dumping sorghum on the Chinese market, hurting its domestic producers. China imports about $1 billion a year worth of the grain from the U.S. Sorghum is mainly produced in the American South, in regions that voted heavily for President Trump.
Despite the aggressive tactic, talk of a full-blown trade war has died down slightly in the last few days, as President Trump has focused his Twitter attention more on James Comey than sparking unnecessary economic disasters. And, though the Trump administration's steel-and-aluminum tariffs on China have gone into effect, more than $100 billion of additional duties the president has threatened are still in the planning stages. (China has announced a list of American products it would impose tariffs on if Trump pulls the trigger.)
Chinese president Xi Jinping also announced in a speech last week that he would further open the country to foreign auto manufacturers, a concession that was seen as a possible win for Trump, a sign that trade tensions between the countries might yet be allayed. On Tuesday, China announced some specifics of that plan, including getting rid of foreign ownership limits for electric-car makers this year.