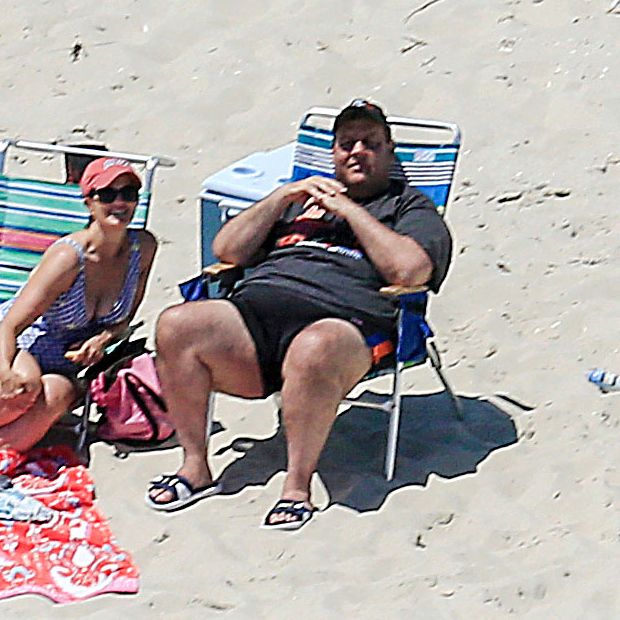 How Chris Christie will be remembered.
Photo: Andrew Mills | NJ Advance Media/AP
Chris Christie has been out of office for more than three months, but the former New Jersey governor is still sticking it to the state's taxpayers. His latest middle finger to New Jerseyans is blowing $85,000 of taxpayer dollars on his official portrait, which is more than his three predecessors combined, according to NorthJersey.com.
The portrait, which probably won't depict Christie in repose on a secluded beach, although it totally should, will be painted by the Australian artist Paul Newton, who has previously worked with subjects including Kylie Minogue and the Duke of Edinburgh.
The payment for Christie's portrait comes from a $250,000 taxpayer-funded transition account that is typically used to finance a governor's portrait, along with staff and office space. But no other governor has ever used so much of the fund on a painting. The three Democratic governors who occupied the office before Christie spent a combined $74,500 on their own. The two previous Republican governors spent a combined $63,000.
No one who endured Christie's eight years in office will be surprised by his big spending. This is the same guy who jetted around the world on the the private planes of his billionaire buddies while publicly mocking public school teachers. It's the same guy who spent that day on a beach closed to the public because of a government shutdown that he ordered. And the same guy who once boasted that he tries "to squeeze all the juice out of the orange that I can." The good news for those tired of being squeezed by Christie is that the orange is almost empty.