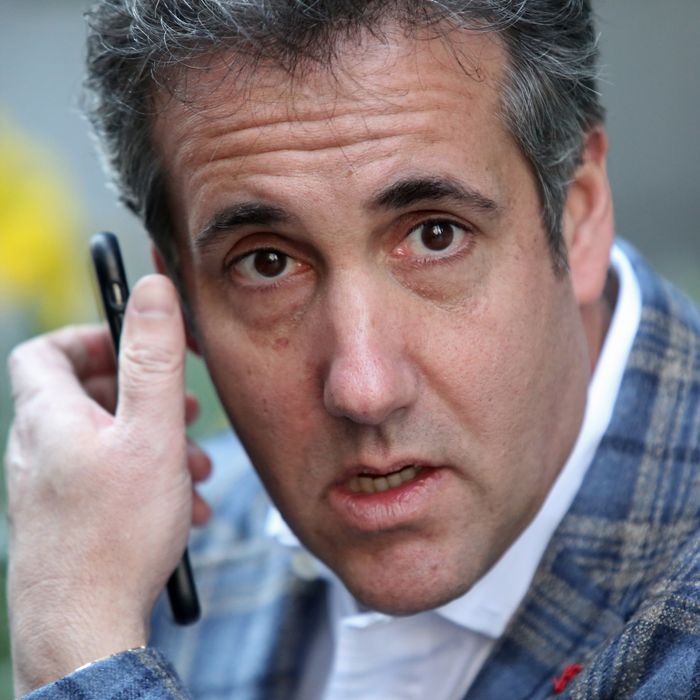 Someone like Cohen would probably never admit to lying, but he has repeatedly contested the unconfirmed Prague story.
Photo: Yana Paskova/Getty Images
Michael Cohen is denying a new McClatchy report which said that the Mueller investigation has uncovered evidence that he visited Prague in summer 2016, which, if true, may confirm one of the key claims made in infamous Steele dossier. Cohen, President Trump's longtime personal lawyer and fixer, tweeted on Saturday that the story was "bad reporting, bad information and [a] bad story."
"No matter how many times or ways they write it, I have never been to Prague," he continued. "I was in LA with my son. Proven!"
One of the biggest unconfirmed claims made in the controversial dossier written by former British spy Christopher Steele is that Cohen traveled to Prague in 2016 to meet with a representative from the Kremlin to discuss Russia's meddling in the U.S. presidential election. It's also an allegation that Cohen has repeatedly and vehemently denied, launched two lawsuits over, and offered up photos of his passport to refute:
According to McClatchy reporter Peter Stone, Cohen "secretly made a late-summer trip to Prague during the 2016 presidential campaign, according to two sources familiar with the matter":
[Mueller's investigators] have traced evidence that Cohen entered the Czech Republic through Germany, apparently during August or early September of 2016 as the ex-spy reported, said the sources, who spoke on condition of anonymity because the investigation is confidential. He wouldn't have needed a passport for such a trip, because both countries are in the so-called Schengen Area in which 26 nations operate with open borders. The disclosure still left a puzzle: The sources did not say whether Cohen took a commercial flight or private jet to Europe, and gave no explanation as to why no record of such a trip has surfaced.
Not everyone believes the report, however. Lawfare's Benjamin Wittes, who has followed the Mueller investigation as closely as anyone, tweeted his skepticism on Saturday morning. He commented that the sourcing of the McClatchy report seemed thin and the details vague, and the report didn't actually confirm the Steele dossier's claim. He also said that Cohen would have been "nuts" to deny the Prague trip like he has and file two lawsuits over the allegation if there was any evidence confirming he traveled there:
Regardless, Mueller's Russia investigation is probably the least of Cohen's worries after the epic week he's had. His offices and home were raided by the FBI on Monday, and the leaks about what potentially incriminating information investigators may have found have only intensified since. On Friday, federal prosecutors confirmed that a criminal investigation into Cohen's business dealings has been going on for months — apart from the Mueller investigation — and ABC News reported that the FBI had seized, among other things, audio recordings from his office, though it's not yet clear what's on them. That all followed an earlier scandal, on Friday morning, regarding a payment Cohen had facilitated to a former Playboy model on behalf of now RNC finance official Elliott Broidy. (If you're rich and need to pay off a Playboy model, Cohen's is apparently the number you used to call.)
In addition, Cohen's ultra-precarious legal situation has led Trumpworld sources to reach for new hyperbolic heights to describe the president's anger and anxiety, while others wonder if Cohen's loyalty to Trump is as resolute as he claims.
Cohen may have never traveled to Prague in summer 2016, but he may already wish that he had — and stayed there.