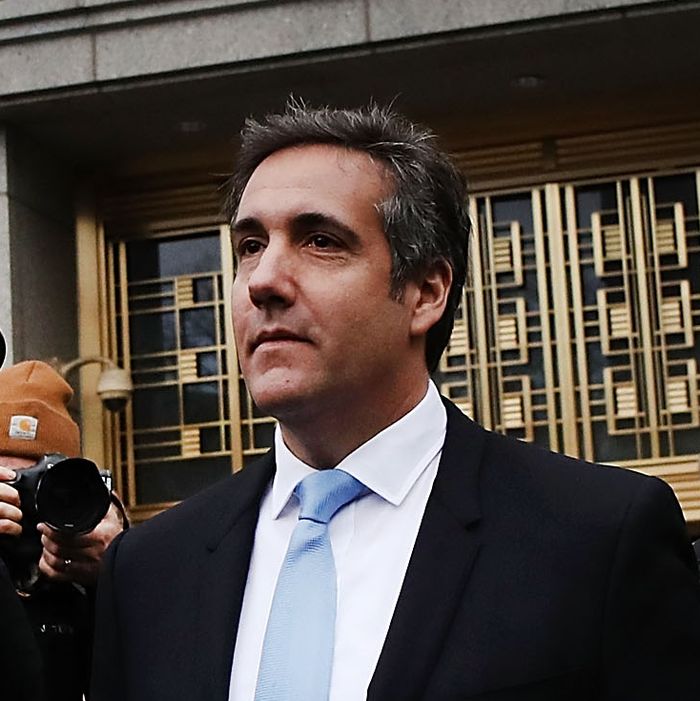 Good thing they can't convict a president and his lawyer for the same crime.
Photo: Spencer Platt/Getty Images
The Trumps are probably best understood as a real-life Bluth family with no Michael, but since no one in Trump's orbit ever watched Arrested Development, they instead make repeated references to the Mafia. Trump has alleged ties to crime families in New York and Philadelphia, and former FBI director James Comey said being around the president gave him "a flashback to my days investigating the Mafia, La Cosa Nostra." Trump's associates have also invoked the mob metaphorically. Within the Trump Organization fixer Michael Cohen was nicknamed "Tom" after Tom Hagen, the consigliere in The Godfather. And in a recent interview Trump attorney Jay Goldberg expressed concerns about Cohen's loyalty by noting, "The mob was broken by Sammy 'The Bull' Gravano caving in out of the prospect of a jail sentence."
The president hasn't embraced this comparison himself, but Cohen is now engaged in behavior the president once attacked as moblike and incriminating. In a Wednesday court filing, Cohen said he intends to invoke his Fifth Amendment right not to incriminate himself in a lawsuit filed against the president by porn star Stormy Daniels.
Cohen is trying to delay the California civil suit, which Daniels hopes will void a nondisclosure agreement in which she received $130,000 to keep quiet about her alleged affair with Trump. In the filing, Cohen said that if called as a witness, "I will assert my Fifth Amendment rights in connection with all proceedings in this case due to the ongoing criminal investigation by the FBI and U.S. Attorney for the Southern District of New York."
It's common for civil proceedings to be put on hold if defendants are also facing criminal prosecution, as the civil suit could yield incriminating information. In this case, by citing the Fifth Amendment, Cohen can avoid giving a deposition and turning over sensitive information that could be used in the federal case, which was revealed when the FBI raided his home and office earlier this month.
S. James Otero, the judge in the civil case, said last week that since Cohen is seeking a stay in the case (and ideally wants it sent to private arbitration) the burden is on his attorneys to prove that there's sufficient overlap with the criminal case. Federal officials are said to be looking at the payments Cohen facilitated to Daniels and other women who claim they had sexual encounters with Trump, but as Otero noted, "the scope and breadth of the criminal investigation remain a mystery."
Pleading the Fifth may be a wise legal move for Cohen, but in the past Trump has been highly critical of the tactic (though he used it himself to avoid answered questions about "other women" during his divorce from first wife Ivana Trump). Nevertheless, during the presidential campaign he hammered former Hillary Clinton staffers who took the Fifth during the investigation of her private email server.
"The mob takes the Fifth," he said at an Iowa campaign rally in September 2016. "If you're innocent, why are you taking the Fifth Amendment?"
In his first debate with Clinton, he attacked her for her staffers' use of the Fifth.
"When you have your staff taking the Fifth Amendment, taking the Fifth so they're not prosecuted, when you have the man that set up the illegal server taking the Fifth, I think it's disgraceful," he said.
As the Washington Post notes, in June 2016 Trump even speculated that the Clinton aide who took the Fifth might be informing on her. "Did you see her IT specialist? He's taken the Fifth," Trump said. "The word is he's ratting her out like you wouldn't believe it."
Presuming Trump doesn't lash out at his former fixer for using this "disgraceful" tactic, it certainly won't be the first time he's taken a hypocritical stance. For example, take a look at Trump and Cohen's effort to keep materials seized in the FBI raid from federal prosecutors. U.S. District Judge Kimba Wood rejected Trump and Cohen's request to take the first crack at what's protected by attorney-client privilege, but she's ordered the attorneys to appear in court on Thursday for a hearing on whether they should be reviewed by a team of prosecutors not connected to the case, or an independent "special master."
While Trump's attorneys once argued that he's too busy to sit for an interview with Special Counsel Robert Mueller, on Wednesday his legal team in the Cohen case said he'd have plenty of time to review documents. "… Our client will make himself available, as needed, to aid in our privilege review on his behalf," his attorneys said in their filing.
Either Trump just realized that livetweeting Fox & Friends isn't an essential part of his schedule, or he's pretty worried about the Cohen case.