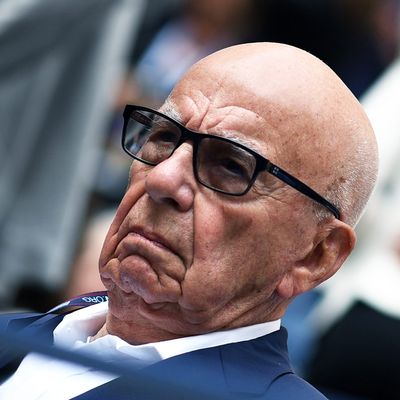 The heart wants what it wants.
Photo: Jewel Samad/AFP/Getty Images
Rupert Murdoch's long-held dream of buying Sky, the British TV giant, ran into another roadblock on Wednesday when Comcast formalized a $31 billion offer for the broadcaster. The bid, which dwarfs Murdoch's offer of $16 billion for the 61 percent of Sky that he doesn't already own, led Sky's independent directors to back away from a recommendation to take Murdoch's deal.
Citing a duty to maximize value for shareholders, the directors said they could no longer support Fox's offer of £10.75, or $15, per share when Comcast is offering 12.5 pounds, or $17.45, per share.
Comcast's bid for Sky is only the latest setback for the 87-year-old Murdoch, who has had his eye on a full takeover of the pay-TV provider for ages. But British regulators aren't so keen on allowing Murdoch to buy the company, which would give him too much control of the U.K. media and is therefore "not in the public interest," the Competition and Markets Authority said earlier this year.
Murdoch's British media assets, which include newspapers The Sun and The Times, already reach a third of the country's news consumers. If he bought Sky, Murdoch would have "too much control over news providers in the UK across all media platforms and therefore too much influence over public opinion and the political agenda," the CMA said.
Disney, which has a $52.4 billion offer on the table to buy most of 21st Century Fox, has stepped in to try to help Murdoch with an offer to buy Sky News. Fox has also suggested making Sky News its own entity with its own board of directors, a move that would theoretically bolster the outlet's independence. But with Comcast offering so much more money for Sky, those offers may be moot.
Comcast's potential disruption of Murdoch's plans comes nearly seven years after the media mogul withdrew a previous bid for full control of Sky, an offer that was derailed by the phone-hacking scandal that resulted in the closure of his newspaper The News of the World.