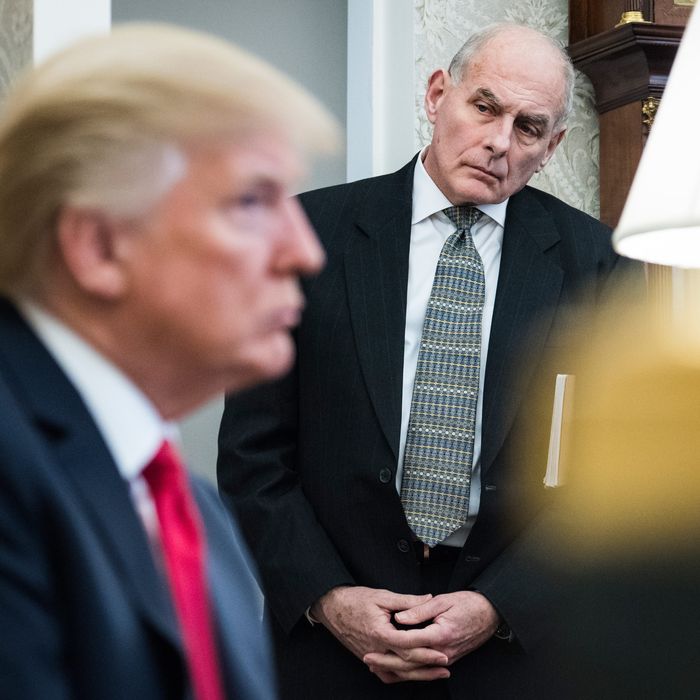 A quizzical John Kelly.
Photo: Jabin Botsford/The Washington Post/Getty Images
After President Trump fired James Comey last May, the former FBI director received a phone call from then-DHS secretary John Kelly. Two months before he would be named White House chief of staff, Kelly told Comey that he was "sick" over the firing, Comey writes in his new book A Higher Loyalty, according to a report in the Daily Beast.
Kelly added that he "intended to quit," Comey writes, and "said he didn't want to work for dishonorable people." But Comey encouraged Kelly to stay on, telling him that Trump, more than other presidents, needed to be surrounded by principled people.
This revelation will do little to help Kelly's standing in the White House, assuming Trump believes a man he's branded "Lyin' Comey." The chief of staff has found himself "less engaged in West Wing decisions and less visible in Trump's day-to-day," CNN reported Wednesday. Kelly's weakened position in the White House is reflected by Trump's chaotic behavior, which includes tweeting about an upcoming bomb strike against Syria that remains unplanned.
If calling Trump "dishonorable" proves to be the nail in Kelly's coffin, he will join former secretary of State Rex Tillerson on the list of Trump appointees felled by a insult. Tillerson lasted months after calling Trump a "moron," but the president's anger about the remark reportedly hadn't subsided when he axed Tillerson on Twitter last month.