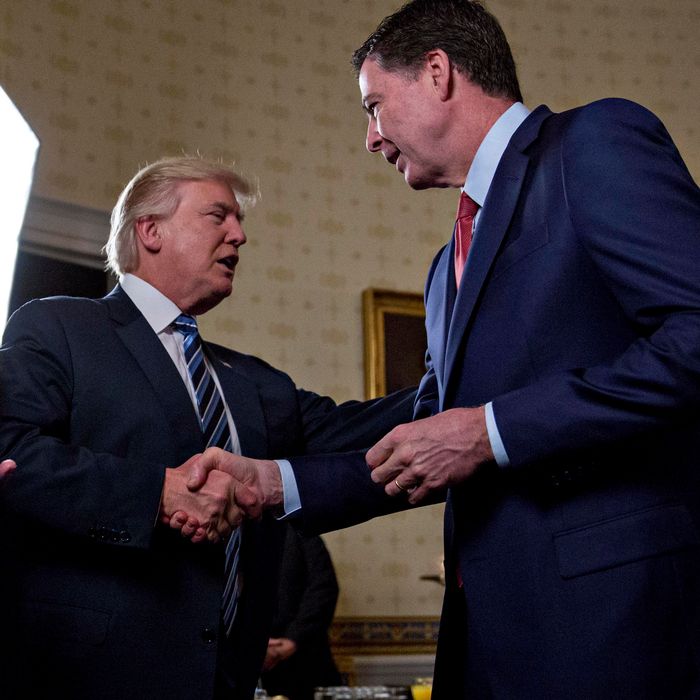 "You gotta peelieve me."
Photo: Pool/Getty Images
Donald Trump asked James Comey to investigate the allegation that Vladimir Putin possessed a tape of the mogul engaging in erotic, urine-related activities on a hotel bed in Moscow — because he wanted to convince his wife that it wasn't true.
Or so the former FBI director alleges in his new book.
"He brought up what he called the 'golden showers thing' … adding that it bothered him if there was 'even a 1 percent chance' his wife, Melania, thought it was true," Comey writes in A Higher Loyalty: Truth, Lies, and Leadership, according to the New York Post. "He just rolled on, unprompted, explaining why it couldn't possibly be true, ending by saying he was thinking of asking me to investigate the allegation to prove it was a lie. I said it was up to him."
According to Comey, Trump made this extraordinary request one week into his presidency, during the same private dinner where he asked the FBI director to pledge personal loyalty to him. By that point, Trump had already lectured Comey extensively on why the "pee tape" allegations couldn't possibly be true.
When the FBI director first informed the president-elect of the salacious, unsubstantiated charges in the Christopher Steele dossier, Trump "strongly denied the allegations, asking — rhetorically, I assumed — whether he seemed like a guy who needed the service of prostitutes. He then began discussing cases where women had accused him of sexual assault, a subject I had not raised. He mentioned a number of women, and seemed to have memorized their allegations."
Days later, during a follow-up call, Trump assured Comey, "I'm a germophobe. There's no way I would let people pee on each other around me. No way."
On the night of their dinner, Comey responded to Trump's request for an investigation into pee-gate by suggesting that such an inquirycould create the false impression that the FBI was investigating Trump personally. The president acknowledged that this was a legitimate concern, but persisted in trying to persuade Comey to invest time and energy into proving that such a tape did not exist.
Comey writes that he could not understand how Melania Trump could believe that her husband was capable of engaging in such urolagniac activities.
"In what kind of marriage, to what kind of man, does a spouse conclude there is only a 99 percent chance her husband didn't do that?" Comey asks his readers.