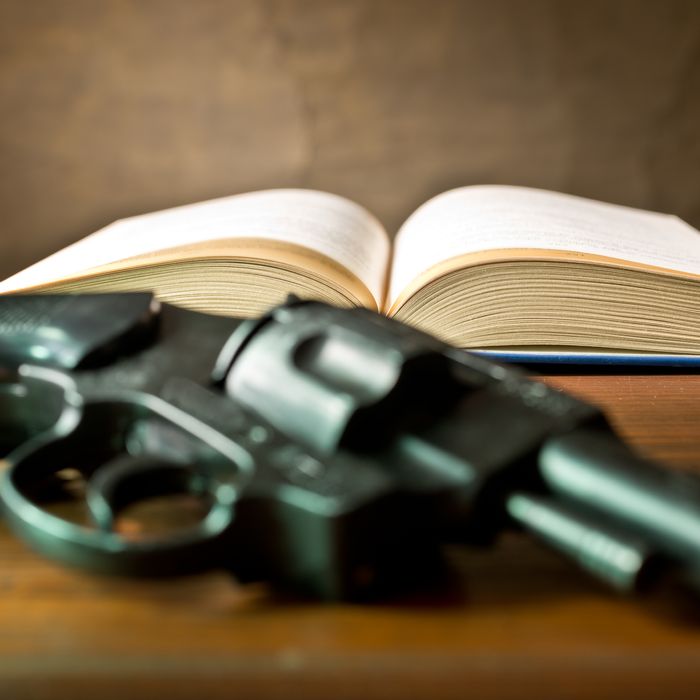 Not Norman's actual gun.
Photo: aaron007/Getty Images/iStockphoto
Republican Congressman Ralph Norman of South Carolina comes across as a pretty deep thinker. You could see that during his special election campaign last year (leading to a surprisingly narrow win in Mick Mulvaney's old district), when he identified himself thusly:
"I'm a Conservative," Norman said. "I'm a business person who believes government ought to run like a business."
Pretty cerebral, eh?
Well, he's reinforced his rep as someone making arguments no one has thought of before, as the Charleston Post and Courier reports:
A South Carolina Republican congressman is not backing down from critics after he pulled out his own personal — and loaded — .38-caliber Smith & Wesson handgun during a meeting with constituents Friday ….




The move, Norman said, was intended to prove "guns don't shoot people; people shoot guns."
Reinforcing his point, the weapon, a 38-caliber Smith & Wesson handgun, did not shoot anyone as it sat there quietly on a table in front of the lawmaker, who has a concealed carry license and apparently doesn't much go anywhere without his heater. But Norman also made it clear that he'd joyfully become one of those people who shoot guns if anyone threatened him or his audience:
"I'm not going to be a Gabby Giffords," he said afterwards….




"[W]hoever shoots me better shoot well or I'm shooting back," he told The Post and Courier.
So, guns don't shoot people. But congressmen might.