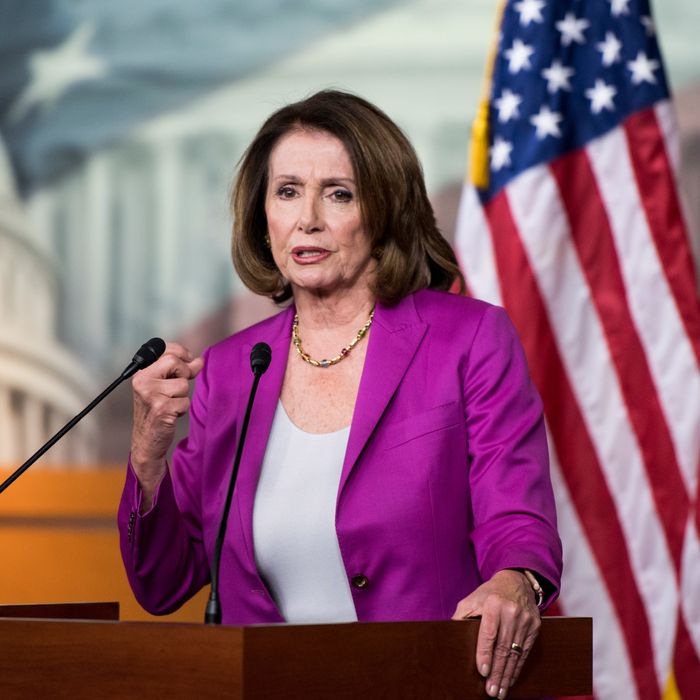 Democrats have an excellent chance to retake the House this November. But if they do so, will Nancy Pelosi get the gavel as Speaker?
Photo: Bill Clark/CQ-Roll Call
House Democratic Leader Nancy Pelosi has been getting more attention that she'd probably like this election cycle. For one thing, Republicans continue to make of her a hobgoblin that they use to frighten and enrage their conservative base. As Jeet Heer points out, the demonization of Pelosi by the right has reached incredible levels:
[W]ith both Barack Obama and Hillary Clinton retired from public life, Pelosi has become Republicans' scapegoat of choice …




34 percent of Republican ads in House races this year mentioned Pelosi, up from 13 percent from the 2014 midterm cycle. In some races, this is the dominant message: In the special election in Pennsylvania's 18th Congressional District last month, 58 percent of Republican ads were anti-Pelosi. 
Partly because of this drumbeat, a handful of Democrats in difficult territory have chosen to distance themselves from Pelosi. That notably included the candidate in that Pennsylvania race, in its 18th District, where the GOP ran so many anti-Pelosi ads: Conor Lamb ran his own anti-Pelosi ad, disclaiming any support for her in future leadership contests.
If you add this dynamic to the relatively sizable number of House Democrats who have been grumbling about Pelosi for years (much as House members always grumble about their leaders), the question does arise: Is there any real threat to Pelosi's position after November?
The Hill's Mike Lillis posed the question, and concluded that even a House takeover (requiring a gain of 23 seats) wouldn't keep Pelosi safely ensconced given the possibility of a few defections like Lamb's:
"I think the magic number is somewhere between 29 and 34," said one Democratic lawmaker who wants Pelosi replaced and asked for anonymity to speak on the sensitive topic of leadership. "She has to probably get to 34 seats to guarantee she can still be Speaker."
It's important to understand the two-step process whereby a Speaker is selected:
The first is a secret ballot among the Democrats, including new arrivals, with the winner decided by a simple majority. Pelosi has easily fended off two challenges in the past decade, most recently defeating Ryan by a lopsided 134-63 caucus vote in 2016. If those trends hold, Pelosi could likely keep her place atop the party even if the Democrats fail to win back the chamber.
The second step is only necessary if Democrats do indeed retake a majority of House seats:
The second contest will take place in January — a public vote for Speaker on the House floor, where Democrats have traditionally banded overwhelmingly behind Pelosi as a show of unity. After the divisive Pelosi-Ryan contest, only four Democrats — Reps. Jim Cooper (Tenn.), Ron Kind(Wis.), Kyrsten Sinema (Ariz.) and Kathleen Rice (N.Y.) — bucked Pelosi in the Speaker's vote. And Sinema, who's running for Senate, won't be around to air her grievances after November.
You might figure that in that scenario members who have publicly distanced themselves from Pelosi can discharge their "new leadership" pledges in the closed Democratic caucus vote, and then put on the party harness for the formal Speakership vote. They might explain to any disgruntled constituents that they didn't promise to oppose Pelosi to the extent of risking being placed in the party doghouse for two years.
If, of course, Democrats do fall short in November, Pelosi might voluntarily pack it in, and the desire for new leadership might grow. Also, 2020 could even be a better year for Democrats than 2018, given the tendency of young and minority voters to participate more fully in presidential elections than in even the most "energized" midterm. The fact that Pelosi was one of the most effective Speakers in living memory when she controlled the gavel from 2007–2011 ought to outweigh any such vague restless feeling, but you really can't take the politics out of politics.
The heat on Pelosi might also abate if Republicans finally decided the focus on her wasn't doing them much good. But don't hold your breath for that to happen. A heady combination of sexism and heartland disdain for the godless baby-killing hippies of San Francisco makes Pelosi a base-energizing figure for the GOP, even if the treatment of her as a devil figure puzzles swing voters.