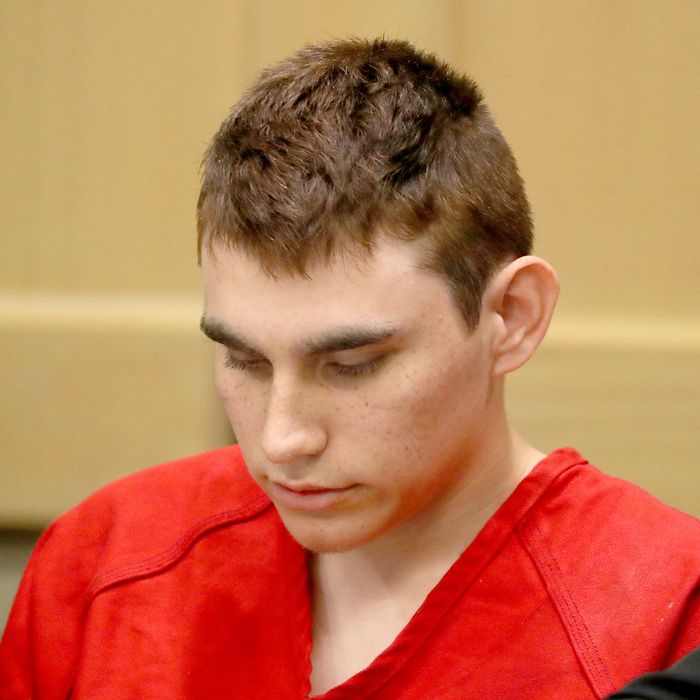 Nikolas Cruz.
Photo: Mike Stocker-Pool/Getty Images
It took just minutes for the first photograph to go viral. Tumblr pages with his likeness appeared out of nowhere; forums on the fringes of the dark web sprang to life; and investigators, desperately trying to vacuum up the totality of school shooter Nikolas Cruz's presence online, found themselves face-to-face with literally hundreds of his avatars — some grinning with giant ears at right angles, others of a menacing presence with guns and body armor. "I have to tell you, it was just unreal going through these websites," one law-enforcement official close to the investigation told me. "Seeing all the screenshots of Cruz with people claiming to be him — like they wanted to be him, like they were proud of him — it was …" he searched for the word … "freaky."
While we've been marveling at how Marjory Stoneman Douglas High School students have used social media to push for change in our gun laws, a little-noticed subculture called "Cruzers" or the "Niko Community" has grown up alongside them. They have created hundreds of blogs, private servers, and chat rooms where kids can get together and talk about their latest obsession: 19-year-old Nikolas Cruz. A quick search of Tumblr or the voice app Discord reveals Cruz-inspired GIFs, photo collages of his face with animated hearts, and discussion groups that dissect the latest details of the investigation (with a decidedly Cruz-ian spin).
"I find myself interested in Nikolas's case because it happened during my time," said Laura, a 17-year-old Minnesotan and freshly minted Cruzer. She runs Tumblr's Nik-Cruz blog and says she probably spends several hours a day responding to messages, blogging, and reposting details about the investigation. Laura, who, like Cruz, lost her mother when she was young, makes clear that while she thinks what Cruz did was wrong, she can "imagine what he must've been dealing with mentally."
"The system let Nik down," she says, before providing details about his life that she says she picked up on blogs in the weeks after the shooting. "He tried to kill himself by ingesting gasoline, slit his wrists on the internet; I feel bad that people ignored his pain for so long," she added. "He's not a symbol of anything. He's not a god. He's just a person that the system failed. I think he represents what happens when warning signs are ignored and left to be bottled up."
School-shooter sites aren't a new social-media phenomenon: Before there were Cruzers, there were "Columbiners," people who believe that the two students behind the 1999 Columbine High School shooting, Dylan Klebold and Eric Harris, were bullied outcasts who stood up for something and won. We know now that is a completely false narrative: Klebold was suicidal; Harris had mental-health issues; and neither of them had been particularly bullied. Even so, the revenge story line has taken on a life of its own — it is a version of events many kids identify with. I've talked to dozens of Columbiners as part of the research I did for my podcast, What Were You Thinking, which looks at the adolescent decision-making process, and it is clear that Columbine's "revenge of the nerds" plot line still resonates. What's more, many of the Cruzers I spoke with knew quite a bit about Columbine, too.
"From the information currently available, I believe that Dylan Klebold and Eric Harris were very different to Nikolas Cruz," Tyler, an 18-year-old U.K. blogger, told me. He runs a Columbine blog on Tumblr with several thousand followers and launched "nikolas-cruz" on Tumblr shortly after the Parkland shooting. As he sees it, the Columbine killers "definitely had an agenda with their attack; they wanted people to listen to what they thought. Nikolas Cruz doesn't seem to have the same urgency to spread what he thinks. He has kept extremely quiet about why it was committed, and if he had an agenda, I think he would have said something by now."
Tyler said the blogs provide a sense of community that some people might not otherwise have in their lives. "Many of the followers have strong political views on things like the death penalty and the American judicial system, as well as the police in the USA," he said. "You get the people who have legitimate reasons for their blogs, such as they might be studying psychology or criminology or something along those lines. There are also some teenagers who seem to have mental-health issues who see themselves reflected in the perpetrators, or people who simply want to have an outlet for their morbid curiosity, and there are people who just want to seem 'edgy.'"
The concern is that these online groups ended up normalizing violence, as they connect kids in ways that previously wouldn't have been possible. Peter Langman, an expert who has written extensively on school shooters, says that these forums or chat groups give young people a virtual peer group and could unwittingly reinforce delusions of grandeur that could set kids on a path to violence.
"Does anyone know if we can make a phone call to the jail Niko is in? Would love to just say a few words to him but you know just to like see if he's okay."
"Any Dutch or Flemish people here?? Me and some friends started a Dutch discord server about Nik mostly but any tcc [true crime community] member who isnt hateful toward Nikolas may join!! Please dm me if you'd like to join."
"To anyone wanting to visit Nik, you can't just show up and see him. You have to be approved by Nikolas and the prison (and not everyone who applies gets approved). Also, it would be really shitty to try to show up without being his friend first."
Two Finnish cultural anthropologists, Jenni Raitanen and Atte Oksanen, interviewed several dozen people who claimed to have a "deep interest" in school shootings for a research paper they released earlier this year (a month before the Parkland shooting). What they discovered behind screen names like "Rebby" and "Vodka" (nicknames the Columbine shooters had for themselves) was a strange mix of people, from prurient researchers to fangirls to young people with an encyclopedic knowledge about Columbine and copycats, people who clearly wish to commit a shooting of their own.
It's the undeniable presence of these kinds of kids that explains why FBI investigators monitor some of these sites (they asked that I not name them specifically) and why, in the last several weeks, they have been looking for evidence that Nikolas Cruz was in them, too.
I met one of those people the FBI had been worried about, Dillon Cossey, last spring near his house in rural Pennsylvania. He became famous, if you could call it that, back in 2007 when he was 14 and two police officers and a detective showed up on the doorstep of his family's house. "They ask us all to sit down," Cossey told me, "and that's when the detective says that they received a call that I was preparing to attack Plymouth-Whitemarsh High School."
The "tip" came from a couple of friends of Cossey who, in a kind of see-something-say-something episode, told police that Cossey had asked them to help him attack a school. A search of Cossey's bedroom led to the discovery of troubling evidence: air rifles, a .22, some fireworks, The Anarchist's Cookbook, and unsettling journal writings. By 11 p.m., Cossey was in handcuffs in the back of a squad car, and he says quietly, "That was the last time I was home for a while."
To hear Cossey tell it, there was never a specific plot, and he doesn't believe he would have carried out an attack. He does concede, however, that he fantasized about acts of violence, and a lot of that fantasizing took place in a Columbine tribute site whose content bore a striking resemblance to some of the online postings seen from the Cruzer sites now.
One of the people Cossey met online was an 18-year-old from Finland who went by the screen name "Natural Selection." His real name was Pekka-Eric Auvinen. "He spoke English and he had a lot in common with me," Cossey said. "I wouldn't have said we were close friends, but we did talk probably a couple of times a week on Instant Messenger."
What they talked about, mostly, were Columbine videos, something that had become a bit of a hobby for Auvinen. He'd take video clips he found of the Columbine shooters, Klebold and Harris, and essentially create a mixtape and video of them — GIFs before GIFs actually existed. He'd ask Cossey to review his handiwork before he posted them. "I'd give him editing tips."
In November 2007, Auvinen opened fire inside Jokela High School, selecting his victims randomly. He killed six fellow students, the school nurse, and the principal before he turned the gun on himself. He had posted a video about the massacre on YouTube shortly before it happened.
Investigators will tell you that Nikolas Cruz had been talking about school shootings in one way or another for more than a year. Was Cruz a regular in the shooter subculture? So far, they haven't found much evidence to support that. It is just as possible, they say, that Cruz was a depressed kid who began focusing so much on school shootings that the idea took on a life of its own and dragged him along. They still don't have a motive.
"There are definitely people [on my blogs] who worry me," Tyler, the 18-year-old U.K. blogger told me. "I usually try to talk to them first and see what's wrong, and if they continue to worry me, I report them. There was a blog run by a minor who I have talked to a few times on my other account. He struggles with mental-health issues and has threaten things before. I have reported him and the situation was dealt with. He didn't talk to me after that."
Tyler also had a connection to James Gamble, a kid in Halifax, Canada, who seemed to be obsessed with death, true crime, heavy-metal music, and Nazi imagery. James Gamble allegedly planned a mass shooting at a Halifax shopping mall with two other people he had met on a Tumblr website back in 2015. Police were able to intercept them before they were able to act on their plan. Gamble ended up dying from a self-inflicted gunshot wound a day before the massacre was set to take place. Tyler and Gamble had talked online. "It definitely felt like I should have seen something more, like I should have known, should have helped," Tyler said.
What all these incidents have in common is that someone, somewhere, says they should have seen the signs. Perhaps no one thinks about this more than Sue Klebold, Dylan Klebold's mother. I sat down with her a couple of months ago in Denver. As a general matter, she avoids websites that talk about Dylan or her family, but she's aware that these Columbine tribute sites exist. "The fact that Dylan and Eric have an online following is very frightening and very sad," she told me. "It is very frightening because there are so many individuals who identify with what they did, and very sad because people feel disconnected and disenfranchised and this has become symbolic for people who feel left out, alone, vengeful, angry, and hurt. I think it's sad that people make heroes out of disturbed kids."
"Personally, I think it thrives on the internet because it is such a taboo topic to bring up around people in real life, and you're never sure what people's responses will be," Tyler said. "The internet gives a barrier."
"Everyone on there, at least that I talked to, was just there venting about how alone they felt," Cossey told me. "There was a surprising amount of support in a community that would normally be associated with an act of violence, and they would often come back to the point of saying, well, the Columbine shooter, they understood … they knew what you were going through."
"there is a comment of his on youtube that i have been trying to find again but it disappeared once his account was deleted–will send it if i can find a screen capture. basically nik is saying, 'what do i do once i'm completely alone? everyone else is going to college except me. i hate my life.'"
Dina Temple-Raston is the executive producer and host of What Were You Thinking, a podcast from Audible that focuses on brain development and the adolescent decision-making process. An episode on school shooters is available at Audible.com/adolescentbrain and has been available on iTunes since the end of March.