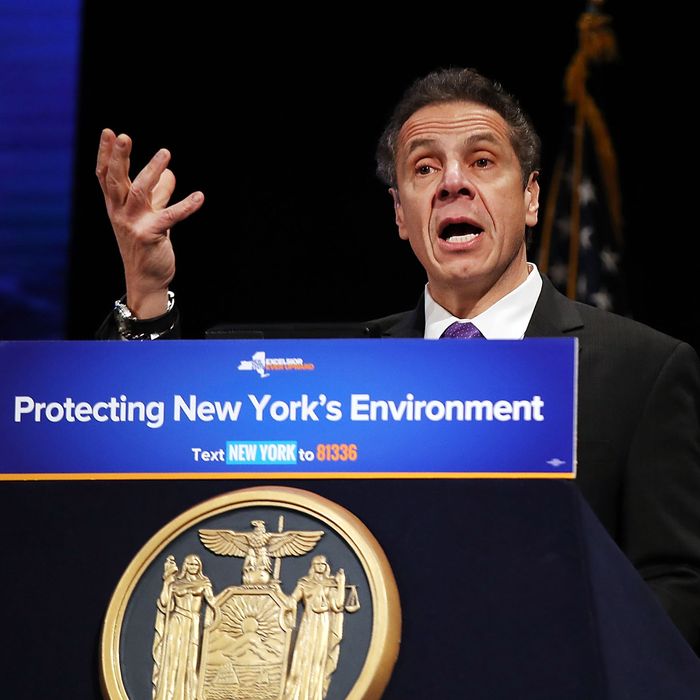 I'm a progressive now!
Photo: Spencer Platt/Getty Images
Cynthia Nixon has pushed Governor Andrew Cuomo so far out of his comfort zone that he's now proposing new laws for which he has previously expressed little enthusiasm.
On Monday, Cuomo decided that he wants to ban all plastic bags in New York state. Just last year, Cuomo personally killed a New York City proposal to add a five-cent fee for every plastic bag just one day before it was supposed to go into effect. At the time, Cuomo cited the onerousness of the tax on poor people as a reason for his decision, though embarrassing Mayor Bill de Blasio may have been justification enough. The governor then promised to form a task force to study the plastic-bag issue, which is usually a recipe for doing nothing. And yet…
"The blight of plastic bags takes a devastating toll on our streets, our water and our natural resources, and we need to take action to protect our environment," Cuomo said in a statement on Monday. He added, "As the old proverb goes: 'We did not inherit the earth, we are merely borrowing it from our children,' and with this action we are helping to leave a stronger, cleaner and greener New York for all."
But Cuomo's new proposal does not mean that the bags, a scourge of New York City streets, will actually be eliminated anytime soon. The governor is calling for a legislative solution, and the New York State Senate, which is controlled by Republicans in large part because of the governor, is unlikely to pass anything. So the governor's environmental clarion call will likely end up being more of a grand gesture than anything.
Since Nixon officially jumped into the New York primary race last month, Cuomo has suddenly veered to his left, in an unsubtle appeal to win over alienated progressives. Among other things, he has vowed to unite a group of renegade state Democrats — though that initiative faces considerable skepticism — announced that prison parolees will now be allowed to vote, and taken a sudden interest in New York City public housing. Just how far will he go next time to ape his new rival's policy positions?
In a statement to Daily Intelligencer, Cuomo spokesperson Abbey Fashouer responded:"The governor's long record of progressive accomplishment is irrefutable. Any claims otherwise should be seen for what they are: baseless election-year rhetoric."