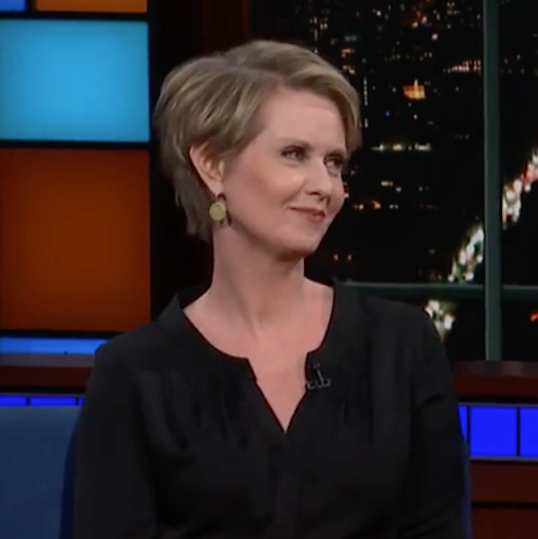 It's like she's done this before.
When Cynthia Nixon announced she was challenging New York governor Andrew Cuomo to be the Democratic nominee this fall, the incumbent did himself no favors by dismissing her candidacy as the start of "political silly season" and offering up some weak jokes involving Billy Joel and Vladimir Putin. Even after members of Cuomo's own team acknowledged that his response was "unartful," he continued making cringeworthy flubs, like referring to himself as an "undocumented person."
Cuomo still has a 31-percentage-point lead in the latest poll, but if he wasn't nervous before, Nixon's appearance on Wednesday's Late Show With Stephen Colbert should do it. In her highest-profile appearance since sitting down with Wendy Williams earlier this month, Nixon articulated her progressive vision with aplomb, touching on everything from gerrymandering to criminal-justice reform to recreational marijuana legalization.
She also delivered plenty of slick Cuomo jabs. When Colbert joked about her opting not to use the slogan "Nixon for New York," she answered: "My mother used to say, she grew up during World War II with a father named Adolf and she lived through the 1970s with a husband named Nixon. So I am aware of the dubious nature of my last name. But I have to say if given a choice, I would rather be the good Nixon than the bad Cuomo."
And she made her case to the many New York Democrats who don't have a problem with their gay-marriage legalizing, pro-gun control governor. "I'm running because I'm a lifelong New Yorker, and I love this state and I just know we could do so much better," she said. "Because we're a blue state. We're a proudly Democratic state. But we've got a governor in there who governs like a Republican."
Better start bracing yourself for Cuomo's awkward late-night blitz.