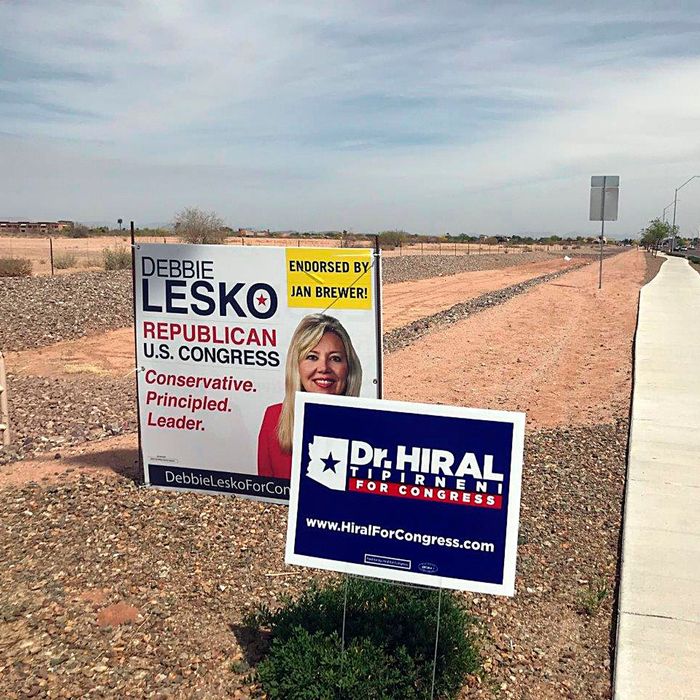 Republicans shouldn't be doing much celebrating.
Photo: Anita Snow/AP/REX/Shutterstock/Anita Snow/AP/REX/Shutterstock
Arizona held a special congressional election on Tuesday to fill the seat that opened up when Republican Trent Franks resigned amid scandal. With the early vote — an estimated 75–80 percent of the total vote — counted, it looks like Republican Debbie Lesko defeated Democrat Hiral Tipirneni in the very red Eighth District of Arizona.
That's good news for Republicans who feared another shocking upset like the one Democrat Conor Lamb pulled off last month in a Republican-held district in Pennsylvania. But assuming Lesko's margin is largely unchanged by the Election Day votes (and that's the pattern prior elections there have followed), it's an underwhelming win for the GOP in a district they should have swept. As the New York Times' Nate Cohn puts it:
Arizona's Eighth is significantly more Republican than the Pennsylvania district Lamb won last month, with heavy by-mail early voting adding to the demographic advantages the GOP enjoyed (including a district dominated by conservative white retirees). Forecasters suggested anything short of a double-digit Lesko win would be "in line with past special-election results that have pointed to a Democratic wave" in November. And the Cook Political Report's David Wasserman was even more precise:
So Tipirneni's apparent 47 percent looks pretty good.
All in all, this is a contest that shows that "getting close" doesn't only matter in horseshoes and hand grenades. It can matter, as well, in special elections viewed as harbingers of regular elections to come. Arizona Republicans had better get it in gear between now and November if they don't want to lose one (or possibly two) U.S. Senate races. And Republicans nationally should resist the temptation to gloat over a win that should have been much bigger and easier than this.