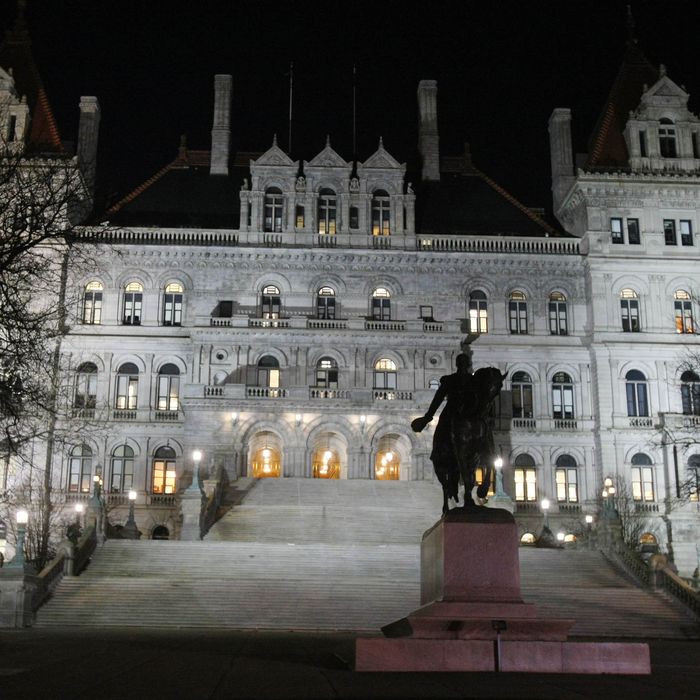 Full control of Albany is still just out of reach for Dems.
Photo: Daniel Barry/Getty Images
Democrats won two special elections for the New York State Senate on Tuesday, theoretically giving them a one-vote advantage in that chamber, and full control of state government, for the first time in years. However, in reality their dream of turning the state into a progressive haven was crushed by Simcha Felder, a Brooklyn Democrat who said he will continue caucusing with the Republicans.
Until recently Felder was joined by eight other members of the Independent Democratic Conference who caucused with Republicans, but on April 3 Governor Andrew Cuomo (allegedly spurred by attacks from primary challenger Cynthia Nixon) brokered a deal to reunite his party's caucus. If Democrats won both of the open Senate seats on Tuesday, each party would have 31 seats in the 63-seat chamber — not counting Felder. Democrats already dominate the New York State Assembly, so he would suddenly have the power to decide whether New York would be a blue "trifecta."
Felder quashed Democrats' hopes even before the polls closed. He announced on Tuesday afternoon that while he would remain a Democrat in name, he would continue to sit with Republicans, regardless of the election results.
"I believe it is my obligation to prevent an unprecedented and uncertain late-session political battle that will only hurt my constituents and New Yorkers," Felder said. "Political gamesmanship must not be allowed to jeopardize the leadership, committee structure, and staff of the New York State Senate and push this institution into turmoil."
Tuesday's results were still encouraging for New York Democrats. As expected, Democratic Assemblyman Luis Sepulveda easily beat Republican Patrick Delices in the Bronx's very blue Senate District 32. The race in Westchester's Senate District 37 was expected to be much closer. More than $3 million was spent on the race between Shelley Mayer, a Democratic state assemblywoman from Yonkers, and Julie Killian, the Republican deputy mayor of Rye. Mayer declared victory with 58 percent to Killian's 42 percent, with 78 percent of districts counted.
"All of us are part of something bigger, a movement for change, a blue wave rising in special election after special election," Mayer said in a statement after she declared victory. "This race was about finally bringing a Democratic majority to the State Senate so that New York can once again be a progressive leader."
Democratic activists said that in light of Tuesday's encouraging results they would work even harder to score a decisive state senate majority in the fall. And Cuomo spokeswoman Dani Lever suggested he wasn't done working on Felder. "The governor's position is clear: the Democrats must unify to take back the majority," Lever said following the state senator's announcement. "This conversation will continue in the morning."