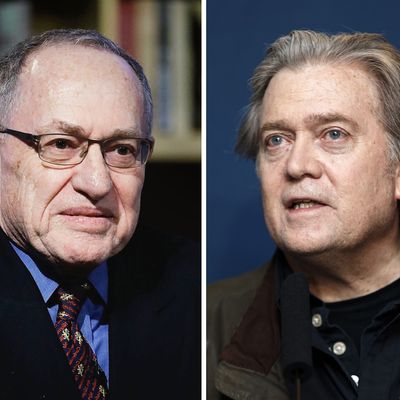 Alan Dershowitz and Steve Bannon.
Photo: Sylvain Lefevre/Getty Images
With his legal team in tatters and his advances to high-profile Washington, D.C., lawyers spurned, President Trump is growing increasingly desperate for advice on how to fight back against Special Counsel Robert Mueller and his investigation into 2016 election interference. So desperate, Politico reports, that he's asking for advice "from virtually any attorney who calls him up," including Fox News host Jeanine Pirro and his preferred talking head of the moment, Alan Dershowitz.
The retired Harvard law professor has endeared himself to Trump by going on TV and saying things such as: "There never should have been a special counsel appointed." This week, he's twice met with the president. Though his public comments make it clear he has many opinions on the Mueller probe, Dershowitz insists that he hasn't offered Trump legal advice in private. Politico hears otherwise, reporting that Dershowitz has advised Trump on his "escalating legal troubles," despite not being on the payroll.
On Wednesday, after another trip to the White House, Dershowitz was a guest on Sean Hannity's Fox News show, an appearance that Trump teased in a tweet.
"I don't give advice to the president, except on television," Dershowitz told Hannity. And then he gave some of that advice, suggesting that Trump's lawyers move for the recusal of Deputy Attorney General Rod Rosenstein.
"If I were a lawyer for Donald Trump, and I am not, I am just saying what I would say about anybody, I would be making a motion in front of a judge," he explained. "First I'd make it in the Justice Department, to recuse Rosenstein. Then I'd make it in front of a judge. You cannot be a prosecutor and you cannot be a witness in the same case."
While Dershowitz plays coy about advising Trump, Steve Bannon is hoping to slither his way back into the president's ear. Trump's former senior adviser has a plan for kneecapping Mueller that he's currently pitching to White House aides and congressional Republicans, the Washington Post reports. The plan calls for Trump to fire Rosenstein, end his cooperation with Mueller, and assert retroactive executive privilege in an attempt to invalidate the interviews Mueller's team has already conducted with White House officials.
That last suggestion drew heckles from some legal experts. On Twitter, University of Texas Steve Vladeck called it "stunningly incoherent." Georgetown University law professor Neal Katyal wrote that Bannon's idea proves he's an "even worse lawyer than he is a human being."
Bannon, who hasn't been welcomed back into Trump's orbit, is reportedly pitching this plan to those close to the president. It's unclear, the Post says, whether Trump had been made aware of Bannon's plot. Or at least it was until someone leaked it to the Post, where Trump will see it on the front page Thursday morning.