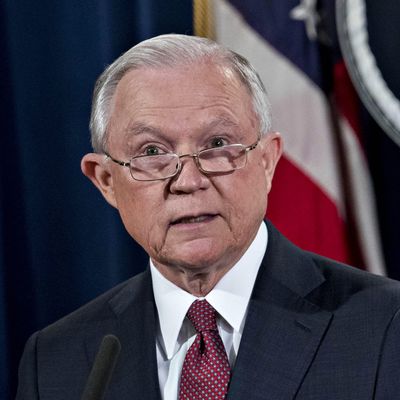 My house, my rules.
Photo: Andrew Harrer/Bloomberg via Getty Images
As the square community recoiled in horror over Michelle Wolf's misunderstood jokes at the White House Correspondents Dinner, Buzzfeed reported on the kind of policy that has made the Trump administration so suitable for evisceration in the first place.
In the course of updating its internal manual for prosecutors, the Department of Justice has deleted or altered parts of the document that deal with freedom of the press and civil rights, the outlet reported.
Most notably, the DOJ excised a subsection titled "Need for Free Press and Public Trial." (Because who really needs that stuff, when you think about it?)
It also got rid of references to racial gerrymandering, the prevention of which was a key policy plank for the Obama administration. The Trump administration has switched sides on several voting-rights cases, pushing for voter ID laws that likely prevent minority voters from voting.
The DOJ also made some telling additions, including language about limiting leaks within the department — a preoccupation for President Trump — and about prosecuting federal criminals to the fullest extent of the law, language that replaced a directive to consider each case individually.
Deputy Attorney General Rod Rosenstein had ordered a thorough review of the manual, which had not been fully updated since 1997. It is used primarily by federal prosecutors, as well as other DOJ lawyers.
These changes are mostly cosmetic, and are unlikely to have a major effect on how lawyers prosecute cases. But they're a revealing and depressing glimpse into the Trump administration's priorities.