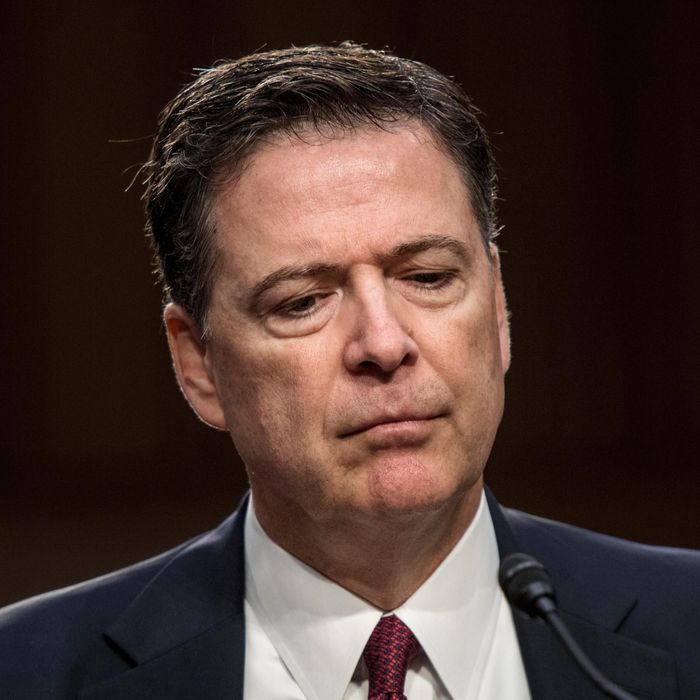 As a witness to history, James Comey has interesting observations to share. His judgments about them are worth a lot less.
Photo: Melina Mara/The Washington Post/Getty Images
Did we really learn anything important from James Comey's interview with George Stephanopoulos? Yes, Comey recited first-person accounts of significant interactions with the president. But for the most part they had been well covered before in his Senate Intelligence Committee testimony last June. Yes, there's the hitherto-unrevealed discussion they had about the Steele dossier, and that's interesting (if not terribly dispositive). But the real focus of the Stephanopoulos interview (and for that matter, based on the published excerpts at least, of Comey's much-awaited book) were Comey's judgments about the president: Trump is "morally unfit to be president," and acts like a crime boss, and does "not reflect the values of this country," and acted abominably in his treatment of women and his reactions to the violence in Charlottesville. And Comey offers a lot of judgments about his own behavior, after agonizing over his handling of the Clinton emails in 2016 and of Trump in 2017. He's reasonably self-critical, but reliably equivocating in a lawyerly sort of way and clearly satisfied with his moral muscle tone.
And as a witness to some of the president's most dubious moments both before and after taking office, Comey's judgments are of some interest. But as the Washington Post's Paul Waldman points out, they aren't necessarily any more relevant than anyone else's.
It's not a surprise that news outlets would pick up on the most dramatic pieces of what Comey writes or what he said in his first interview with ABC News. But Comey's opinions are just that, opinions. Everybody's got opinions. I may agree with Comey that Trump is morally unfit to be president, but that doesn't mean it's particularly important that he thinks so.




But here's how we locate what's really meaningful in his account of his time as FBI director: If Comey is talking about something that happened — what transpired in a meeting, what Trump said to him, what evidence the FBI uncovered about Russia — then it's important. If he's saying how he felt or what he believes today, it certainly might be interesting to hear, but in the end it doesn't make too much of a difference.
I'd go further than Waldman on this subject. It's possible that Comey's judgments are worth less than those of the average public figure. He did, after all, exercise some abominably poor judgment in how and when he publicly chose to discuss the Clinton email investigation in October of 2016. Had he not sent the "Comey letter" and then just when people were forgetting about it brought it up again, the public record would not have suffered in any significant way. But it's entirely possible the presidential election results would have turned out differently, and James Comey would not be agonizing over his relationship with Donald J. Trump.
I can't tell you exactly why this well-trained and well-meaning man has exhibited such poor judgment in so important a manner. His problem may actually be that finely tuned moral sensitivity that has led him to be "mocked as a pompous ass from left, right, and center," as a National Review writer uncharitably put it.
This should not, as Waldman reminds us, in any way undermine Comey's credibility when it comes to the facts.
Even liberals who will never forgive Comey for his actions during the election don't think he's dishonest. On the other hand, we all know that Trump is not simply a liar but is also one of history's most profligate liars. Does that mean that we can be 100 percent sure that Trump is the one not telling the truth? No, but given who the two men are, and that Comey made notes of their conversations and contemporaneously told colleagues about what had transpired between him and the president, the evidence weighs heavily in Comey's favor.
Comey's judgments about the facts he has reported simply get in the way of understanding them. So let's have less of that, please. He can present his views on morality and leadership in a later book.