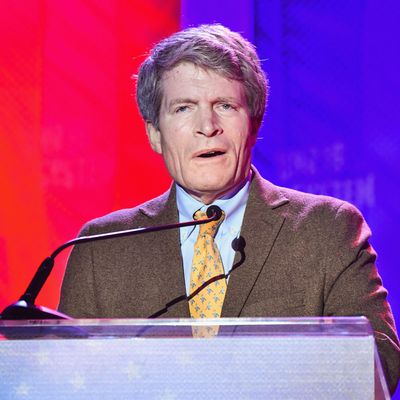 One of Trump's top Republican critics is no longer a Republican.
Photo: Erika Goldring/Getty Images
Richard Painter, who served as chief ethics lawyer for George W. Bush's administration, has long been the go-to source for anyone in need of proof that criticizing President Trump's unethical behavior isn't just for Democrats. However, that's about to change. Painter is expected to announce at a press conference on Monday that he's running for Al Franken's old U.S. Senate seat as a Democrat.
When Painter announced last month that he was forming an exploratory committee, he told reporters that he wasn't sure which party he might run for.
"I need to think about whether there's a place for me" in the Republican Party, he said. "I'm going to be considering any and all options," he continued, saying he's "a centrist in many ways — right up the middle."
While Painter has been a lifelong Republican, MPR News reports that he'll run as a Democratic-Farmer-Labor Party candidate. President Trump nearly won Minnesota, and if Painter had run as an independent he could have thrown the race to a Trump supporter — likely Republican state senator Karin Housley, the front-runner for the GOP nomination. Instead he'll face Democratic senator Tina Smith in the August primary.
Minnesota governor Mark Dayton appointed Smith, his lieutenant governor, to the seat when Franken resigned over sexual-harassment allegations in January. The winner of the special election will serve out the rest of Franken's term, which expires in January 2021.
Smith is relatively unknown in the state, but Minnesota's other senator, the very popular Amy Klobuchar, is also up for reelection in the fall and Democrats hoped she could help put her over the top. It's unclear how Minnesotans will take to a longtime Republican like Painter, but he can brag that as the vice-chairman of Citizens for Responsibility and Ethics in Washington he's already taken on Trump. The group sued the president for violating the Constitution's emoluments clause by refusing to divest from his business, but the case was dismissed in December.