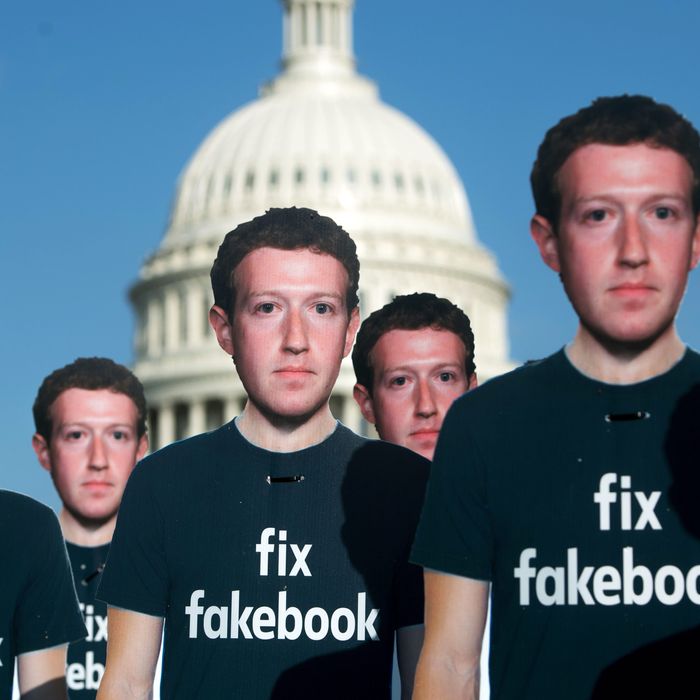 One hundred cardboard cutouts of Facebook founder and CEO Mark Zuckerberg stand outside the U.S. Capitol in Washington, D.C., April 10, 2018. Advocacy group Avaaz is calling attention to what the group says are hundreds of millions of fake accounts still spreading disinformation on Facebook.
Photo: Saul Loeb/AFP/Getty Images
As Mark Zuckerberg ditches his standard sweatshirt for a suit and tie and prepares to testify before Congress this week, the company is also coming under fire in Vietnam, where a number of journalists and civil-rights groups recently penned an accusatory open letter to the company. The letter claims that Facebook, working with the Vietnamese government, censored content from certain users — read: people who disagreed with the Vietnamese government — and even deleted accounts in some cases.
From the open letter:
In April 2017, we were dismayed to learn that Facebook's Head of Global Policy Management Monika Bickert met with the Vietnamese Minister of Information and Communications Truong Minh Tuan and reportedly agreed to coordinate in the monitoring and removal of content.




As you probably know, Vietnam's government does not tolerate dissent and rejects the notion that there are any political prisoners. Yet it is a fact that the Vietnamese government has jailed more than 100 bloggers and human rights defenders, as documented by human rights organizations.
"We have a clear and consistent government request process, which is no different in Vietnam to the rest of the world, and we report the number of pieces of content we restrict for contravening local law in our Transparency Report," a Facebook representative told BuzzFeed News regarding the letter.