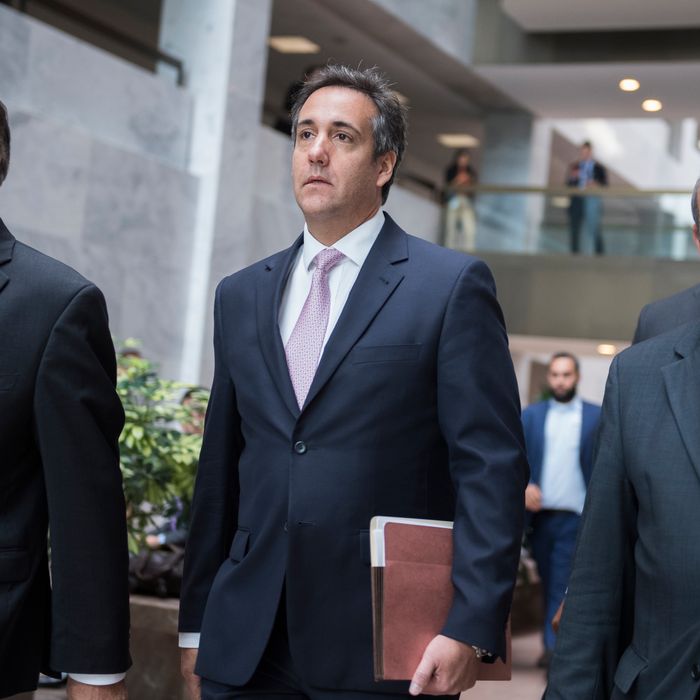 Trump doesn't seem to grasp what just happened to his longtime attorney.
Photo: Tom Williams/CQ-Roll Call,Inc.
On the same day that Robert Mueller made a splash last October by unsealing indictments against Paul Manafort and Rick Gates, kicking off the public phase of the special counsel's criminal investigation into Russia's dealings with the Trump campaign, his office quietly unsealed other documents that served as a window into his no-nonsense style. One of them was a 37-page decision, handed down earlier that month, in which the chief judge of the federal court in Washington allowed Mueller's team to force a lawyer for Manafort and Gates to appear before a grand jury and, in essence, testify against them.
"When a person uses the attorney-client relationship to further a criminal scheme," wrote U.S. Chief Judge Beryl Howell in the once-secret ruling, "the law is well established that a claim of attorney-client or work-product privilege must yield to the grand jury's investigatory needs." In other words, when a client commits a crime and the lawyer is in on it, or vice versa, both may as well forget about any claim of privilege that may exist between them. Their privileged interactions, so long as they're connected to a criminal enterprise, are fair game for prosecutors.
Michael Cohen, Donald Trump's longtime lawyer, attack dog, and fixer, may very well find himself in that situation today. Every major news outlet reported on Monday that his law office at 30 Rock was raided by the FBI — with The Wall Street Journal adding that the operation extended to his home and hotel room, a sign that federal investigators in Manhattan obtained more than one search warrant for the operation. The Washington Post, meanwhile, noted that the warrants relate to a criminal investigation into allegations that Cohen may have committed bank fraud, wire fraud, and campaign-finance violations stemming from a hush payment to Stormy Daniels, an adult-film actress that Cohen attempted to silence in the lead-up to the 2016 election.
Even Alan Dershowitz, who has become one of Trump's favorite lawyers to watch on Fox News, allowed that this was the kind of coordinated law-enforcement action often reserved for "organized crime, against very serious, very serious criminals and lawyers who are operating outside of the protections of the law."
In Trump's mind, which has a limited capacity to grasp the nuances of Mueller's work, the Cohen raids were a "break-in," a "total witch hunt," and, more dramatically, "an attack on our country." He even noted that "many people have said" he should fire the special counsel. Trump's first mistake was in thinking that Mueller is the one orchestrating the investigation into his personal lawyer. For one, the special counsel's authority is limited, and anything that falls outside of it requires the approval of Rod Rosenstein, the deputy attorney general overseeing the Russia investigation. Critically, Bloomberg News reported that Mueller did bring up Cohen with his direct supervisor, who in turn determined that federal prosecutors in Manhattan should be the ones to pursue any leads the special counsel may have on the lawyer, who has enough of a history with Trump to know a thing or three about his client's darkest secrets.
This in itself is a remarkable development. The involvement of the U.S. Attorney's Office in the Southern District of New York — which takes pride in its independence and is singular for being at the epicenter of many financial crimes and public-corruption cases that are unique to Manhattan — means that the Trump-appointed interim U.S. attorney, Geoffrey Berman, agreed to go along with the referral. And that Berman's office, working alongside local FBI agents, had enough evidence to convince a magistrate judge to issue warrants for Cohen's personal effects. The Post indicated that federal investigators seized his "computer, phone and personal financial records, including tax returns" from his office, and Lord knows what else from his home and hotel room.
More remarkable still are the legal and procedural hurdles that Berman's office was willing to jump through to seek the warrants. As one-time federal prosecutor Ken White observed over at Reason, because the ensuing searches would invariably turn up confidential attorney-client communications between Cohen and Trump, Department of Justice guidelines require federal prosecutors to seek approval from higher-ups and set up an intricate system to make sure they only get to review and use those documents related to the suspected, underlying crimes — no more, no less. That a Manhattan judge signed off on all of this and likely accounted for the political sensitivity of the matter is yet another sign that federal investigators had probable cause, and then some, to go after even confidential information in Cohen's possession.
Whether the sweep will help prosecutors make a case that Cohen committed federal crimes related to the Stormy Daniels payoff or other episodes remains to be seen. But expect the lawyer's criminal defense attorneys to argue forcefully, should their client's troubles ever evolve into a full-blown prosecution, that Berman's office violated Cohen's constitutional rights with Monday's raids and that any evidence uncovered in the process cannot be used against him in court. That's precisely what Manafort's lawyers are trying to do now by seeking suppression of evidence Mueller's team obtained from a storage unit the FBI gained access to last year, turning up valuable information the special counsel is using to prosecute Trump's former campaign chairman.
If Mueller's past moves serve as any guide (and so far his actions have been beyond reproach), expect Cohen to face an uphill battle as he faces off with federal prosecutors, and Trump to grow more unhinged as the pressure on his trusted confidant intensifies. The little we know so far — which doesn't even take into account Cohen's entanglements with the ever-complicated Russia story — points to a complicated future for one of the president's most trusted advisers. Josh Campbell, a former assistant to James Comey, may have best captured what awaits Cohen in this quote from a special agent currently with the FBI: "I've been an FBI special agent for 20 years and have only seen a handful of searches executed on attorneys. All of those attorneys went to prison."