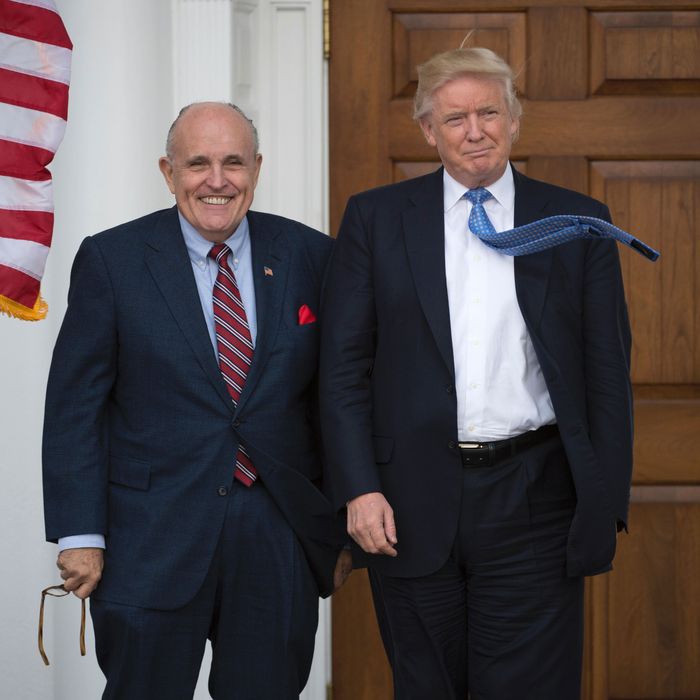 He also wants to know if Mueller considers himself a spiritual person.
Photo: Don Emmert/AFP/Getty Images
After struggling for weeks to find a top lawyer willing to represent him in the Russia investigation, last week President Trump hired his pal Rudy Giuliani, who is the former mayor of New York and a former federal prosector.
"I'm doing it because I hope we can negotiate an end to this for the good of the country and because I have high regard for the president and for Bob Mueller," Giuliani said. He added that he wanted to find out what Mueller needs to end the probe, and "Hopefully we can speed it up."
Giuliani set about this task by meeting with Mueller's team this week to negotiate a possible interview with the president, and asking some questions that subtly undermine Mueller's credibility.
According to the Washington Post, Giuliani conveyed that Trump and his advisers are still resistant to an interview, in case that was unclear from his recent tweets attacking the special counsel by name. Giuliani didn't rule out the possibility, however, and he pushed Mueller to elaborate on when he expects the investigation to end.
In response, Mueller reiterated that he needs to talk to Trump before he can wrap up investigation into possible obstruction of justice, as he needs to know his intent at key moments.
Giuliani, who has known Mueller for decades, suggested in an interview with The Wall Street Journal that he was trying to suss out his character.
"Does the special prosecutor really have an open mind?" Giuliani said. "We're trying to assess their good faith."
Giuliani said Trump's legal team also wants to determine if Mueller has "made any conclusion about credibility," adding, "Do they favor Comey over Trump in terms of credibility?"
It's Mueller's job to stick to the facts (though the president happens to be a proven liar and Comey appears to be in love with his own integrity), but by asking the question Giuliani is laying the groundwork to accuse him of bias.
"The president is convinced that if he tells his story to a decent fair-minded arbiter, the whole thing will be over," Giuliani added, suggesting again the potential problem is an arbiter who can't be fair.
It's hard to see how this is working toward any quick resolution that doesn't involve Trump firing Mueller or Deputy Attorney General Rod Rosenstein. Politico reports that in private, Giuliani has been trying to tamp down expectations about his ability to negotiate a speedy end to the probe. "Rudy Giuliani does not believe he's a miracle worker," said Jon Sale, a Giuliani law-school classmate.