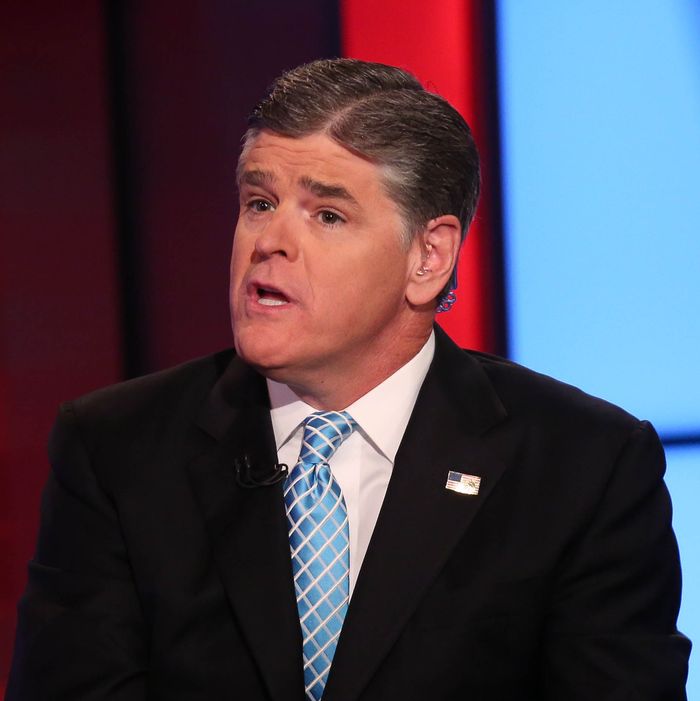 The MSM is at it again!
Photo: Rob Kim/Getty Images
If Sean Hannity were any other TV host, one might expect him to kick off his prime-time show by apologizing to viewers for failing to tell them that he was Michael Cohen's client as he repeatedly denounced the investigation of Trump's lawyer as a witch hunt. Instead, Hannity dismissed the idea that he should have said anything about his personal ties to Cohen, and criticized the "mainstream media" for its interest in the matter.
Hannity's prime-time Fox News show did feature one awkward moment related to Cohen naming him in court earlier on Monday, but it appeared unplanned. During a segment on James Comey, Alan Dershowitz, the Harvard law professor who often defends Trump on TV, called out Hannity for not revealing his ties to Cohen.
"First of all, Sean, I want to say that I really think that you should have disclosed your relationship with Cohen when you talked about him on this show," he said. "You could have said that you had asked him for advice or whatever. But I think it would have been much, much better had you disclosed that relationship."
Hannity dismissed it as a "minor relationship," and said he'd explain fully later in the show.
"You should have said that," Dershowitz countered. "That would have been fair to say. It would have been fair to say that it was minimal. You were in a tough position. You had to talk about Cohen and you didn't want the fact that you had spoken to him to be revealed. You had the right, by the way, not to have your identity revealed."
"I have the right to privacy. I do," Hannity said.
In a series of tweets on Monday afternoon, Hannity downplayed his relationship with Cohen, saying he merely asked him some legal questions and "Cohen has never represented me in any matter." But he also suggested he thinks those interactions should be protected by attorney-client privilege, saying he "assumed those conversations were confidential."
Hannity joked about the situation in another segment featuring David Limbaugh (Rush's brother) and Lanny Davis, suggesting one or both are his attorneys. "Full disclosure, David has been my career attorney and has authorized every contract for radio and TV," Hannity said. "Lanny, I think I once gave you in a restaurant $5. Lanny, we have attorney-client privilege, isn't that true?"
But he failed to explain his relationship with another guest:
At the end of the show, Hannity finally got around to elaborating on his relationship with Cohen, but the segment mainly consisted of him mocking the mainstream media for its coverage of Cohen, who he now describes as "me and President Trump's personal attorney." "Predictably, without knowing all or any of the facts, the media went absolutely insane, wall-to-wall, hour-by-hour coverage of yours truly," he said, rolling a supercut of cable personalities saying his name.
Then Hannity reiterated what he said on Twitter: "Let me set record straight: Michael Cohen never represented me in any legal matter. I never retained his services. I never received an invoice. I never paid Michael Cohen for legal fees. I did have occasional brief conversations with Michael Cohen — he's a great attorney — about legal questions I had or I was looking for input and perspective."
He claimed his questions were mostly about real estate, and never involved any matter between him and a third party. Thus, he reasoned, "My discussions with Michael Cohen never rose to any level that I needed to tell anyone that I was asking him questions."
Fox News has yet to comment on the matter, but the network often holds it primetime hosts to a different standard than other on-air personalities, arguing that they are offering opinion, not journalism. As CNN's Brian Stelter notes, while other hosts might be damaged by such a massive conflict of interest, it doesn't seem that Hannity viewers care:
Fox is not a normal newsroom. And Hannity's viewers are not typical news viewers — people who watch almost any other show would likely feel lied to when they learned something like this had not been disclosed to them, but Hannity's want him to have this kind of relationship with Trumpworld.