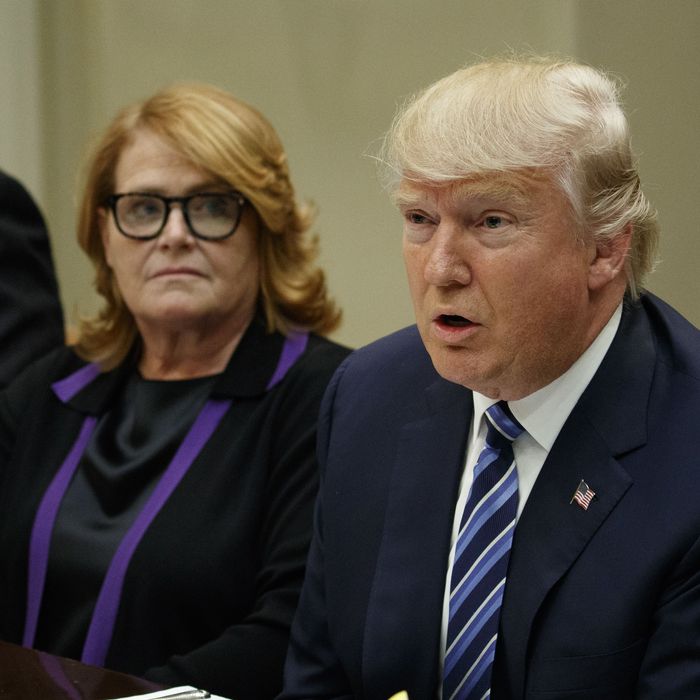 Heitkamp isn't interested in joining Trump's GOP.
Photo: AP/REX/Shutterstock/AP/REX/Shutterstock
As one of Washington's most conservative Democrats and someone running for reelection in a state Donald Trump won by 36 points, North Dakota Senator Heidi Heitkamp frequently appears on lists of lawmakers who might switch parties. On Tuesday she revealed that Trump actually urged her to become a Republican at least once, but she declined.
"When I visited with him in Trump Tower before he was sworn in, he asked me to switch parties," Heitkamp told the Washington Post. At the time the Trump team was said to be considering Heitkamp and fellow Democratic Senator Joe Manchin for Cabinet positions, which in addition to demonstrating bipartisanship, would have cleared the way for Republicans to take their seats. However, Heitkamp says she quickly shot down the idea:
"He says, 'You should switch parties,' " Heitkamp said. She responded with an ask of her own.




"I said, 'You should give me an Ex-Im bank,' " the senator said, with a chuckle. It was a reference to the Export-Import Bank, an agency she was pushing to make fully operational.
Heitkamp has tried to maintain a chummy relationship with the White House, and Trump even heaped praise on her at a September rally in North Dakota when he was trying to secure a few Democratic votes for the Republican tax bill. Heitkamp suggested that Trump may have urged her to join the GOP a second time, while they were traveling together on Air Force One. "He might have asked me on that trip," she recalled.
Trump has been known to suggest political maneuvers that are not entirely plausible, but it's easy to see why he thought he might succeed with Heitkamp. Last summer, he managed to convince West Virginia Governor Jim Justice — a Republican who became a Democrat in 2015 — to come back to the GOP.
Heitkamp seems very interested in maintaining a cordial relationship with Trump (and the many North Dakotans who support him), though she did not ultimately support his tax bill and said of defecting, "I think he knows it's not going to happen."
In further questions about her party affiliation (which the Post's Sean Sullivan said he brought up), Heitkamp took the opportunity to highlight how far right she is, for a Democrat. "He's always ribbing me a little bit about being too conservative to be a Democrat," she said.
And why she wouldn't consider Trump's suggestion more seriously? "I do feel allegiance and ties to the North Dakota Democratic-NPL Party," Heitkamp said, referencing the state Democratic operation — not the party of Chuck, Nancy, and other bogeymen for conservative voters.