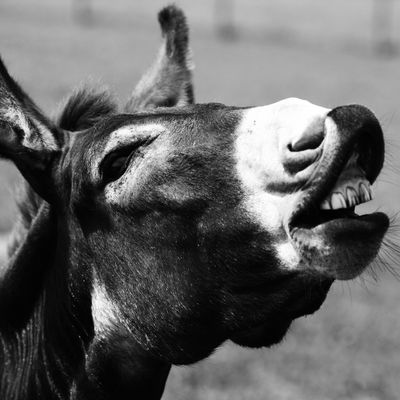 The donkey's bray is getting louder.
Photo: threespeedjones/Getty Images/iStockphoto
As we approach the general election season for the 2018 midterm elections, Republicans have to be modestly pleased with modestly encouraging polling trends. In the RealClearPolitics polling averages, the Democratic advantage in the generic congressional ballot (which basically projects, with some accuracy, the national House popular vote) has dropped from 12.5 percent at the beginning of the year to 7.5 percent today. Meanwhile, another important indicator of how things will go in November, the president's job approval rating, has improved slowly and marginally as well; it's now at 41.5 percent according to RCP, as opposed to 39.8 percent on January 1.
But if the big-picture indicators are looking a tad better for the GOP, the landscape in terms of individual House races continues to deteriorate as contests firm up. That's made clear by a fresh analysis from the Cook Political Report, whose House specialist, David Wasserman, is a generally recognized wizard at this stuff. As he explains, a combination of open seats and vulnerable incumbents adds up to a big problem for Republicans under current conditions:
There are 36 districts where Republicans [are] not running for reelection in 2016, including 12 at serious risk of falling to Democrats (Lean Republican or more vulnerable). Only 18 Democrats are exiting, and just four represent seats at serious risk of falling to the GOP. Additionally, Democrats are competitive in an August 7 special election in Ohio's 12th CD to replace GOP Rep. Pat Tiberi, who resigned in January.




If Democrats pick up at least eight Republican open seats (and today, eight of the 36 are leaning their way), they'll already be a third of the way to the 23 they need for a majority. Beyond those, there are 18 Republican incumbents in the Toss Up column and another 20 in the Lean Republican column —- including five in California, three in Texas and three in Virginia. Private partisan polling continues to show most GOP incumbents in much weaker positions than last cycle — even in districts Trump won.
Add in the four to six seats in Pennsylvania that Democrats are in a position to pick up after the state's Supreme Court invalidated a GOP gerrymander, and you can see how strong a foundation has been laid for flipping the House. All in all, the landscape is looking very blue:
Our latest ratings feature 55 competitive seats (Toss Up or Lean Democratic/Republican), including 50 currently held by Republicans and five held by Democrats. There are also three non-competitive seats poised to switch parties thanks to Pennsylvania's new map (PA-05 and PA-06 to Democrats, PA-14 to Republicans). Overall, Democrats would need to win 27 of the 55 competitive races to win a majority. We continue to view Democrats the slight favorites for House control.
That's a pretty conservative projection since "wave" elections tend to gain momentum as Election Day approaches, with districts originally looking marginally competitive becoming red-hot down the stretch. According to some data Wasserman sent me by email, in 2010, the last really big GOP wave election, Cook showed 38 Democratic districts as having competitive races at the beginning of the cycle. By the end that number had swollen to 91.
And that process seems to be occurring this cycle. In January Cook showed 38 Republican seats as being in competitive races. That number's up to 50 now, not counting Pennsylvania. The trend continues, with Wasserman moving four seats into the competitive column in his latest forecast.
It's always possible, of course, that the meta trends as measured by the generic ballot and Trump's approval ratings will improve enough for the GOP to shift some of the newly vulnerable House seats back into safety while boosting its odds of winning half or more of the barnburners. But at this point such widely discussed pro-GOP factors as gerrymandered districts and incumbency are already baked into the cake. The landscape you see is probably the landscape you'll get when things get deadly serious in the late summer and fall. And if there's a tiebreaker, it's likely to be the Democratic enthusiasm advantage that's been so apparent in 2017 and 2018 special elections. That matters more in relatively-low-turnout midterms than in presidential cycles.
There are obviously a thousand small factors affecting individual races. We'll find out in June, for example, whether Republicans have succeeded in "blocking out" Democrats from the general election in several GOP-held districts under California's top-two system, thanks to there being too many Democratic candidates.
But for the most part, what the GOP most needs right now is a good economy, no international crises, and a stretch of time when the president isn't dominating the news with threats, scandals, or White House turmoil. They should be so lucky.