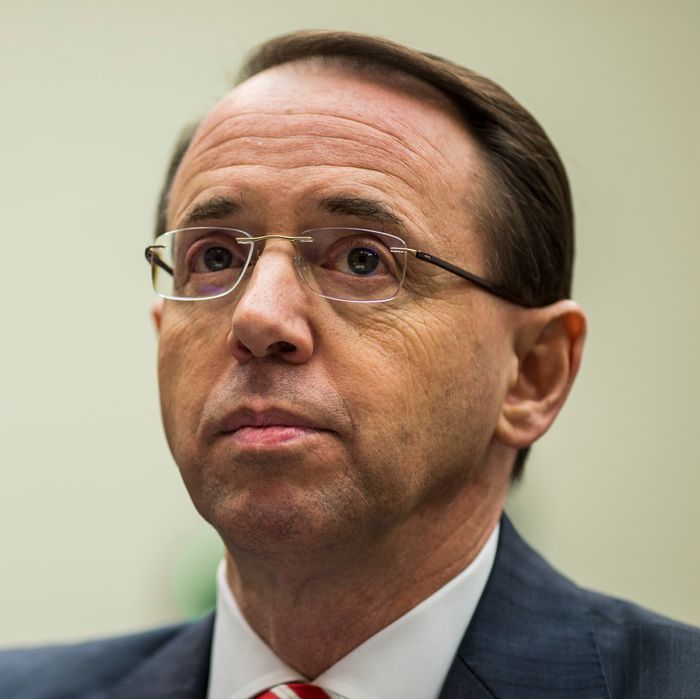 GOP lawmakers have a fever, and the only prescription is more memos.
Photo: Zach Gibson/Getty Images
When asked on Wednesday whether he's planning to get rid of Special Counsel Robert Mueller — either by firing Mueller himself, or Deputy Attorney General Rod Rosenstein, who's overseeing the probe — President Trump suggested reports that the Russia probe is in immediate danger are greatly exaggerated.
"They've been saying I'm going to get rid of them for the last three months, four months, five months, and they're still here," Trump told reporters. "So we want to get the investigation over with, done with, put it behind us."
But meanwhile, Trump's allies in the House were escalating their months-long battle with Rosenstein for access to documents related to the Russia probe and the investigation into Hillary Clinton's private email server. Democrats claim that much like #ReleaseTheMemo debacle, their real aim is to undermine Mueller — in this case by providing the justification for getting rid of Rosenstein and replacing him with a deputy AG willing to rein in the special counsel.
On Wednesday evening, House Judiciary Committee Chairman Bob Goodlatte informed the panel's ranking Democrat, Representative Jerrold Nadler, that he plans to issue a subpoena for the seven memos former FBI director James Comey wrote documenting his interactions with Trump, which are part of the Mueller investigation. According to The Hill, it's standard procedure to consult the ranking member at least two days before making such a move, so the subpoena could be issued this week.
With Attorney General Jeff Sessions recused from the Russia probe, the subpoena for the Justice Department sets up a confrontation with Rosenstein. On Friday Goodlatte, along with House Intelligence Committee Chairman Devin Nunes and Oversight Committee Chairman Trey Gowdy, issued a letter demanding that the memos be released by Monday, saying, "There is no legal basis for withholding these materials from Congress."
In his response Rosenstein asked for a few more days to consider the request. He said that the Justice Department is looking into whether it can comply, but "one or more of the memos may relate to an ongoing investigation, may contain classified information, and may report confidential Presidential communications."
Rosenstein also undercut the argument that there's great urgency to release the Comey memos, noting that several top House officials (including Nunes and Gowdy) were already allowed to review the memos in a secure Justice Department facility last year.
Nadler, the Judiciary Committee's top Democrat, said handing over evidence from Mueller's ongoing criminal investigation violates DOJ policy, and alleged that the request was just a ruse to undermine Rosenstein.
"If House Republicans refuse any accommodation short of the Department of Justice handing over custody of these documents — which it cannot do — I fear the majority will have manufactured an excuse to hold the deputy attorney general in contempt of Congress," Nadler said. "If they succeed in tarnishing the deputy attorney general, perhaps they will have given President Trump the pretext he has sought to replace Mr. Rosenstein with someone willing to do his bidding and end the special counsel's investigation."
Nunes has already threatened to impeach both Rosenstein and FBI Director Christopher Wray over their failure to release various documents, telling Fox News last week, "I can tell you that we're not going to just hold in contempt, we will have a plan to hold in contempt and impeach."
That threat resulted in members of the House Intelligence Committee being allowed to review a redacted version of other material they'd requested: the document that launched the investigation into Russia's 2016 election interference. Previous memos indicated that the probe was triggered by a tip from a friendly foreign nation about contacts between then-Trump adviser George Papadopoulos and individuals linked to Russia. One committee member said the document was "narrowly tailored to protect the name of a foreign country and the name of a foreign agent" who provided the tip.
Unsurprisingly, House members weren't satisfied. According to the Washington Post, two of Trump's other legislative allies, House Freedom Caucus leaders Mark Meadow and Jim Jordan, met with Rosenstein on Monday to press him to release documents related to the Russia probe and Clinton's email server.
Like Nunes, they have said they're ready to take serious action against Rosenstein if he doesn't comply. "Contempt of Congress is really at the doorstep of Rod Rosenstein more than anybody else," Meadows told reporters last week, saying that could be followed by other moves. "It is certainly on the path to impeachment," he added.
Trump appears to be keeping close tabs on these efforts. Earlier this month, he suggested the DOJ is hiding documents from congressional committees for some nefarious reason:
Rosenstein and FBI officials went to the White House last week to discuss plans for addressing the congressional requests. The Post reported that Meadows touched base with the president after he met with the deputy AG this week:
Trump and Meadows spoke at some point after the meeting, the three people said, but they declined to share details of the exchange.
House members aren't alone in paving the way for Trump to undermine the Russia investigation. Earlier this week Senate Majority Leader Mitch McConnell squashed a push for bipartisan legislation that would protect Mueller, saying it's "unnecessary" and he would not put it on the floor for a vote. He may not be actively working to undermine Mueller, like the president's allies in the House, but it was a signal that he won't stand in Trump's way.