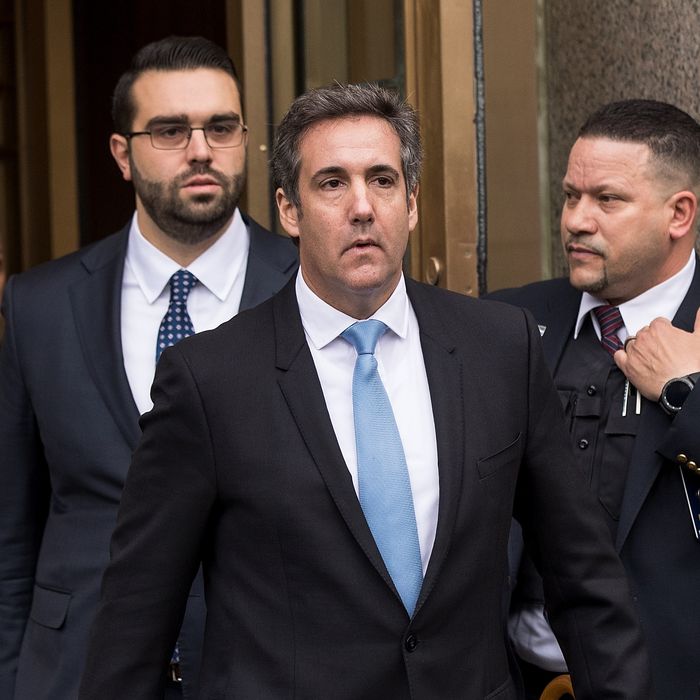 Michael Cohen exits the U.S. District Court Southern District of New York on April 16, 2018.
Photo: Drew Angerer/Getty Images
When the stakes are high and time is of the essence, judges are often reluctant to rule from the bench. They'd much rather adjourn for the day, retreat to their chambers, and at least have some time to reflect on the facts and the law before making someone's life miserable. U.S. District Judge Kimba Wood, a three-decade veteran of the federal courthouse in Manhattan, was having none of that. During a too-long-by-half hearing in the fast-moving case of Michael Cohen — Donald Trump's personal lawyer and errand boy now under criminal investigation — she ruled on the spot on two matters that have captured America's imagination.
The first one, and the one that grabbed all the headlines, had to do with the mystery of whether Cohen is even a lawyer at all. Very early on Monday, following accusations by federal prosecutors that he's no more than a glorified strategist and business dealer for Trump — meaning he's not a real lawyer and thus not entitled to invoke attorney-client privilege over private communications and records the FBI seized from him — his own lawyers filed a court document with Wood disclosing that Cohen does, in fact, have some legal clients.
Cohen told the court that since Trump won the White House and he quit the Trump Organization to focus on a solo practice, he's had three clients in all: the president, disgraced Republican fundraiser Elliott Broidy, and an enigmatic, "unnamed client" who, Cohen's lawyers insisted, would be embarrassed and suffer harm if his name became public.
The client, who turned out to be Sean Hannity, had instructed Cohen to not dare make his identity public. But Cohen's legal team cited no law or authority for that proposition — that somehow the attorney-client relationship allows a lawyer to keep his client's identity a secret during the course of a legal proceeding. Instead, Stephen Ryan, Cohen's lead attorney, pointed to some atmospheric "appearance of fairness" standard to protect Hannity from becoming the talk of the town, plus some weak-sauce legal-ethics rules. Not good enough. That's "not in accord with the law in this circuit," Wood chastised Ryan. Later in the hearing, she offered a stinging rebuke of his team's misuse of precedent: "It's not that you're bad people. It's just that you've miscited the law at times."
Desperation setting in, Ryan offered a compromise. "I can give you the name right now in a sealed envelope," he told Wood, as if attempting to keep it from the public record as long as possible. But that was still not good enough: "I am directing you to disclose the name now," Wood ordered. Hannity's name had barely left the lawyer's lips when those gathered in the courtroom and in an overflow room nearby let out either a gasp or a laugh — or both. The moment was so surreal, it may go down as one of the finest courtroom reveals in the history of the Southern District of New York, which already has quite a history as it is. The Fox News host, for his part, is reportedly not taking the disclosure well.
What's remarkable about the Cohen case, which in the span of a week has consumed Trump and his longtime fixer, is that it's not even a real criminal case to begin with — at least not in the traditional sense. Because federal prosecutors are still conducting their investigation and have yet to file charges, the case is known informally by the controversy that kicked it all off: In the Matter of Search Warrants Executed on April 9, 2018. That was also the subject of Monday's hearing, which was designed to weigh whether Cohen and Trump, who last week was given permission by Wood to intervene in the dispute, are entitled to stop the U.S. Attorney's Office of the Southern District of New York — an arm of the federal government — from sifting through files contained in Cohen's lawyer files, electronic devices, a safety-deposit box, and other effects. That's the second issue Wood was called to rule on.
Mind you, the government got its hands on all this stuff through lawful methods. That means that for each location searched or smartphone seized, federal prosecutors had to convince a federal magistrate judge that there was probable cause to believe that Cohen was engaging in criminal activity and that only through furtive execution of search warrants — as the Feds did with an early-morning raid of Paul Manafort — would the government would be able to gather evidence and build its case. The implication being that any other, more solicitous investigatory method, or a heads-up to Cohen that he was under investigation, would've driven him to withhold or even destroy vital evidence. The element of surprise helped federal agents do their work without compromising the larger probe.
Nobody other than federal investigators knows what Cohen may be trying to hide. But if Stormy Daniels's visit to the Manhattan federal courthouse on Monday signals anything, it is that there's a strong likelihood that Cohen's questionable methods in setting up clandestine hush payments to women who claim to have gotten intimate with Trump may have broken a few federal laws. And if somehow Cohen coordinated any of this activity with then-candidate Trump to benefit him electorally but without duly reporting it to the Federal Election Commission, more laws may have been broken.
Because evidence of criminality between lawyer and client renders meaningless any claim of privilege between the two, it shouldn't matter that it's the nation's chief executive trying to claim its protection. "The only thing that makes this case unusual is that one of the clients is the president," said Thomas McKay, the assistant U.S. attorney sticking it to Cohen and Trump. To McKay, this case is just like any other white-collar investigation involving shady lawyers and clients, where courts have found that federal prosecutors may rummage through their private communications, using special procedures, if it is shown that the discussions were nothing but scheming and conspiring to break the law — no carve-outs for presidents. "If that is true," McKay warned, "then that is true in every single case." Which is to say, any third party who learns that their lawyer's office has been raided would be able to challenge the raid in federal court and drag out sensitive law-enforcement investigations. Now that would be unprecedented.
Neither Trump nor Cohen got away with it. Wood denied both of their motions to allow them, and not the prosecution, to screen the seized material for privileged content. "You're not going to take away what the government has," Wood declared. She later suggested that the side with the better argument — and maybe even reputation — was the government lawyers she's seen in action in her courtroom for the past 30 years. "I have faith in the Southern District U.S. Attorney's office. Their integrity is unimpeachable," she said. Wood did ask the government to hand over copies of everything in its possession to the other side so that they could all together come to an agreement "efficiently and speedily" as to what is and isn't fair game for prosecutors to use in their potential case against Cohen. Down the line, she may even appoint a neutral arbiter, also known as a special master, to sift through all the documents.
And since all of this will take time, Trump and Cohen did win a little: They managed to put the brakes ever so slightly on the government's aggressive moves against one of the president's closest advisers. This may only be a Pyrrhic victory in the end if what prosecutors have on Cohen is truly damning — or if it's proven that very little of his client work is really legal client work. Whatever the case, rest assured that the mere fact that Trump felt the need to retain counsel in this case, just as he struggles to find a decent criminal-defense lawyer to guide him in the broader Russia investigation, should give you a sense of where his priorities lie.