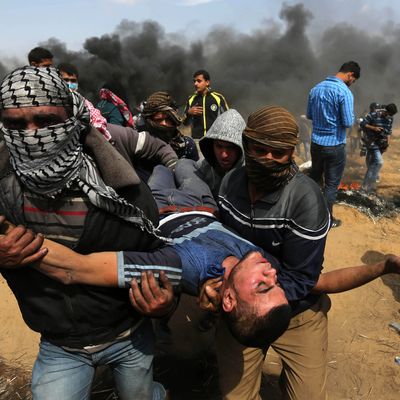 A wounded Palestinian protester.
Photo: APAImages/REX/Shutterstock
Protests at Gaza's eastern border turned deadly Friday when Israeli troops opened fire on Palestinians who stormed a fence and attempted to break through it. Three people were killed and hundreds more injured.
The killings come in the fifth week of protests called the Great March of Return, which has seen 41 people killed and thousands injured as Palestinians demand the right to return to lands they or their families once owned in what is now Israel.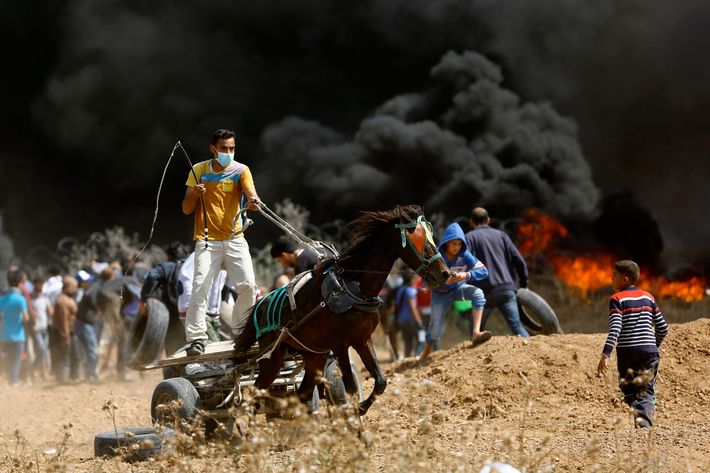 Friday's protests began several hundred yards away from the border, where a crowd of thousands have set up camp for the ongoing demonstrations. Some protesters threw rocks and others lit tire fires, an attempt to create a smokescreen to block the vision of Israeli troops.
A group of young men broke from the larger protest and rushed the barricade separating Gaza from Israel. They used "wire cutters, hooks and winches to try to pull down the barriers," according to the Times. Israeli troops then opened fire. They shot live ammunition and tear gas into the crowd.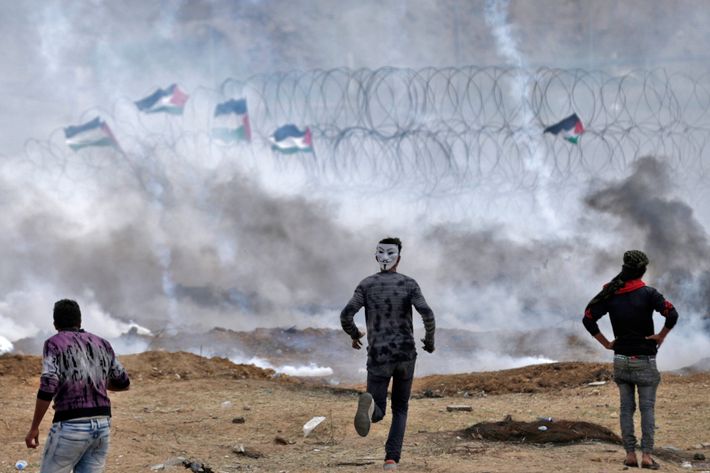 According to Palestinian health officials, 611 people were injured in the clashes. Of those, 138 were hit with live ammunition.
The killings came hours after the U.N. high commissioner for human rights called on Israel to curb its "use of lethal force against unarmed demonstrators."
"The loss of life is deplorable, and the staggering number of injuries caused by live ammunition only confirms the sense that excessive force has been used against demonstrators — not once, not twice, but repeatedly," Zeid Ra'ad Al Hussein said.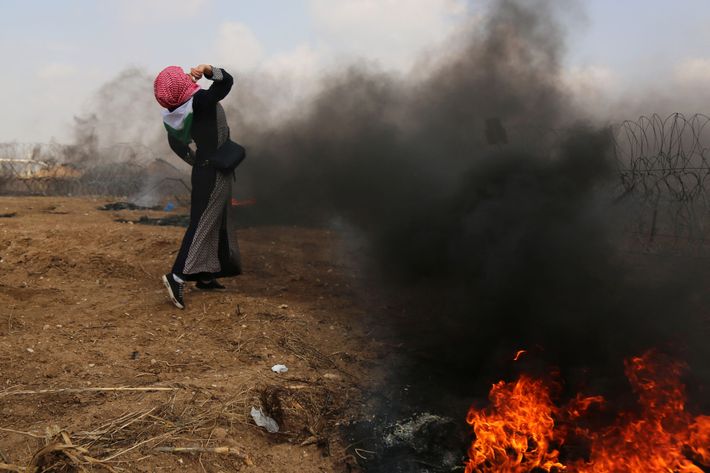 Israel has defended it actions. On Friday, the military said in a statement that it "thwarted" would-be infiltrators. Meanwhile, Israel's U.N. ambassador Danny Danon responded to Hussein's criticism with criticism of his own.
"The high commissioner's decision to condemn a democracy that is diligently defending its sovereignty, while completely ignoring the terrorists of Hamas as they use children for human shields, provides a tailwind for terror and encourages the continued exploitation of civilians," he said. "This statement proves once again that high commissioner is not focused on human rights, but only with obsessively criticizing Israel."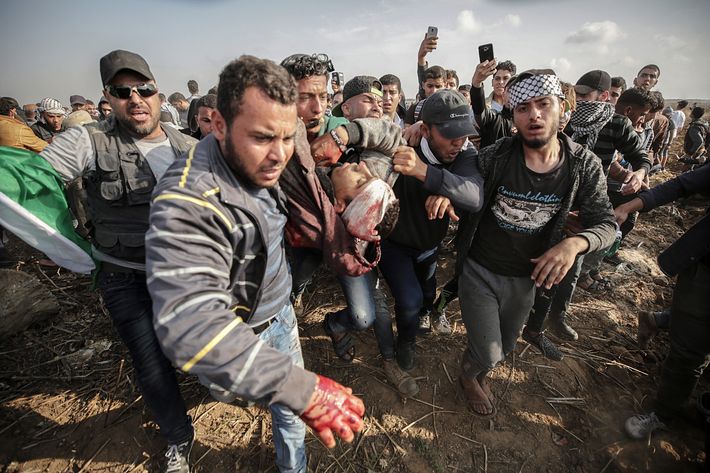 The situation in Gaza figures to get worse before it gets better. The protests at the border are meant to climax on May 15, the 70th anniversary of the establishment of Israel. Palestinians refer to it as Nakba Day, or the Day of Catastrophe.