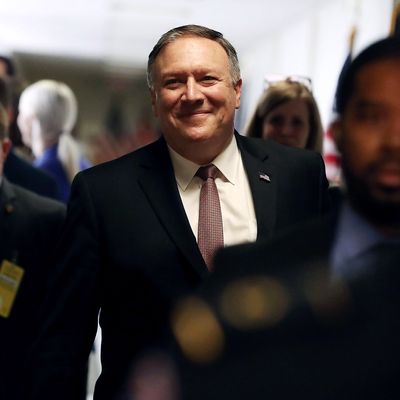 Still on track for the State gig.
Photo: Mark Wilson/Getty Images
Secretary of State-in-waiting Mike Pompeo never served in the Gulf War, even though media outlets and many of his colleagues have repeatedly said he did, and Pompeo has done nothing to dispute their claims.
Splinter News asked the CIA about Pompeo's record, and the agency confirmed that while he was in the Army from 1986 to 1991, he never saw action in the Middle East.
A spokesperson said that Pompeo, who is currently director of the CIA, "was in the U.S. Army at the time of the Gulf War — serving until 1991. He was not deployed to that theater." The war lasted less than seven months, between August 1990 and February 1991.
The discrepancy between Pompeo's record and public accounts was first brought to light by Ned Price, a former CIA spokesman and special assistant to President Obama, who highlighted a series of inconsistencies on Twitter.
Splinter has a rundown of some prominent instances in which Pompeo's war record has been cited incorrectly These include articles in The New Yorker and The Wall Street Journal, a letter signed by 51 Republicans expressing support for Pompeo's secretary of State nomination, and a Marco Rubio speech on the Senate floor. Throughout all this, Pompeo has said nothing to correct the record. It's possible, though seems unlikely, that he has simply missed all the references to his nonexistent war history. He has been busy, after all.
Pompeo faces fierce liberal criticism for, among other thing, his ultrapartisan Benghazi grandstanding as a congressman and his Islamophobia. The Senate Foreign Relations Committee is likely to issue a rare non-recommendation. But at least one Democrat is onboard with his nomination, and Pompeo is almost certain to withstand the barrage to replace Rex Tillerson on a permanent basis.
Because Pompeo didn't personally advance the narrative that he served in Iraq — at least, that we know of — Friday's revelation is unlikely to change that calculus.