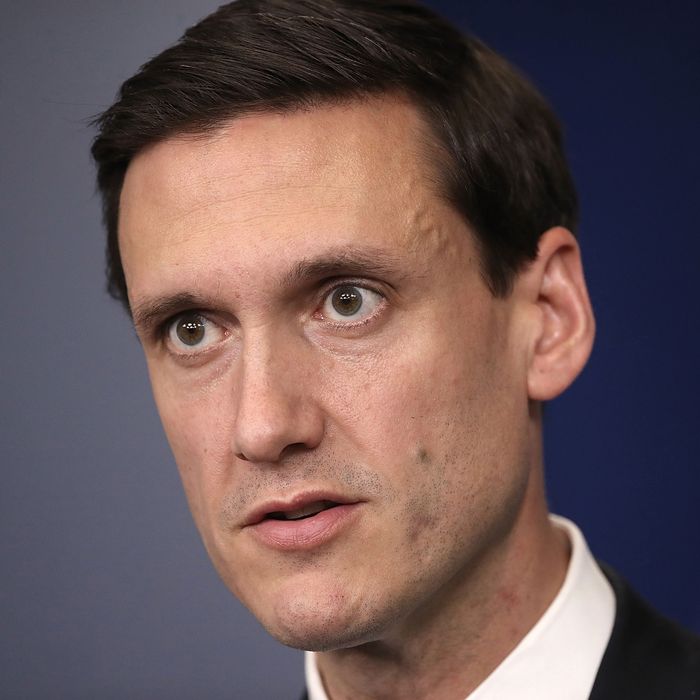 You're not the Bossert of me now.
Photo: Win McNamee/Getty Images
Tom Bossert was an ideal Trump administration official – a man with the résumé of an Establishment Republican, and the capacity for sycophancy of a Trump crony.
A former fellow at the Atlantic Council and author of the George W. Bush administration's 2007 National Strategy for Homeland Security, Bossert brought genuine policy expertise and management experience to his role as Homeland Security adviser. But he also brought a willingness to enthusiastically defend Trump's most controversial actions — including his recent deployment of the National Guard to the southern border — as well as to parrot Trump's views on Russian interference in the 2016 election. In a West Wing beset by chaos and dysfunction, Bossert was regarded as one of the few competent aides still standing.
And John Bolton just got him fired. As Homeland Security adviser, Bossert would have been a subordinate of the incoming, mustachioed White House national security adviser; and Bolton would prefer to assemble his own team.
Bossert is the second high-level national security official whom Bolton has (ostensibly) pushed out — on Monday, NSC spokesman (and authoritarian xenophobe) Michael Anton tendered his resignation.
"The President is grateful for Tom's commitment to the safety and security of our great country," the White House said in a statement. "Tom led the White House's efforts to protect the homeland from terrorist threats, strengthen our cyber defenses, and respond to an unprecedented series of natural disasters. President Trump thanks him for his patriotic service and wishes him well."