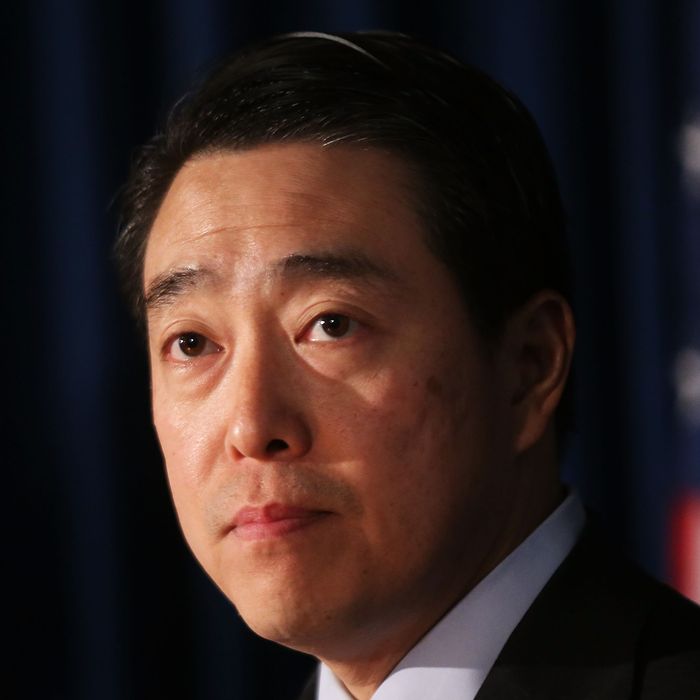 Acting U.S. Attorney Joon H. Kim speaks at a press conference on April 25, 2017, in New York City.
Photo: Spencer Platt/Getty Images
When Joon Kim became Preet Bharara's deputy in July 2015, a few weeks after Donald Trump announced his presidential run, he did not do so imagining that less than two years later he'd be running the office following Bharara's controversial dismissal by the former reality-TV star. After his own eventful ten-month tenure as acting U.S. Attorney of the Southern District of New York, Kim left the job in January when Attorney General Jeff Sessions appointed Geoffrey Berman on an interim basis. Since Trump never formally nominated anyone for the position, this week the judges of the Federal District Court in Manhattan voted to make Berman U.S. Attorney.
Unlike his media-savvy friend Bharara, the more reserved Kim doesn't tweet, has no plans to get into the podcast business, and is back at his old Manhattan firm, Cleary Gottlieb, where he's now a partner. In this wide-ranging interview, Kim talks about his time leading the U.S. Attorney's Office for the Southern District of New York — which covers City Hall, Donald Trump's business empire, and is now in the throes of a criminal investigation involving the president's longtime fixer, Michael Cohen.
The burning question in New Yorkers' and Americans' minds is: Will Joon Kim open a Twitter account?
[Laughs.] My expectation is my social-media presence will be quite boring. I have a Twitter account, mostly to follow others. I don't think I have any followers. It's not immediately traceable to me. I lurk. I think right now the oval shape is a good image [for a profile picture]. It captures my best side.
You and Preet go way back and have been a dynamic duo for some time. He has told the story of how, when the two of you were young U.S. attorneys, an agent you used to work with would refer to you as "Harold and Kumar," the title characters of the stoner movie classic. Please tell me that episode was totally in good fun.
Yes, it was. Very much a good-natured joke. And I can confirm to you for the record that I was Harold. And it was a joke by a federal agent who was a good friend of ours. All in good fun, and we didn't mind because it was a pretty good movie. But I think the more serious point is that it's a joke that works, because there were not that many of us — meaning Asian-Americans — at that time in government or law enforcement or prosecutor's offices. The more serious point is about the value and the importance of increased diversity in government and in the legal profession generally. It's important for public agencies and prosecutor's offices to reflect the communities that they serve.
By now it's no secret that the way Preet left the office was unceremonious. Did he give you any parting advice as you were thrust into this role?
I don't recall any specific, singular pieces of advice. The reality is, I had spent every working day with him for many years leading up to that. I had spent the entire weekend as [Trump's firing] was happening. There was not a need to tell me one particular thing. We talked about, generally, the importance of the office's work. The importance of maintaining the office's independence and continuing to ensure that the important work of the office that was pending and that would come would continue in the way that the office is known to do things in many respects.
And I think [Preet] may have said this: The way he left and his decision to initially resist the request to resign was based in part on his belief in the importance of the independence of the office. So he didn't need to say anything to me in that regard. We lived the work of the office together and I saw in his decisions and his example and the importance of maintaining the independence of the office.
On a personal level, did it make you angry the way Preet was fired?
Angry is not the right word. Because I respected Preet and I knew from personal experience that he was doing a tremendous job as a U.S. attorney in the ways that I've described, the way in which his term ended was sad and, I thought, unfortunate. But I quickly understood that the moment he left I was the acting U.S. attorney. So the immediate focus was to make sure that the office's work continued, that the morale of the office remained high. And so that's what I did, I tried to do, and I think the office did continue to do great work and does so today.
One of the first decisions you made as acting U.S. attorney was the decision to not bring charges against Mayor Bill de Blasio or subordinates over pay-to-play allegations. What was that like? And what do you make of the mayor's read of the decision as a vindication?
We obviously thought long and hard about the decision not bring any federal charges. And we thought carefully about the statement we issued. Can it be viewed as vindication or a clean bill of health? The statement speaks for itself. But I don't think that is even the right question to ask.
A federal prosecutor's job is to look at the facts and the law, and determine whether there's evidence that is admissible in court, sufficient to prove guilt of a federal crime beyond a reasonable doubt. Prosecutors don't ask and we do not answer the questions: Is this conduct appropriate? Was this conduct ethical? Was this conduct something we'd like to see or condone or promote in leaders? We don't ask and we don't answer those questions as prosecutors. Prosecution is a blunt tool — you either prosecute someone or you don't. And the fact that you don't prosecute someone doesn't mean that everything is hunky-dory.
Your office suffered a big blow when the Supreme Court overturned the corruption convictions of former Virginia governor Bob McDonnell. As a result of that ruling, many of your own cases, including the convictions of Dean Skelos and Sheldon Silver, were called into question. How bad is the state of the law as a result?
The McDonnell case obviously had an impact on public corruption cases. I personally disagreed with the ruling, but I understand it. It was unanimous and it's a Supreme Court decision and it's the law of the land. I don't think that — and in many parts of the decision they signal this — it's not as broad a decision as some people would make it out to be. The decision went out of its way to narrowly limit the decision to the unique facts of that case. That doesn't mean that it didn't have an impact on pending cases. But I wouldn't want the fact that it impacted pending cases to be interpreted as, Oh, therefore it's a huge change in the law.
The timing of the decision was such that it came down shortly after convictions after trial in a couple of significant Southern District of New York cases — Dean Skelos and Sheldon Silver. The appeal is pending, and it's true — the jury instructions would now be different after McDonnell. It doesn't mean that, therefore, it had a huge impact substantively. And obviously it's an important decision that provided greater guidance about what the law is in that area. The fact that it resulted in a retrial [for Silver and for Skelos, whose retrial is expected later this year] is in large part a result of the timing of this. My personal view is the result would've been the same.
After you left, the New York Times ran an article about your tenure and used this quote from you: "What we realized was that independence meant more than just resisting interference from other parts of the U.S. government, but also having the ability to withstand criticism and attacks from anywhere, including foreign governments." What did you mean by "interference from other parts of the U.S. government"?
What I meant there was this: The Southern District of New York has a long and proud tradition of independence. And what that meant and means — it's a highfalutin word, independence. But what does it really mean in the day-to-day work? It means we need to follow the facts and the law wherever they lead. And also there's a proud tradition of the Southern District of New York handling its own cases. Being an organization, obviously, within the Department of Justice. But one that is semi-autonomous. Independent. With as little input from outside.
But interference is a strong word.
Right, interference is a strong word. So I didn't mean to suggest that, you know, I wasn't referring to any particular form of interference. But that view and that commitment to independence is not necessarily uniformly prioritized by everyone. And independence means doing the right thing based on the facts and the law, and making as many of your own decisions as possible. So that's what I meant by resisting interference from outside — the ability to make the decisions for yourself.
This is a yes or no question: Preet has gone on the record that during his time as U.S. attorney he got phone calls from President Trump. Did you ever get a phone call from the White House?
No.

While we're on the subject of independence, your former office is back in the spotlight with the bizarre Michael Cohen case. Is he in a lot of trouble?
Without getting into any specifics, let me just say this: The Southern District of New York is a very serious place that takes its work seriously, does it well, and has a long track record of success. And by that I mean handling investigations both high-profile and ordinary with the same level of integrity and thoroughness. It's a serious place that I would not want to mess with.
This is more of a hypothetical, not necessarily Cohen-specific: What's your take on the use of "taint" or filter teams to go through potentially privileged attorney-client materials? Civil libertarians and other folks are questioning whether prosecutors can be trusted with the process.
This is a procedure that has been tested over a long period of time by many, many courts. So people can have different opinions on what's the proper procedure or not — as you can on any issue when you have to balance the interests of law enforcement and the interest of privacy and other values. A society — it's always a balance. And it is a balance that gets struck and determined ultimately by a court. And here you have a court that is very, it appears, intimately involved in the process and would ultimately decide on a process that's proper in [the judge's] view, and I have confidence that the judge will do that here, as will the prosecutors.
(Since this interview was conducted, the federal judge overseeing the Cohen controversy appointed Barbara Jones, a retired judge and former prosecutor, to sort out the tricky privilege issues.)
Your former office is taking a very aggressive approach to this investigation — not even the president of the United States has gotten a pass. What do you make of this aggressiveness?
I think it shows what I know and many people have come to see about the Southern District of New York, which is an office that has a long history of independence and an unabiding commitment to the rule of law. And making sure that matters are handled properly and in a way that gives the world confidence that all the relevant evidence will be followed and judgments will be made on the facts, evidence, and the law alone.
The eyes of America are on this case. There's a lot of pressure on prosecutors to get it right.
There always is — in any case, big or small — pressure on the prosecutors to get it right. It's the pressure that that office is used to, and I'm sure that they will do the right thing in this investigation, as they do in all matters.
Is this it for you and public service? Would you go work for a future Attorney General Preet Bharara?
I always take Preet's calls.
This interview has been edited and condensed for clarity.