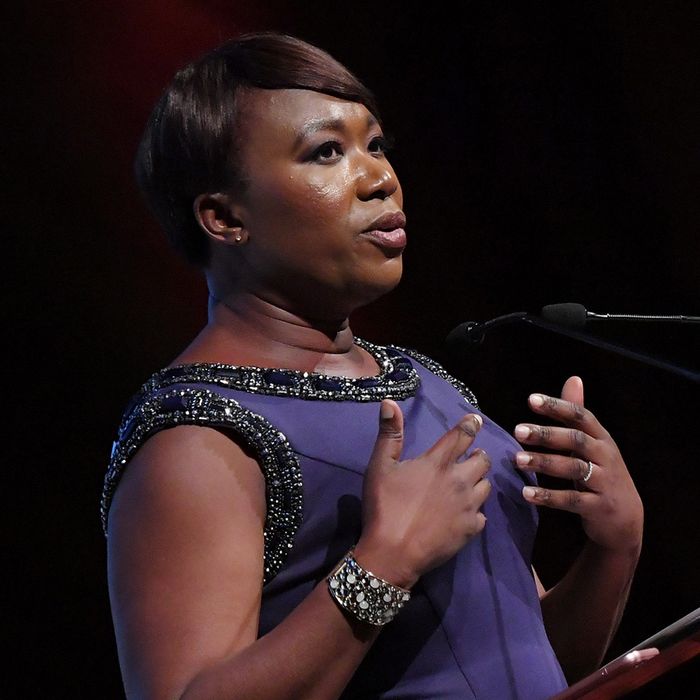 Reid.
Photo: Mike Coppola/Getty Images for The Women's Med
In late 2017, political commentator and MSNBC host Joy-Ann Reid became the center of what was at the time a minor social-media controversy after it emerged that she had written numerous homophobic comments on her old blog, the Reid Report. On multiple occasions, she referred to former Florida governor Charlie Crist as "Miss Charlie," attempted to out him, and criticized his marriage to his wife. (Since those blogging days, Reid has become a prominent anti-Trump liberal, popular on social media even apart from her role as a cable-news personality on AM Joy.)
The posts were unearthed by a Twitter user, @Jamie_Maz, using the Wayback Machine, a service from the nonprofit Internet Archive that shows snapshots of websites as they appeared at specific points in time. The Wayback Machine sends bots — called web crawlers or spiders — to as many sites as possible, and then downloads those web pages, giving them a time and date stamp. It's a useful tool to track how a website has changed and evolved over time, and to find pages that are no longer live on the web. Following the reports in late 2017, Reid's blog disappeared from the Wayback Machine (which is not in itself a problem; more on that later).
On Monday, Mediaite published more old posts that are not flattering to Reid. "Most straight people cringe at the sight of two men kissing," she wrote. "Most straight people had a hard time being convinced to watch 'Broke Back Mountain.' (I admit that I couldn't go see the movie either, despite my sister's ringing endorsement, because I didn't want to watch the two male characters having sex.) Does that make me homophobic? Probably."
Jokes about homosexuality and public figures that she suspected to be gay abounded on her site, suggesting that it was a habit, and not an occasional gaffe. She also made lazy jokes about celebrities like Clay Aiken and Anderson Cooper years before they publicly came out. She also wrote about gene manipulation to ensure that a child would not be born gay, calling it "an interesting moral question."
The comments, while not virulently homophobic, were bad enough, and particularly damaging to a woman who has become a particular celebrity of the anti-Trump resistance. But the saga got even weirder when, instead of apologizing, Reid issued a confounding statement on the matter, claiming that she was the victim of a hack and that the material was "manipulated" and "fabricated." She told Mediaite:
In December I learned that an unknown, external party accessed and manipulated material from my now-defunct blog, The Reid Report, to include offensive and hateful references that are fabricated and run counter to my personal beliefs and ideology.




I began working with a cyber-security expert who first identified the unauthorized activity, and we notified federal law enforcement officials of the breach. The manipulated material seems to be part of an effort to taint my character with false information by distorting a blog that ended a decade ago.




Now that the site has been compromised I can state unequivocally that it does not represent the original entries. I hope that whoever corrupted the site recognizes the pain they have caused, not just to me, but to my family and communities that I care deeply about: LGBTQ, immigrants, people of color and other marginalized groups.
In short, "I was hacked!" Or, in other words, some devious actors hacked into decade-old posts on Joy-Ann Reid's defunct site to add widespread homophobia to her writing, and then someone discovered those posts when they were saved by the Internet Archive … Okay, sure …
But the story took another twist yesterday when the Internet Archive, a studious record-keeper, clarified a few things.
This past December, Reid's lawyers contacted us, asking to have archives of the blog (blog.reidreport.com) taken down, stating that "fraudulent" posts were "inserted into legitimate content" in our archives of the blog. Her attorneys stated that they didn't know if the alleged insertion happened on the original site or with our archives (the point at which the manipulation is to have occurred, according to Reid, is still unclear to us).
To hear Reid's lawyers tell it, someone either hacked her blog or the Internet Archive. The claim is not impossible but it is highly, highly suspect — the Internet Archive found no evidence of this and there is no precedent for it. The Internet Archive declined to remove the archives, mostly owing to "Reid's being a journalist (a very high-profile one, at that)."
But the Internet Archive has another, automated way to remove entries from its database. Most domains have a file called robots.txt, and the point of that file is to give instructions to automated web crawlers. For instance, if you don't want Google's search engine to index your site, you can tell Google not to via commands in the robots.txt file. For the Internet Archive, adding a couple of specific lines to the robots.txt file will stop a domain from being archived, and more importantly, will remove all documents hosted on that domain from the archive. According to, funnily enough, the Wayback Machine, Reid or someone acting on her behalf inserted this command on her site on or around March 1, and the site's archives have subsequently disappeared.
Still with me? Great. Yesterday evening, another statement was released, this time from Jonathan Nichols, a security consultant working on Reid's behalf.
Five months ago, he writes, "We discovered that login information used to access the blog was available on the Dark Web and that fraudulent entries … were entered with suspicious formatting and time stamps." Nichols says that some of the posts are fraudulently because they are timestamped "when Mrs. Reid hosted her radio show" and feature "unusual structure and anomalies within the posts and ghosting around images." He also says that Reid's contact with the Internet Archive in late 2017 did not assert that the Wayback Machine had been compromised. MSNBC said that they back Nichols's statement on the matter.
What should be clear about this whole situation is that absolutely nothing lines up. The archive likely wasn't hacked, and Reid's own security consultant backs that up. But Reid's website was edited recently to remove the blog archives from the Wayback Machine, meaning that she didn't want people to see her old posts — suspect behavior from an innocent hacking victim. It's also a move that, consequently, also prevents her from presenting any record of the unhacked posts. And, of course, Reid already apologized for previous homophobic posts, authenticating some of them in the process. What this looks like is a very elaborate, incoherent smokescreen to avoid taking responsibility.