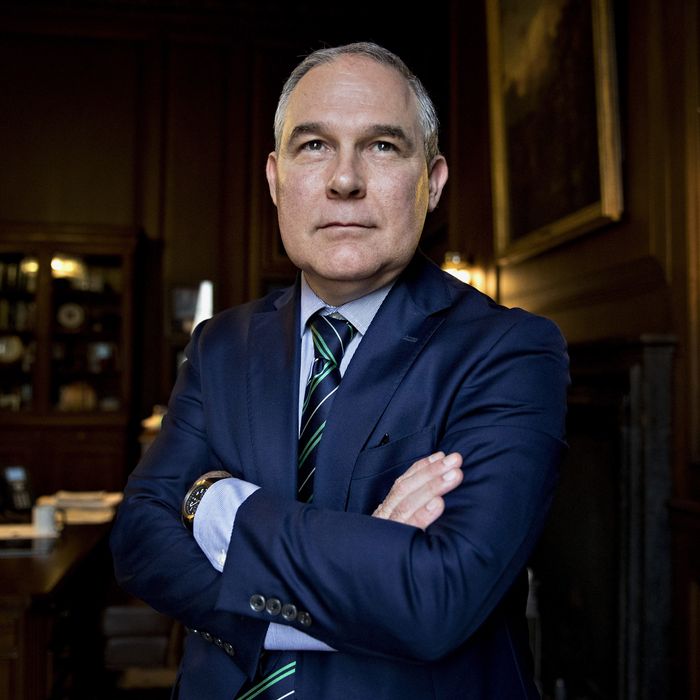 Bad tenant.
Photo: Andrew Harrer/Bloomberg via Getty Images
Someone really hates Scott Pruitt, and they keep leaking unflattering information about the EPA administrator to make sure that the rest of the country does, too.
The latest leak comes courtesy of Politico, which is reporting that Pruitt was such a poor tenant at his $50-a-night Capitol Hill room that his "disgruntled landlords" had to eventually change the locks on him.
Pruitt, Politico reports, was only supposed to live in the condo for six weeks as he got settled in D.C. But when the six weeks were up, he asked the condo's lobbyist owners if he could stay. This happened repeatedly, and the owners — energy lobbyist Steve Hart and his wife, health-care lobbyist Vicki Hart — "began to wonder if he would ever leave."
The couple, Vicki and Steve Hart, became so frustrated by their lingering tenant that they eventually pushed him out and changed their locks. After trying to nudge Pruitt out of their home over the course of several months, the Harts finally told Pruitt in July that they had plans to rent his room to another tenant.
"Scott Pruitt is the Kato Kaelin of Capitol Hill. He is the long-term houseguest who takes advantage of his hosts and refuses to take a hint about when it's time to leave," one person told Politico.
Calls for Pruitt's firing have grown louder over the course of a scandal-plagued week. By Friday evening, at least 64 House Democrats were calling for his resignation or firing, an opinion White House chief of staff John Kelly reportedly reached last week. But based on a Friday-morning tweet, Trump has no interest in parting ways with Pruitt, who he thinks is "doing a great job."