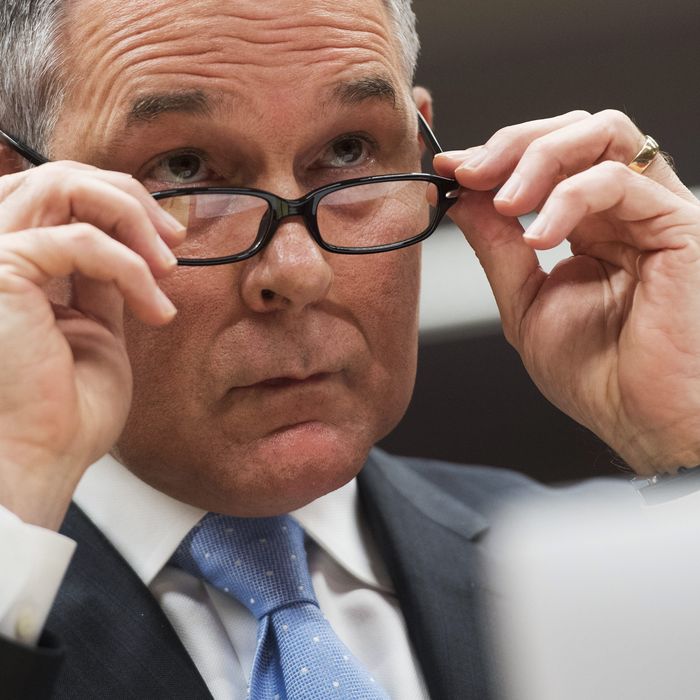 Do these glasses make me look corrupt?
Photo: AFP Contributor/AFP/Getty Images
EPA Administrator Scott Pruitt, who still has a job, must now confront yet another unflattering story in the endless parade of unflattering stories that is his life of late.
Politico reported on Saturday that the lobbyist from whom Pruitt rented a below-market room during the first months of his tenure also had business with the EPA — a fact that Pruitt has strenuously denied.
According to a disclosure form put out on Friday by the lobbying firm Williams & Jensen, J. Steven Hart lobbied the agency on issues "relating to support for EPA Chesapeake Bay Programs" during the first quarter of 2017, the opening months of the Trump administration. It was during this time that Hart and his wife rented Pruitt a room in their Capitol Hill condominium for the low, low price of $50 a night.
Pruitt had told Fox News earlier this month that "Hart has no clients that have business before this agency," a statement that now looks straightforwardly wrong.
Hours before the form was released on Friday, Hart resigned from the firm.
Even before word got out about the whole blatant conflict of interest thing, Pruitt was a comically troublesome tenant, overstaying his welcome so badly that the Harts had to change the locks to force him out.
The cut-rate apartment is but one of the many ethical hurricanes bearing down on Pruitt. There's his $43,000 phone booth; his gigantic security detail; his sky-high travel costs; the fact that he seems to have lied about approving generous raises to two cronies; and more. Unbridled corruption is nothing new for Pruitt, as a New York Times report on his shady background in Oklahoma makes clear — but the national spotlight is.
And recently, even Republicans who have turned a blind eye to the Trump administration graft right in front of them have been turning on Pruitt. (Senator Lisa Murkowski: "The administration has a decision to make" on Pruitt. Senator Bill Cassidy: "The ethical lapses associated with Scott Pruitt are troublesome.") While they still appreciate his climate-killing policy initiatives, some lawmakers are getting sick of his sloppiness. Pruitt now faces a plethora of investigations concerning his conduct, including from Congress, the White House, and the EPA inspector general.
With the Senate confirming fellow clean air foe Andrew Wheeler as EPA second-in-command last week, there is little chance of a major policy shift if Pruitt does get the boot, making it easier for legislators who want to keep up the appearance of propriety to go after him.
But President Trump has shown no sign that he wants to can Pruitt just yet, even endorsing him in a tweet two weeks ago. Until Trump gets to the point where he begins to believe that the EPA administrator is more trouble than he's worth — a moment that may arrive any day, knowing our capricious president — Pruitt is likely to remain, even as the list of his sins grows longer and longer.