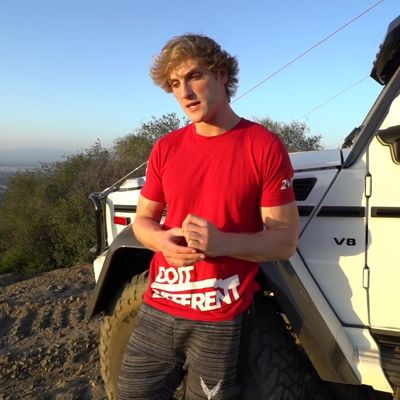 Logan Paul.
Photo: Logan Paul via YouTube
Aside from that brief period of time that he took away from YouTube to reflect after, uh, well, deciding that it was a good idea to post a video showing an apparent suicide victim hanging from a tree in Japan, Logan Paul posts on his channel pretty much every day. (This is not to be confused with his brother, Jake Paul, whose slogan is, quite literally, "It's everyday, bro.") Now, Paul says that's done, and after hundreds of days of consecutive vlogging, he's going to be dialing things back to focus on other projects. Like prepping to fight British vlogger KSI this summer and … selling merchandise. Paul announced this change in a video over the weekend entitled "The End of Logan Paul Vlogs."
The video is 16 minutes long, and most of those minutes are devoted to, in classic YouTube fashion, not talking about the titular subject. If you don't care to hear Paul talk about his car, chase a drone, or go off-roading in said car, skip to about the 13-minute mark. "The vlog will never be finished as long as my heart stays thumping on this goddamn planet Earth," Paul says, noting that his vlogs won't stop entirely. Before the 16 minutes are up, he also mentions that "the pink Maverick hoodies are back in stock," and that if you want one, you should shop quickly before they sell out. After the whole fiasco in Japan, and then the thing with tasering a dead rat, Paul was banned from YouTube's preferred program, which means ad revenue from his channel likely isn't what it was at his peak. Meaning, he really needs you to buy those pink sweatshirts.