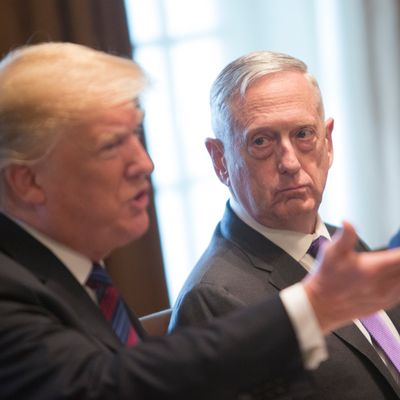 Mattis listens to Trump's remarks at a luncheon with Baltic leaders on April 3, 2018.
Photo: Pool/Getty Images
Secretary of Defense James Mattis's no-good, very-bad day started out, as have so many recently, at the White House. He sat next to President Trump and the presidents of NATO allies Estonia, Latvia, and Lithuania, visibly uncomfortable as Trump asserted that NATO had taken in "many billions of dollars more than they would have had if you had Crooked Hillary Clinton as president."
Mattis's troubles escalated quickly. During a press conference after the meeting, reporters asked Trump about his recent suggestion that he wants to withdraw U.S. troops from Syria.
"I want to get out, I want to bring our troops home," Trump reiterated, adding that the U.S. has gotten "nothing" out of its involvement in the Middle East post-9/11. "We should have kept the oil then. We didn't keep the oil," he said. "I want to rebuild our nation. Think of it: $7 trillion over a 17-year period. We have nothing, nothing except death and destruction. It's a horrible thing,"
That is, to put it mildly, not how the commander-in-chief normally describes the deaths of men and women whom he personally has ordered into combat, as Trump has for the past year. Mattis, on the other hand, has said that more U.S. diplomats would be headed to Syria as ISIS is pushed back, and that the military would remain there to support and secure their work. As Trump took the podium at the White House, senior U.S. officials in the campaign against ISIS were at a United States Institute of Peace (USIP) conference ten blocks away, explaining that U.S. forces must remain in Syria for security, counter-terrorism, and peace-building purposes.
The generals who work for Mattis have made no secret of their discontent with the idea of a U.S. pullout, even as Trump has been foreshadowing it in recent weeks. General Joseph Votel, who oversees U.S. military forces in the Middle East, told the USIP audience that in Syria, "the hard part, I think, is in front of us," adding, "there is a military role in all of this, certainly in the stabilization phase." Earlier this week, a military spokesman told the Associated Press that "the mission of the Department of Defense to defeat ISIS has not changed."
This split would have been headline news in most administrations, but it was overshadowed by a more awkward, uh, misunderstanding. At the same meeting with Baltic leaders, Trump proclaimed: "Until we can have a wall and proper security, we're going to be guarding our border with the military."
Deploying regular military forces on U.S. soil is illegal, and by Tuesday evening both the White House and the Department of Defense had "clarified" that Trump wants to deploy the National Guard to the southern border, which is not unprecedented (it happened under Presidents George W. Bush and Barack Obama). This is not the first time Trump has alluded to using Pentagon money, manpower, and prestige for his border-wall project. Just last week he proposed using funds Congress had appropriated to the military for wall-building – which would also be illegal.
Behind these highly visible differences between the president and his Secretary of Defense lie a host of smaller ones. The recent announcement of a policy that would effectively bar most, if not all transgender people from serving in the military has not tamped down that months-long controversy. Instead, Pentagon spokespeople have been embarrassingly unable to explain the new policy, courts have demanded more information on it, and allegations about White House interference in Pentagon procedure continue to swirl.
There's also much speculation surrounding how Mattis will get on with the incoming national security adviser, John Bolton, as it seems unlikely that the defense secretary will appreciate his high-drama style and eagerness for war with North Korea. (Nor is Mattis expected to have much respect for Bolton's avoidance of combat in Vietnam, which he explained in his book by saying, "I had no desire to die in a Southeast Asian rice paddy.") When asked about Bolton, Mattis offered this gem of an endorsement: "Last time I checked he's an American. I'm not in the least bit concerned."
Of course, American history is full of conflict between presidents and their military advisers. But what you don't find in our history, or in the 71 years since the creation of the Department of Defense, is a president and a civilian secretary in this much public conflict. We've learned there were disagreements between LBJ and the Pentagon, but much less was known at the time. Even Abraham Lincoln, who famously and personally sacked commander after commander during the Civil War, had only two secretaries of War.
In times past, a secretary of defense who had this many differences with his boss would either quit on his own or be told to do so. Mattis and Trump, though, are both well aware of the high regard in which Mattis is held across Washington — even by those who, in a different administration, would strongly oppose his policy beliefs.
Up to now, it has been assumed that Trump continued to hold Mattis in the highest regard as well. Has that changed? Chief of Staff Kelly, a retired four-star Marine, is the last of Mattis's allies in the Cabinet. We know Trump gets jealous of his subordinates' PR, and Mattis has a very high public profile right now, including a New York Times Magazine cover. We know both Bolton and Secretary of State-designate Mike Pompeo disagree with him on North Korea policy. We also know that Mattis once talked Trump out of his support for the torture that both Pompeo and CIA Director-designate Gina Haspel condone.
It may be time to start thinking about Mattis as the Robert Mueller of national security policy. Republican officials in particular should ask themselves what they are willing to do to ensure Mattis remains in the Trump administration. It is definitely time for all of us to ask whether the newly unchained and uninhibited Donald Trump has gotten over his love affair with America's generals, as with so many of his affairs before them, and what that means for us all.